At a second press conference held at Edinburgh's St Andrew's House, exactly one week after the first media briefing on the NHS crisis took place, the First Minister offered very little new information to journalists.
Ms Sturgeon once again said NHS Scotland remained under "significant strain" and repeated the previous week's assertion the healthcare system is experiencing "one of the most difficult winters in the history of the NHS".
The First Minister said there has been a "slight easing" of pressures, with the number of calls to the NHS24 service reducing, and waiting times at accident-and-emergency (A&E) departments were "stabilising", albeit at record-high levels.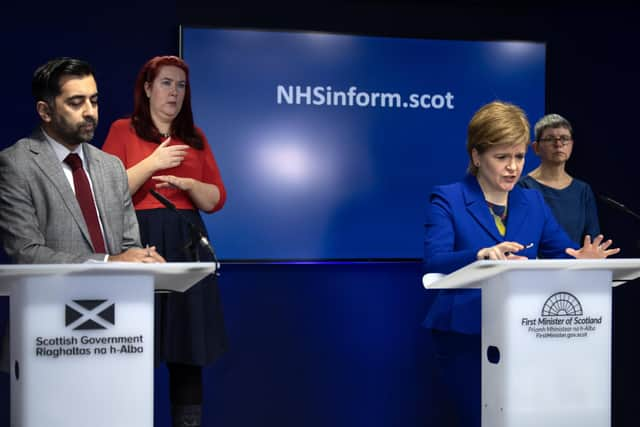 However, Ms Sturgeon later admitted the hospital bed occupancy rate across Scotland, which last week sat at 95 per cent, was now likely to be "marginally higher" following feedback from health boards.
With three health boards, including Scotland's largest NHS Greater Glasgow and Clyde, having paused elective surgeries, Ms Sturgeon said work was being done with the Golden Jubilee Hospital in Clydebank and others to increase capacity for elective surgeries to minimise the knock-on pressure on waiting times.
Last week, the First Minister and health secretary Humza Yousaf used the media briefing to announce plans to fund community beds, which patients awaiting discharge can be transferred to.
Scotland's Health and Social Care Partnerships (HSCPs) will share £8 million to procure beds at 25 per cent over and above the standard National Care Home rate for beds. This is in addition to around 600 interim care beds already in operation across the country.
This led the Royal College of Nursing, which is locked in pay negotiations with the Scottish Government, to warn the extra funding would not ease pressures, unless the Government "recognises and addresses the serious workforce shortages in Scotland's communities".
When asked by The Scotsman to explain how the Government can attract healthcare workers to a career in the NHS, the First Minister said the existing pay offer was "significantly above what has been offered elsewhere in the UK".
"I'm not complacent about this at all," she said. "But we remain the only part of the UK that hasn't seen NHS workers going on strike, which I think is an indication of the fact that we do value NHS workers and want to pay them as much as we can within the resources we've got."
Ms Sturgeon said the plan to discharge hospital patients to community care beds was "not the overall single solution to the pressures the NHS is facing".
Responding to the media briefing, Scottish Conservative MSP Craig Hoy accused Ms Sturgeon of being "up to her old tricks again".
"Nicola Sturgeon's political grandstanding at her podium has completely overshadowed whatever she had to say about the practical action – or lack of it – the SNP is taking to support our NHS," he said.
"There is very little point in these press conferences going forward if Nicola Sturgeon is going to let the mask slip and try to hog the limelight on other issues which she clearly feels more comfortable answering on."