But rows have been developing in Holyrood over supply and delivery, with tensions running high as the "race" continues between vaccination and the Covid-19 virus.
So what do we know so far about Scotland's vaccine rollout?
As of close of play on Tuesday, 309,909 people have been given a first dose.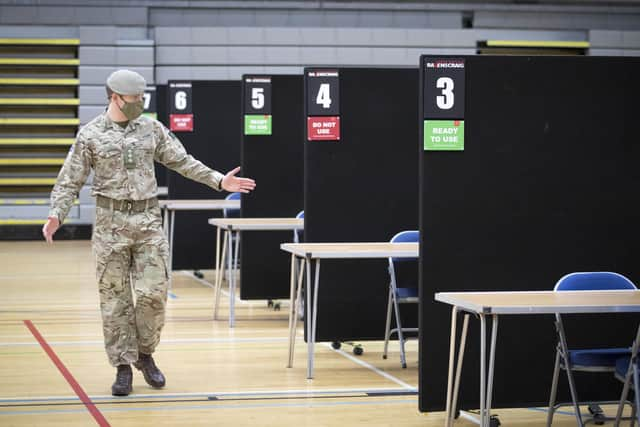 That's over 90 per cent of care home residents and 20 per cent of those over 80.
Nicola Sturgeon said on Wednesday that Scotland is on track to give a first dose to all over 80s by the first week in February – a goal that has been put back from the end of January.
Timescales have been frequently amended, and the initial target of one million Scots vaccinated by the end of January and all adults by the end of Spring will not be met. The current aim is 560,000 people by the end of January and all over-18s by the end of Autumn.
The pace has been improving – from around 16,000 people a day last week to 20,000 people on Monday and 25,000 on Tuesday. It will need to pick up further to hit targets, but the addition of new vaccination centres – including the NHS Louisa Jordan – should help.
At the end of Sunday, the most recent in-depth data available, some 70 per cent of care home staff had received a dose, around 31,500 people, along with 70 per cent of health and social care workers, around 156,500 people.
Speed varies by health board, in general running faster compared to population in areas with fewer people.
The Western Isles is steaming ahead at 12 per cent of population, while Orkney is at almost eight per cent and Shetland 6.2.
Lothian is lagging slightly behind, at 4.2 per cent of population along with Ayrshire and Arran, while Greater Glasgow and Clyde is at 5.2 per cent, and has vaccinated the greatest number of people (51,602).
In some areas cities have lower rates, with Glasgow at 4.44 per cent of population, and Edinburgh at 3.85 per cent while rates are higher in West, East and Midlothian. This doesn't apply to Aberdeen (6.21 per cent) or Dundee (7.46 per cent).
Conversations in Holyrood frequently turn to supply – fuelled by the Scottish Government's publication and swift retraction of is vaccine deployment plan. According to that data, Scotland is due to receive around 850,000 doses this week. So far it has been allocated 717,000.
Some of these doses remain at a holding site in England, where they undergo tests from the MHRA. It is understood that health boards can leave doses at this holding site even after they have been tested, if they are not ready to distribute them.
Questions have been raised over Scotland's rollout compared to other nations, with Nicola Sturgeon saying "healthy competition" would be no bad thing.
As of Sunday, Scotland had distributed around 40 per cent of allocated supply. Estimates unconfirmed due to the lack of supply data suggest Wales is at a similar percentage, with the figures for England and Northern Ireland closer to 50 per cent.
At that time six per cent of the adult population in Scotland had been given a first dose, along with eight per cent in England, nine per cent in Northern Ireland and just under six per cent in Wales.
A message from the Editor:
Thank you for reading this article. We're more reliant on your support than ever as the shift in consumer habits brought about by coronavirus impacts our advertisers.
If you haven't already, please consider supporting our trusted, fact-checked journalism by taking out a digital subscription.