The latest data from Public Health Scotland (PHS), showing rates for 2020, suggests Scots are roughly 40 per cent more likely to die stroke than those from the rest of the UK. This comes despite the overall incidence rate for stroke in Scotland falling slightly by 2.4 per cent since 2012/13.
The number of men who died from the condition rose by 12 per cent in the space of a year – up from 1,490 in 2019 to 1,674 in 2020 – in a jump that was described as "worrying".
In 2020, 3,927 Scots lost their lives due to stroke, compared with 34,518 throughout the UK. Per 100,000 Scots, there were 72 stroke deaths, compared to just 51.2 per 100,000 across the whole of the UK.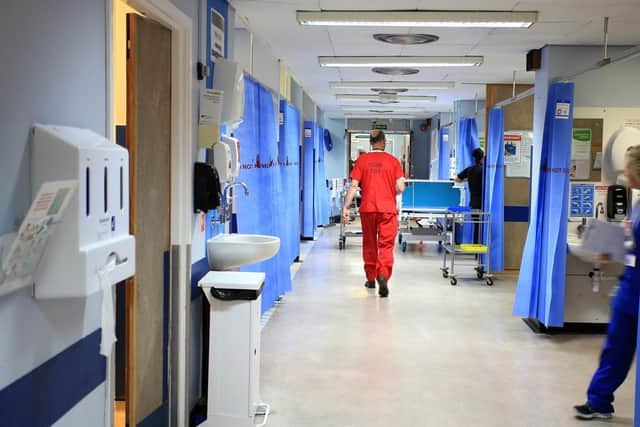 According to the report's authors, Scotland has "a high prevalence of the risk factors associated with cerebrovascular disease", such as smoking, high blood pressure, lack of exercise and alcohol consumption "above recommended limits".
John Watson, associate director for the Stroke Association, said: "Stroke rates in Scotland are a third higher than for the UK as a whole. We need to see much faster progress if we are to reduce the devastating personal cost of stroke and bring Scotland more in line with its neighbours.
"Worryingly, this report shows that stroke incidence amongst men has actually increased slightly. And those in the most deprived areas are almost twice as likely to be discharged from hospital with a stroke – a gap that has widened in the last year."
Mr Watson said the Stroke Association was calling for "concerted action" to address Scotland's "unacceptably high stroke numbers", including encouraging Scots to see their GP for irregular heartbeat screening, the treatment for which can "dramatically reduce stroke risk".
The report shows in the past decade, the death rate for cerebrovascular disease in Scotland has fallen by 26 per cent, with more people surviving strokes than ever before.
However, the death rate for cerebrovascular disease in the most deprived areas of Scotland was 43 per cent higher than in the least deprived areas in 2021, and the incidence rates of strokes have consistently been 24 per cent higher in males than females.
Jane-Claire Judson, chief executive of Chest, Heart & Stroke Scotland (CHSS), paid tribute to the "great work" NHS staff were providing in helping people survive stroke and heart disease "under very tough circumstances".
However, Ms Judson warned the statistics "remind us that there is rising demand for support to help people rebuild their lives once they get home from hospital".
"People tell us that when they leave hospital is when they feel most scared and alone," she said. "That has very real consequences for their health and pressures on local health and care services.
"We need to see bold action to stop the crisis in community care from escalating. There is a huge opportunity for the forthcoming National Care Service to integrate with support services provided by charities such as CHSS to ensure that everyone living with chest, heart and stroke conditions can receive the support they need to live their lives to the full.
"We know that in partnership with the National Care Service, we can be part of the solution that provides people across Scotland with the care and support they need."
Scottish Conservative shadow health secretary Dr Sandesh Gulhane described the higher stroke rate for Scotland compared to the rest of the UK as "extremely concerning".
He said: "Yet again it is also those from our most deprived communities who are suffering the most as a result of the SNP's failed health strategies.
"Any reduction in incidence rates for strokes is welcome, but progress on reducing these rates is far too slow. The SNP must urgently address these figures and outline what more they will do to tackle this problem, before more lives are put at risk."
Scottish Labour Health spokesperson Jackie Baillie said Scotland's most deprived communities were "paying the harshest price". "The fall in mortality is welcome, but progress reducing the risk of stroke has been woeful," she said.
"Scotland's shameful health inequalities mean the most deprived communities are paying the harshest price for this snail's pace progress. The SNP must do more to reduce the risk of stroke and bring down these dangerously high rates."
Public health minister Maree Todd said: "It's welcome that mortality rates have decreased by one-quarter, with the incidence rate also down over the last decade.
"The Scottish Government remains committed to ensuring that people who experience a stroke receive the best care as quickly as possible. That's why we are currently developing a refreshed Stroke Improvement Plan.
"We also remain committed to introducing a high-quality, clinically safe thrombectomy service. The budget for this and our improvement plan has been increased from £8.6 million for 2022/23 to £12.5m in 2023/24."