According to Public Health Scotland's latest Rapid Action Drug Alerts and Response (RADAR) report, suspected drug deaths increased in October and November last year, following a decreasing trend in recent months.
There were 109 suspected drug deaths in November – higher than in the same month in 2020 and 2021 – when 93 and 89 deaths were recorded respectively.
Alongside the statistics, RADAR has published a public health alert about nitazene-type opioids, a new group of synthetic opioids that is increasing in availability in Scotland.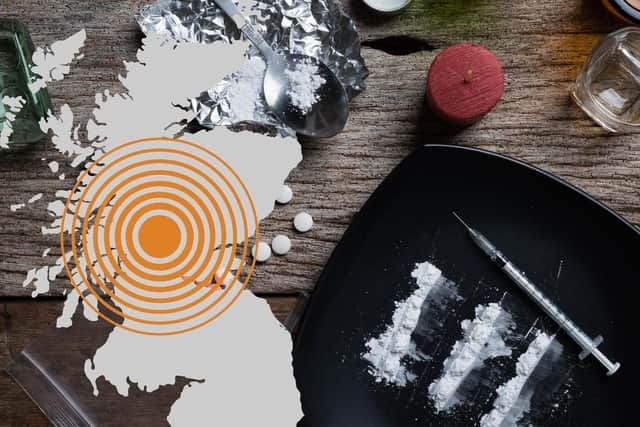 "Nitazenes are potent synthetic opioids," reads the public health alert.
"Due to their unexpected presence in the drug supply and high potency, nitazenes pose a substantial risk of overdose, drug-related hospitalisation and drug-related death. Nitazenes have been seized in both Scottish communities and custodial settings.
"There is limited information on overdoses and deaths involving nitazenes in Scotland due to a lack of systematic testing. Elsewhere in the UK, these drugs have been detected in overdoses and deaths."
Justina Murray, chief executive of Scottish Families Affected by Alcohol and Drugs (SFAAD), said "every single life lost is a tragedy for the families left behind", and warned of a "perfect storm" of societal problems causing drug deaths in Scotland.
She said: "Through the Scottish Government's national drugs mission, we have seen a period of increased and targeted investment in tackling drug deaths in Scotland, but we are not seeing services improve quickly enough as a result.
"The Covid pandemic followed quickly by the cost-of-living crisis and issues accessing NHS services have together created a perfect storm in terms of drug harms. This is just the time we need treatment and care services to be more – not less – available, accessible and responsive."
Ms Murray said "every day" the organisation hears "horror stories from families who are desperately trying to keep their loved ones alive, whilst being shunned by the very services paid to help them".
"These services are being funded to provide person-centred, trauma-informed and same-day treatment and care, with commitments to treat people with dignity and respect," she said. "Yet this is not what people are experiencing on the ground when they are seeking help.
"We continue to call for Scotland to adopt a zero drug deaths target, and to ensure all services work to this goal."
Drugs policy minister Angela Constance expressed her "deepest sympathy" to the families affected by drugs deaths. She said: "Although the suspected drugs deaths figures showed a 21 per cent decrease for the first nine months of last year, this latest report indicates a sharp increase in October and November.
"I am aware that this report uses management information provided by Police Scotland and is based on attending officers' observations and initial enquiries at the scene of death, but, of course, the numbers we are seeing are still far too high."
"We remain focussed on our ongoing efforts to get more people into the form of treatment which works best for them.
"We are committed to delivering drug checking facilities in Scotland, which would enable us to respond faster to emerging trends and we would anticipate that licence applications to the Home Office, to grant permission for the establishment of these facilities in Glasgow, Dundee and Aberdeen, will be submitted early this year."
Scottish Conservative shadow drugs minister Sue Webber said drugs deaths were "Scotland's national shame". She said it was "deeply concerning" the number of drug deaths rose towards the end of last year.
"Nicola Sturgeon admitted taking her eye off the ball and it would be utterly inexcusable if this were to be happening again," she said.
"Far too often we get warm words and lengthy reports from SNP ministers, but precious little in the way of action on the frontline to tackle the drugs-death epidemic.
"Tragically, over 100 families in just a single month were grieving the loss of a loved one as a result of drugs in November. My heartfelt thoughts are with them.
"Scotland continues to have by far the highest drug deaths rate in Europe. This is happening on the SNP's watch and progress in tackling this scourge is moving at a snail's pace."
Scottish Labour drug policy spokesperson Paul O'Kane said: "This heart-breaking rise in deaths is an important reminder that there is no room for complacency when tackling this public health crisis. Every single one of these deaths was preventable, and each one is a tragedy.
"This is a national emergency and the SNP need to start treating it as one. Lives are on the line – the SNP must start acting with the urgency needed, starting by scrapping their dangerous plans to cut funding to vital drug and alcohol services."