UK's first drug consumption room approved for Glasgow
A £2.3m 'safe drug consumption room' has been given the go ahead in Glasgow's East End.
Significant work will be needed to ensure drug users are not prosecuted for transporting illegal drugs into the UK's first safe consumption room, the head of Glasgow's health and social care partnership has said.
The facility was approved by the Glasgow City Integration Joint Board (IJB), which is made up of NHS and council officials, on Wednesday.
The green light came after Scotland's Lord Advocate Dorothy Bain KC announced it would not be in the "public interest" to prosecute users of such a facility.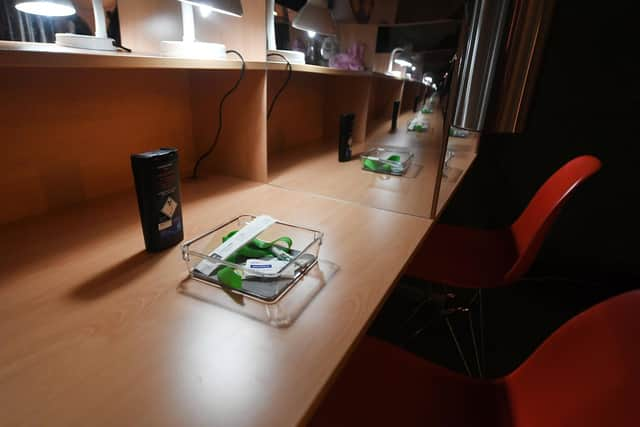 A £2.3 million consumption room is now planned for Hunter Street in the east end of the city, however Susanne Millar, chief officer of Glasgow City Health and Social Care Partnership, said there are still "operational challenges" to overcome.
She said legal advice has been sought on the issue of people being arrested on their way to the facility, with Police Scotland and Crown Office colleagues playing a "key" role in those discussions.
"The work that we now need to do is the ongoing work with our colleagues in Police Scotland, and they're really key partners for us," she said.
"We will be working with them to address these very kinds of operational challenges – we will have a number of operational challenges and that will be one of our considerations.
"We will open the service with a full understanding of what the set of circumstances are."
The pilot project is housed in the same building as a current drug treatment facility. A report to the Glasgow City Integration Joint Board meeting highlighted that following a recent HIV outbreak, an assessment "found there are approximately 400 to 500 people injecting drugs in public places in Glasgow city centre on a regular basis".
The Scottish Government backs the plans but some MSPs have raised concerns about the impact on the local area, including on businesses.
Scotland's drug and alcohol policy minister, Elena Whitham, said: "I welcome the news that Glasgow City Integration Joint Board has agreed to start recruitment for a pilot safer drug consumption facility in the city's Hunter Street and to begin a programme of public engagement.
"The Scottish Government has committed to making up to £2,347,000 available per annum to Glasgow Health and Social Care Partnership for the development, set up and running of the project from April 2024/25.
"We know this is not a silver bullet. But we know from evidence from more than 100 facilities worldwide that safer drug consumption facilities work."
Speaking to Holyrood's conveners' committee, First Minister Humza Yousaf welcomed the approval.
"While I was in New York for Climate Week I took time to speak to the New York state commissioner for health," Mr Yousaf said.
"He mentioned to me that their experience of safe drug consumption facilities for the past 18 months and said it is imperative to take the public with you as best you can.
"The second point he made is its not just about safe drug consumption facilities, it is about all the services wrapped around that."
"New York is publishing data from the first 18 months of their safe drug consumption facilities and they've promised to share that with the Scottish Government and we can share that with Glasgow.
"It has been a helpful, positive experience in New York and one tool in the wider effort to reduce drug deaths."
Comments
 0 comments
Want to join the conversation? Please or to comment on this article.