Vaping Scotland: New study will aim to find out health impact of 'passive vaping'
Recruits will be asked to attend a brief appointment with investigators
Researchers are searching for volunteers to take part in a new study being launched into the potential health effects of passive vaping.
Experts from the universities of Dundee, Abertay, and St Andrews will collaborate on the Vascular Effects of Passive Exposure (Vape) study, which aims to determine what – if any – health impacts vaping in close proximity to others has on their vascular health.
The study will focus on the effects on women and children and researchers are looking to recruit 300 of them to take part.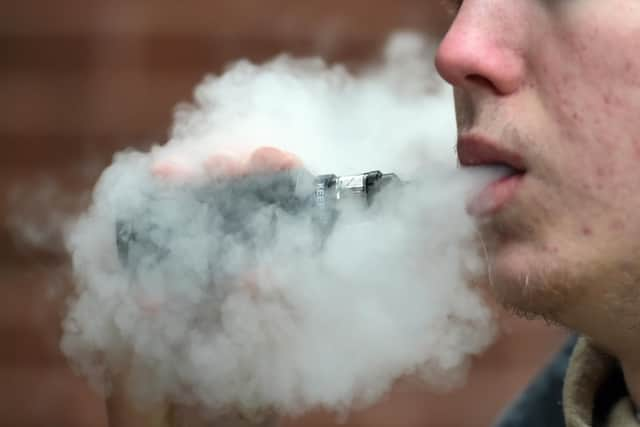 Researchers said it was "imperative" that any risks to vascular health from passive vaping are identified as e-cigarettes grow in popularity.
Jacob George, professor of cardiovascular medicine and therapeutics at Dundee and Vape's chief investigator, said: "The health effects of passive smoking are well-established but very little is known about the potential risks of passive vaping.
"Following the explosion in popularity of e-cigarettes, determining how these impact on the vascular health of bystanders is critically important.
"These devices are often perceived as less harmful than tobacco cigarettes, but there is potential that they could be having negative health impacts on those living with or sharing spaces with those using them, including children."
Vape researchers are looking to recruit women over the age of 18 who do not vape or smoke, and children between the ages of five and 12 who live in a household where there is regular exposure to tobacco smoke or e-cigarette vapes.
Recruits will be asked to attend a brief appointment with investigators, where basic measurements will be taken and health information recorded.
The next day, participants will be asked to provide saliva and urine samples, which will be collected from their homes and analysed.
Both adults and children will receive shopping vouchers up the value of £40 for their participation.
It comes as concern around the potential health impact of vaping rises, with paediatricians calling on the Scottish Government to ban disposable vapes.
First Minister Humza Yousaf has already said a complete ban is not off the table, with an expert group looking at the issue.
Prof George said: "Non-smokers may actively avoid people smoking tobacco cigarettes, being aware of the negative health effects and because of the associated smell of cigarette smoke.
"However, less stigma surrounds vaping as they are often manufactured with sweet, synthetic smells that may not prove as unpleasant to someone who does not use the device. Because of this lack of a deterrent to non-vapers, it is imperative that any risks to vascular health from passive vaping are identified and that is what the Vape study aims to resolve."
Comments
 0 comments
Want to join the conversation? Please or to comment on this article.