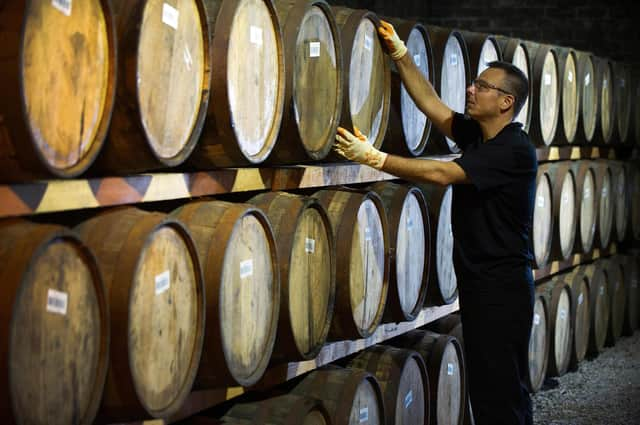 It is less than a week from the consultation end date for the proposed alcohol marketing ban. It is a contentious topic, which along with the deposit return scheme (DRS), has been billed as part of a 'triple whammy' for an industry that's still recovering from Covid and is yet to see the full impacts of Brexit.
The consultation is looking at further restrictions on alcohol marketing to reduce the appeal to young people and cut alcohol-related hospitalisations and deaths. Restrictions on in-store promotion of alcohol and a ban on drinks marketing on outdoor billboards, as well as phasing out sports and cultural sponsorship in Scotland, have been mooted.
Figures in the wider drinks industry have spoken out, including small producers located in remote areas.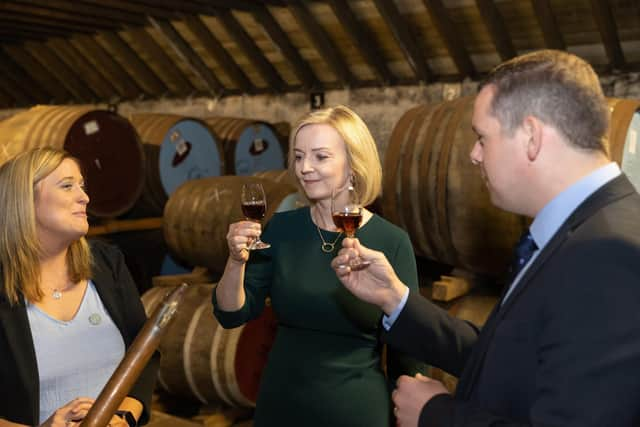 The whisky industry is arguably the biggest of these to be affected. One argument for the measures given by Alison Douglas, chief executive of Alcohol Focus Scotland, is that most of Scotland's whisky is exported so any domestic restrictions will not impact sales, but will help curb the nation's relationship with alcohol.
Figures do back this up, as just last month the Scotch Whisky Association revealed exports of whisky from Scotland topped £6 billion for the first time. Both Chivas and Pernod Ricard have also posted an increase in sales. But key players within the drinks industry firmly disagree.
Sam Simmons, head of whisky at Atom Brands, points to his homeland, saying: "I grew up in Canada where television spirits advertising was not permitted. I believed it was observed that advertising and marketing were not the root causes of 'alcohol issues' and that, by limiting them, it was a misapplied plaster that did very little to actually address the core social issues that lead to the problems cited in the [Scottish] Government's proposal."
Kieran Healey-Ryder, head of whisky discovery for Whyte and Mackay, said despite huge whisky exports, drinks industries around the world would look to see what Scotland does with regards to selling the product. He said: "I was recently in Canada for the Canadian Whisky Festival and it was in the context of the Canadian government having strengthened their guidelines on alcohol consumption. A key part of the conversation in that week was Scotland.
"This was halfway around the world, in Canada discussing Canadian alcohol policy. They look to Scotland as a place that's deeply connected to its national spirit. And so the notion that we could do something in Scotland without it being seen as an example to the rest of the world, it's really difficult to get behind. We need to look after it in our home market because our exports are built on a strong home market business."
Scotch sells, and it is in a huge boom, with new and ghost distilleries being opened to tap into the international market and visitors. Whisky is slowly moving away from its traditional guise of an old man's drink, to a vibrant, inclusive industry that has global appeal. So how do these proposed measures square with an industry that's worth so much to Scotland?
Mr Healey-Ryder highlights some statistics that show Scotland's relationship with alcohol is changing. He said: "A greater proportion of Scots drink in moderation Over three quarters of Scots (77 per cent) either do not drink or drink within 14 units. There have been sizable falls in binge drinking, drink driving, alcohol-related crimes and underage alcohol consumption seen over the past two decades.
"Alcohol-related hospital admissions have also been declining since 2007. But this consultation and focus on marketing will do nothing to support those drinking at the very highest levels, where we have tragically seen an over 20 per cent increase in alcohol-related deaths post the pandemic."
"Research from the think-tank Credos found alcohol advertising spend had outpaced total alcohol sales since 2011, clearly demonstrating the amount of alcohol advertising has no direct relationship to the amount of alcohol purchased. Instead, advertising is being used to differentiate products in a crowded market.
"Alcohol advertising spend appears to have an inverse relationship with alcohol harm, including underage drinking. While advertising spend has increased over the past 20 years, harms have decreased in contrast. Further restrictions on advertising are therefore unlikely to deliver expected public health gains, but they will damage the industry and impact many other sectors that it supports."
Mr Healey-Ryder is also keen to stress, as most industry workers and businesses owners are, they recognise something needs to be done with the harmful relationship that some Scots have with alcohol. He has praised ministers leading the consultation for how early they have engaged with the industry, unlike minimum unit pricing, which he said was discussed much later down the line.
However, Mr Healey-Ryder has mentioned the risk of the proposals coming in tandem with the DRS.
"We're all currently navigating the deposit return scheme - that is a really good example of a programme that needs to pause and take breath and reconsider whether it works."
Iain Allan, global brand ambassador for Glen Moray Distillery in Elgin, agreed, saying: "We had Brexit then straight into Covid and then deposit return scheme and now advertising bans – it's just constant and seems like a barrage of things hitting us."
Bryan Donaghey, chief executive of Whyte and Mackay, said what had been achieved in the whisky industry and staff dedication should not be overlooked when it comes to plans. He said: "When we look back at what the whisky industry has achieved within the last three decades, it is incredible. Scotch whisky has grown in export markets the world over and it is making a significant economic contribution at home too. That is not something that happened overnight. It took the dedication of all the people who make and market our whiskies, along with significant investment, to become the success it is today.
"Producers recognise the need to ensure brands continue to advertise responsibly. We take our responsibilities extremely seriously within the existing framework and we welcome the opportunity for consultation with government at this early stage. What is clear is that any future advertising framework should continue to maintain the right conditions to ensure that Scotch whisky can continue to thrive."
A huge issue facing those in rural whisky distilleries is the prospect of declining tourism due to the proposals. Not being able to shout about your brand, sell branded items or support other businesses or charities with sponsorship has many worried. Cara Chambers, marketing director at International Beverage, claimed the proposals would have a "catastrophic effect on whisky's future". She said there had been a mass industry approach and that smaller and remote businesses would suffer more.
"Our small distilleries are important drivers of tourism in their local areas, in particular for a distillery such as Pulteney up in Wick," she said. "A distillery tour is often the main reason visitors make the trip to such a remote part of Scotland in the first place, as tens of thousands do every year, bringing so much economic benefit to the Caithness economy. If we are unable to talk to people about our distilleries and market the experience that is on offer, I'm unsure as to how our visitor centres would be able to survive, let alone thrive in the tourist market."
Mr Simmons added: "Community prosperity is most certainly more tied to alcohol and substance problems than a Famous Grouse coffee mug. If you have ever been to Islay, or Dufftown or Campbeltown, whisky and the whisky industry is a badge of pride to locals and the local economy, it is something that keeps the communities bonded and prosperous."
The same concerns for tourism are also raised regarding Scotland's vastly popular whisky festivals, including Feis Ile and Spirit of Speyside. Will these be allowed an exemption given their impact, financially and otherwise, on the local community? Only time will tell.
Mr Healey-Ryder is keen to stay positive though. He points out this is still a consultation that has opened talks with the industry early. "There is no legislation now, so we do not know what the substance of the framework would be. That doesn't exist, so we're having a really robust and vigorous debate. It feels to me that there's an opportunity to educate everyone on what we're already doing."