Behind the scenes aboard Queen Mary in Glasgow as the 90-year-old pleasure steamer embarks on major restoration to sail again down the Clyde
The Glasgow pleasure steamer famed for its "unparalleled luxury" is about to undergo the next stage of a major restoration as it prepares to sail again down the Clyde after a gap of nearly 50 years.
The Dumbarton-built Queen Mary has been saved from the breaker's yard multiple times since being retired by then owner Caledonian MacBrayne in 1977. The ship was returned to the Clyde in 2016 to be berthed beside the Glasgow Science Centre, where it is being completely stripped out, including to remove some non-original fittings such as the funnels.
Its Burmese teak decks, worth some £750,000 alone, are being restored, with the removal of a concrete-like composite covering that is several inches thick. The work has involved more than 300 cadets and students from the City of Glasgow College.
Iain Sim, chair of the Friends of TS Queen Mary, said more than ten miles of cabling had also been removed, along with old beer pipes from the ship's stint as a floating bar and restaurant in London 20 years ago, some with stale beer still in them.
An original £6m appeal was for the ship to become a static heritage centre, but its intended return to service came in a surprise announcement a year ago by the Princess Royal, the ship's royal patron.
Some £4.8m has now been raised towards a new £10m target, with a £1m donation announced on Monday and a further £500,000 of in-kind support to be revealed shortly. Patrons have included actor Robbie Coltrane, who died last year.
Mr Sim explained: "Several individuals, including Robbie Coltrane, made it quite clear we should at least explore the potential of putting the vessel back into service. He said 'why are we not putting engines in this thing?' He was a real driving factor in at least looking at it.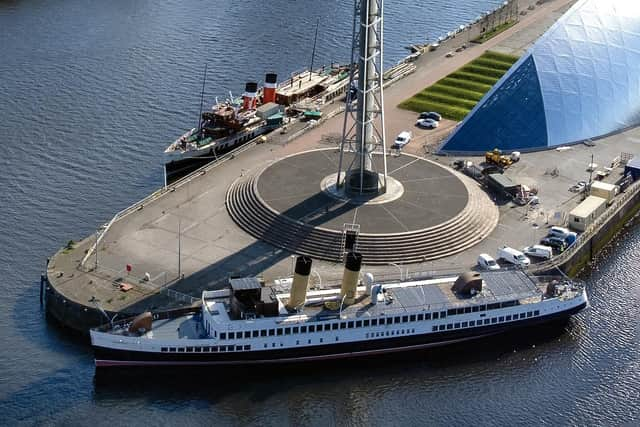 "Several other generous donors said they would help us get to a point where we can see if it can be done."
Mr Sim said following the pandemic, it was realised the ship could assist the post-Covid recovery to boost tourism and as an "incredible experiential platform for young people to learn on", which made a return to service "a no brainer".
To confirm the feasibility of the move, an ultrasonic test and laser scan was made of the entire ship to create what is thought to be the largest-ever virtual 3D model of a vessel, because none of the original plans could be found. The next stage of the project will involve the installation of three new replacement steel decks over the next year.
Mr Sim said Queen Mary's return to sailing would not threaten the 76-year-old paddle steamer Waverley, berthed beside it, which will resume Clyde cruising next month after achieving its latest £180,000 fundraising target, which was triggered by soaring fuel costs.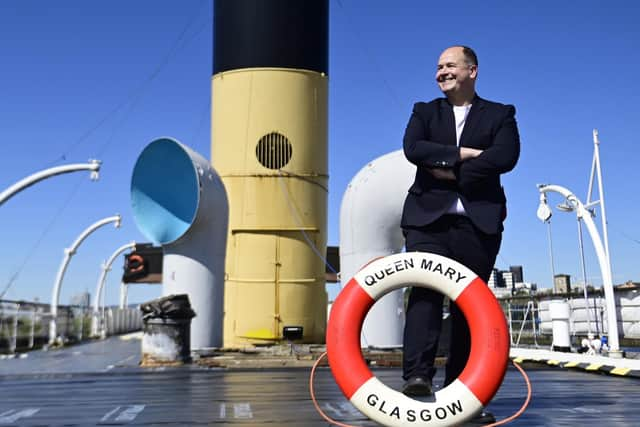 He said: "We will find somewhere for her to sail around the UK whereby we can co-exist. The opportunity to collaborate is an exciting one. We definitely want the ship to sail on the Clyde, but she will do something very different and find her own place in the market."
Mr Sim said that would include as a training ship with cadets on board. He said: "Queen Mary can be sustainable – it's about making sure you are differentiating what you are doing."
Mr Sim said the ship could go to some places inaccessible to Waverley, including the 36-mile Manchester Ship Canal that links the city to the Mersey. Queen Mary only reached as far as Stranraer during its past sailing career.
He hopes the Princess Royal – the great granddaughter of King George V's wife, after which the vessel was named – will make a return to the ship this year after visiting in 2022 to announce its intended return to sailing.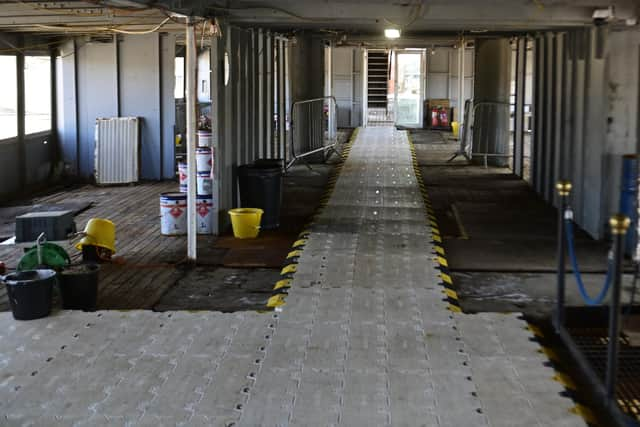 Mr Sim said he would also welcome a visit from New Zealand film star and historic vessel fan Sam Neill, who became the ship's Commonwealth patron last year after being introduced to it by Coltrane.
Mr Sim said the steamer's original owners, Williamson-Buchanan Steamers, "had the idea that if they built a ship of unparalleled luxury, ordinary working men and women would want to sail down the Clyde in her – and they were correct".
He said Queen Mary attracted 13,000 people a week during her 44 seasons, often leaving from Bridge Wharf near Glasgow Central Station with many would-be day-trippers unable to get aboard.
The vessel's high-quality interior had included a standard of fixtures and fittings never seen before in a Clyde steamer, Mr Sim said. Two classes of accommodation were provided until the 1950s in what was known as "The Glasgow Boat" because of its close affinity with the city.
Comments
 0 comments
Want to join the conversation? Please or to comment on this article.