In Nothing Left to Fear From Hell, Warner tracks the Prince and his "wandering banditti" through deep Highland territory, moving often by night, sometimes on shoeless feet and usually weighed down by the waterlogged and a foul sort of hunger. While safe shelter was scarce, the bounty on their heads followed them everywhere.
It's a journey to the islands, which ultimately ends in the Prince's final exit to France from Loch nan Uamh near Arisaig, that takes on a "road trip" feel, says Warner. The author pushes a dirty realist tone into the often heroic narrative of the Prince's escape. Vomit, diarrhoea, midge clouds, sex talk and pale, bare backsides help set the scene for this "rash adventure" of most wanted men.
Warner said: "I didn't want to go in all provocative, smashing the mythology apart. But at the same time if you are wanting to write about this period, and any period, you are writing out of the period. You are going into the period and asking that difficult question of 'what was it really like?'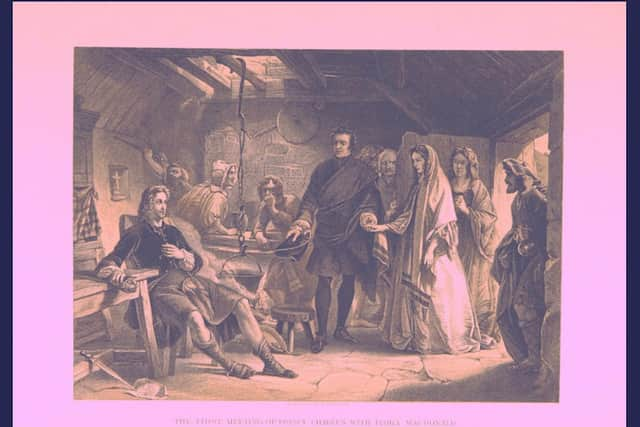 "You are trying to get characters moving through this world. Having that dirty realist approach gave me a way into it."
Warner, whose works include Morvern Callar and The Sopranos, described writing about Bonnie Prince Charlie as a "powerful, even overwhelming experience". Of the landscapes where events of the '45 played out, he has "intimate knowledge".
Warner has been interested in the period since the lessons of Donald Clark, head of history at Oban High School in the 1970s, who fired "passion and interest" into the topic and prompted much teenage reading about the Highland Clearances and the failed Jacobite risings.
Of Bonnie Prince Charlie, he found not just a "chancer who brought havoc", but also the scope of a man powered by a higher belief that it is not battles or rebellions which make kings, but God. Ambition, intelligence and toughness are portrayed.
Warner said: "I don't think psychologically he could have endured it without a massive amount of faith it was going to come off. It was a rash adventure in so many ways. He's a figure of royalty, but also a rebel, which is dramatically exciting and its all concentrated in one character."
Warner, who teaches creative writing at Aberdeen University, enjoyed working with the backbone of the historical narrative while injecting a novelist's eye – and ear – into the story. As the Prince famously dresses as a woman for his escape to Skye with the help of Flora MacDonald, he appears like a "refugee from a stricken theatre troupe" in his "corkscrewed stockings and muddy lady shoes".
He added: "With this book, it is not coming from me at all. This is nothing about me and my self indulgent interests. The source is coming from history. I can be completely objective and I've never been in that position before. Here, a story was given to me."
Nothing Left To Fear From Hell by Alan Warner is published by Polygon on April 6.