Ms Gabaldon has responded to comments made by Deborah Dennison, a founder member of the respected Historians' Council on Culloden, in an article for Scotland on Sunday. Ms Dennison has claimed the US writer has spread erroneous narratives about the role of both clans and women in the Gàidhealtachd while offering "reprehensible" portrayals of historical figures, including Prince Charles Edward Stuart.
Ms Dennison claimed "damage had been done" by the Outlander series, which is partly set during the 1745 Jacobite rebellion, given the repetition of inaccuracies as well as vandalism at some historic sites linked to the fictional books and television show.
Ms Dennison, who is also a writer and a filmmaker, said: "Using the language and music of a people may seem a celebration of it. But Outlander promotes a deeply distorted view of the known nature of the Gàidhealtachd. Presented with lots of raw sex, fantasy, and slick Hollywood production values, in Scotland, and around the world, people believe the disinformation."
Ms Gabaldon, who lives in Arizona, said there was a "substantial difference between a novel and a piece of historical research" and that she spent a "good deal" of time reading books to inform her characters.
She said: "History is largely concerned with collective social events and patterns – as Ms Dennison says, "the known nature of the Gàidhealtachd" – whereas a novel, well a good novel, focuses on the specific actions and interactions of a few strongly individual people. The social context of those people is important, but only insofar as it affects those people's lives."
Ms Gabaldon added: "No one in their right mind, speaking very generally, would take a television show based on time travel as an absolutely factual representation of anything, let alone several hundred years of Gaelic culture.
"I do in fact take some pains to ensure historical accuracy. However, it's not possible for anyone to know everything and, also, history is actually not all that accurate. It isn't a recording of reality; it's what people chose to write down. And as even a brief reading of the daily news makes obvious, they aren't always writing down the truth."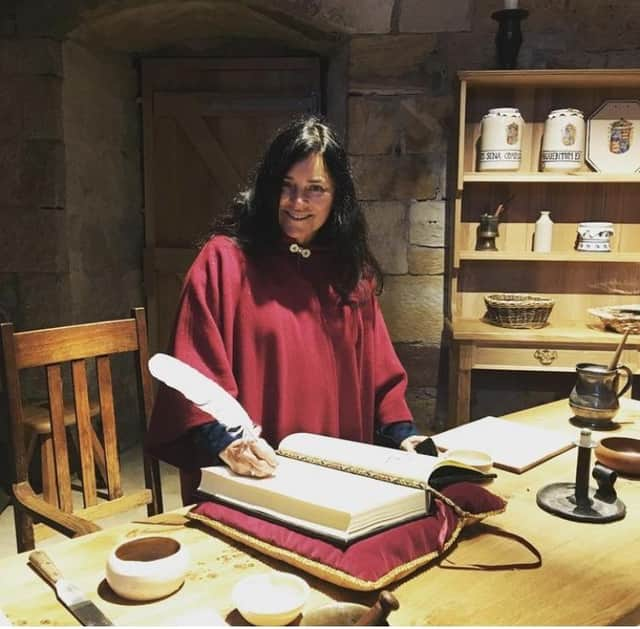 Ms Dennison said the author's depiction of "boorish and threatening" clansmen echoed anti-Stuart propaganda cartoons of the 18th century, such as Hogarth's 1745 'Sawney on the Boghouse', which depicts a Highland soldier's attempt to use a toilet in London.
She added: "Highland history certainly included cattle raiding and long clan conflicts, but the Dualchas, the essential nature of Highland culture, had at its beginning the creation of the Book of Kells on Iona. For centuries, Highlanders were educated in Paris, Rome, Edinburgh, and Glasgow, honoured their Gàidhlig bards, including women, and followed laws which saw violators brought before clan councils."
She went on to claim Outlander's depiction of Marie-Louise de la Tour d'Auvergne, who had a child with Bonnie Prince Charlie, created a "promiscuous woman of questionable character" when the reality was "she was married and had had an impeccable reputation until she fell deeply in love with the prince".
Ms Dennison drew parallels with the real-life treatment of Jenny Cameron, a Jacobite who raised money and arms for the rising and who became the "subject of vicious Government propaganda" that depicted her as a "whore".
Meanwhile, Outlander presented Bonnie Prince Charlie as a "cowardly, weak, spoiled brat" when the reality was he had been "deeply motivated" to respond to fears shared with the Stuart Court about the survival of Highlanders and went on to earn the "love, fierce loyalty and admiration" of those who were with him, Ms Dennison said.
Ms Gabaldon said: "There are a number of published descriptions of Charles Stuart that describe him as imposing, well-educated, four languages, handsome, etc. We do understand political propaganda, don't we? A large number of people had a big stake in Charles Stuart being perceived as a worthy future king.
"For myself, I read a good deal of this sort of thing, but eventually chose to stick with Susan MacLean Kybett's very well researched book, Bonnie Prince Charlie, as the main source of description."
She said a "small fraction" of what appeared in her books ended up in television adaptation, where things were "chopped and changed" either from necessity and "sometimes just because they think it will make a better show".
The author pointed to her 2019 Thistle Award from VisitScotland for services to Scottish tourism after research found visitor numbers to attractions that appear in the series rose by 67 per cent since 2013, from 887,000 to 1.5 million. Last year, she received an honorary doctorate at the University of Glasgow for services to literature.
Last week, Ms Gabaldon came under scrutiny after claiming use of the term Scotch to describe a Scottish person went into decline as the SNP rose to power. Use of the word was questioned from as early as the late 18th century, according to the Oxford English Dictionary, with Scotch perceived as vulgar among some by the mid 19th century.