Mr Macritchie, who died in 2019, founded the Solair fine dining restaurant in Stornoway and then launched the HAAR pop-up restaurants at locations throughout the Highlands and Islands following a spell employed as the private chef to model Claudia Schiffer and her husband, the film director Matthew Vaughn.
A firm believer that the Hebrides offered the best produce in the world, he strived to elevate traditional dishes, flavours and ingredients to a 'New Heb' style of gastronomy. Sadly, he was unable to finish his cookbook before he died.
Now, after his sister Kathleen MacDonald spent months pouring over his notebooks and organising his recipes, the HAAR New Hebridean Cookbook has been published. Part of the proceeds from the book will go to Bethesda hospice in Stornoway, which cared for Murdo Alex during the last days.
Ms MacDonald said Murdo Alex, who was inspired to develop his style form the classical French of his training to the New Nordic way trailblazed at Noma in Copenhagen, where techniques such as salting, smoking and fermenting were familiar to the islander, first mentioned the idea of the cookbook a couple of months after his diagnosis in a family WhatsApp message.
Ms MacDonald said: "He would spend whatever time he could on it even through treatment. He had put so much into it. It had to be completed. He knew exactly how he wanted the book to look, what pictures were to be in it and the dishes.
"I had all his notepads with his ideas and recipes, I wasn't sure how or when I was going to work on it, then lockdown happened and I just immersed myself in it. It has been an emotional rollercoaster but it was worth it and I am so glad that I did it.
"It is an amazing tribute to a talented chef who was so inspirational in every way. Murdo Alex was passionate about all things Hebridean. He wanted to showcase and promote his beloved Hebrides, which he always said had the best larder in the world."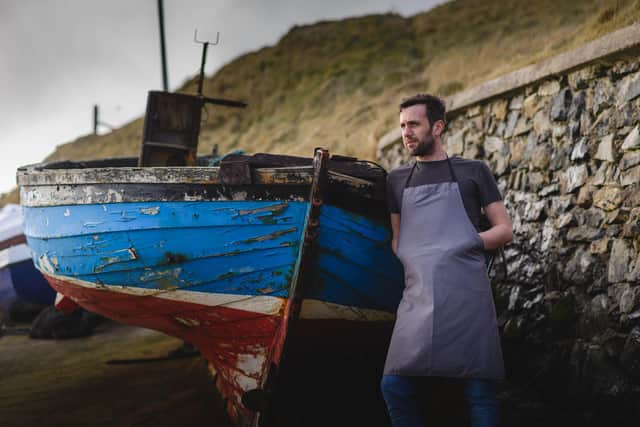 Recipes in the beautifully illustrated book reflect the dishes served at the HAAR pop ups, which were held in locations such as the Gearrannan Blackhouses on Lewis and Duart Castle on Mull.
Typical dishes included Ceann Cropaig Cracker, a take on the tradition dish of a cod's head and liver mixed with oatmeal but with the addition of herring salad cream. Aran-eòrna cakes made from beremeal were served with fresh herb crowdie. Duff, a fruit pudding cooked in cloth, was paired with Colonsay machair honey and buttermilk ice cream.
A scotch pie filled with Hebridean black sheep mutton was a firm favourite at HAAR and naturally, fish and seafood featured heavily in the chef's repetoire, with kelp cured ling, limpets and Barra cockles emerging in dishes.
"The pop-ups proved popular with locals, each of them selling out within hours, and we brought foods that would bring back memories – and be elevated into something special," Ms MacDonald said.
•HAAR The New Hebridean Kitchen is published by Acair and costs £25.