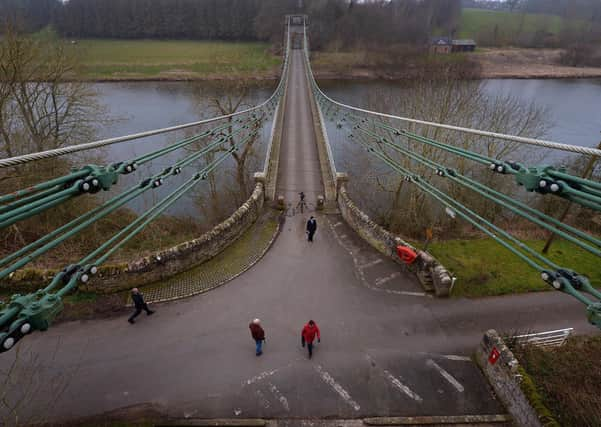 Although celebrations have been curtailed because of Covid-19 restrictions, the award is another badge of honour for the world's oldest suspension bridge still carrying vehicles.
Opened 200 years ago tomorrow, the structure spanning the River Tweed near Berwick has been officially added to the Guinness World Records, as reported in Scotland on Sunday last weekend.
Its profile is being further enhanced by a £10.5 million restoration project, due to begin next month.
"It was the first transport-bearing suspension bridge in Europe and enabled crossings previously considered impossible to be bridged," explained Robert Hunter, chairman of the community group which has lobbied for many years to save it from closure.
He will unveil a special plaque tomorrow confirming the bridge as one of 250 structures around the world to be designated an international historic civil engineering landmark by the American Society of Civil Engineers.
Mr Hunter added: "Because of Covid-19, the bicentenary will be very low key and without guests, but this award means it won't pass by unnoticed."
Professor Roland Paxton of Heriot-Watt University, who has edited a new book on the bridge, explained how it "established a new era in long-span bridge development that led to the Brooklyn, Golden Gate, Humber".
The 450ft structure, which spans the Tweed between the villages of Fishwick and Horncliffe, opened with fanfare on July 26, 1820, when Captain Samuel Brown, became the first person to walk across, watched by 600 spectators.
The former Royal Navy officer came up with the ground-breaking design by using iron chain cables, which he had invented while in the Navy to make superior anchors.
It took just 11 months to build the Union Chain Bridge, shorter that the 16 months expected to complete the restoration work. Other than the entire deck being replaced in 1974, it has existed with little maintenance until now. The restoration is being funded by the National Lottery Heritage Fund and councils on either side of the Border.
Joe DiMauro, project manager of newly-appointed contractor Spencer Group, said: "The Union Chain bridge was the first of its kind in the world when it was built and needs to be maintained for perpetuity because it is an iconic structure. It's been in place for 200 yeas and this work will enquire it will remain for another 200."