Bundling was reportedly when a courting couple could sleep together, but were not ready to fully connect, with the woman reportedly placed in a large 'sock' that was then tied above her knees.
An account of bundling linked to the Isle of Lewis appears in the 1933 autobiography of Sutherland Halliday, a Scottish physician and author.
He wrote: "Amongst the people of the black houses, there is a curious custom in courtship, and, like all primitive sex customs, it is based on economic conditions. The time for making love is during the long winter nights when the young men are at home.
"On that bleak windswept coast, it would be difficult for two people to make love out of doors. So the young man goes to the girl's house. Again, with one living room where the family are sitting, it is difficult to make love.
"The girl goes into the sleeping-room. There is no fire there, nor any light, because the burning of tallow candles and oil is a consideration to people who are poor. So, for warmth, the girl goes to bed.
"Once in bed, both her legs are inserted into one large stocking, which her mother ties above her knees. Then the young man goes into the sleeping-room, and lies beside her. It is called 'the bundling'."
The account also appears in the seminal work of folklorist and musician Margaret Bennett, Scottish Customs From The Cradle to the Grave.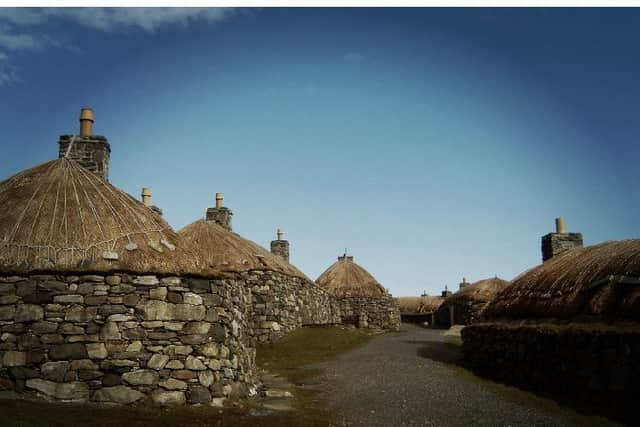 An account from Murdo Murray, who left Ness in Lewis for Canada in the 1950s, also appears in Ms Bennett's book. He said the young woman of the family house might get to sleep in the box bed, which was screened by a curtain, when her lover visited.
Mr Murray said the custom was known as 'caithris na h-oidhche', which translates to the night watch, or night time dating.
He said: "It was all done at night and done secretly, quite different from now. I remember going to school and seeing young men on bicycles coming home from caithris na h-oidhche."
Mr Murray said he had never heard of women being placed in a type of sock, or covered in blankets, with "the girls" so scared of getting pregnant they were "well behaved".
He added: "The girls were trusted and I think the girls were intelligent enough to know how far to go. Very few pregnancies occurred before marriage, very, very few."
Mr Murray said women who became pregnant before marriage had to go to the Kirk Session – on her own – and ask to be baptised.
"And then she would have to make a public appearance in the church where she was told off in no uncertain terms," Mr Murray said.
The Scottish National Dictionary includes a definition of "barn bundling", which was written in 1871 by Robert Cowie in his book Shetland, Descriptive and Historical. He described dancers heading to a barn at the end of the night, where young men and women would be lined up alternately to sleep on a "huge couch of straw".
"The people enter quite innocently into these barn-bundlings, as they are termed," he added.