Warm tribute paid to an island's legendary last blacksmith
A warm tribute has been paid to an island legend who served as the last blacksmith on Lewis and Harris.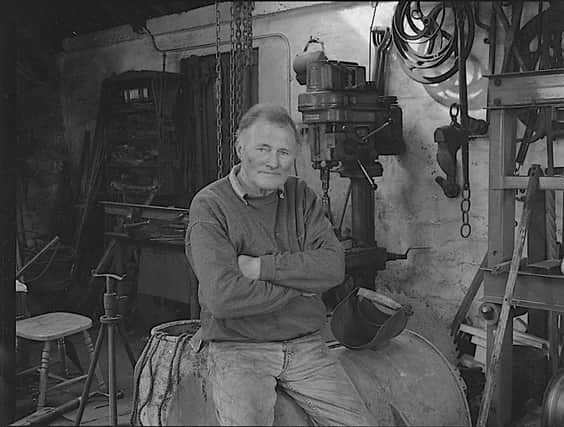 The life and work of Calum "Steallag" MacLeod is remembered in An Gobha – The Last Blacksmith – which will screen on Hogmanay.
It features footage of MacLeod, who died last year aged 84 and who was known for his hard work, kind spirit and great storytelling skills, being interviewed in his Stornoway smithy.
There, he talks of a life at the forge and anvil with his skills first learned from his father, John, who shoed horses in the trenches during World War One. Between the two men, more than 100 years of service was given to island homes, crofters, fishermen and building businesses.
The blacksmiths were in constant demand to mend a plough or fix a wooden shaft to a peat iron. Sometimes, he was asked to cut rings off the fingers off island men, presumably as marriages came to an end.
It is said there were few island homes that didn't have a piece of Mr MacLeod's work, which was imprinted with his three-dot hallmark, with the smithy becoming something of a gathering point in the town.
Mr MacLeod recalled: "Every character of the day would come in and warm themselves at the forge, see who could tell the best story. Other people would come in and didn't say a word, they just stood and watched the old boy working."
The blacksmith had learned to make pokers by the time he went to school and was able to walk under the horses he first shoed, given he was so small.
Mr MacLeod told how the 'country ones' came into Stornoway once a year to get their horses shoed, with the trip usually involving a drink or two at the Royal Hotel.
He said: "By the time they had come back they had maybe sold the horse, or maybe sold it twice. They maybe didn't know whose horse it was by the end of the day and didn't know who would pay for the shoes.
"So the horse would be impounded until someone would pay for the shoes and they had decided whose horse it was, eventually."
The door to the smithy , which was covered in branding marks for the island's sheep, is now on display at Museum nan Eilean in the town.
Reflecting on his life and work, Mr McLeod recounted a tale about a blacksmith from Uig.
He said: "They reckon he got drunk and stole a sheep but I think he must have murdered someone. They decided 'well, we have got to hang him'.
"As it turned out, someone came along and said 'no think about it, we can't hang the blacksmith, what are we going to do without him? We can't do anything without him, who is going to mend this and fix that and make something else? It's the only blacksmith we have'.
"Then someone said 'hold on a minute, we have got two tailors and we don't need two tailors. We'll hang a tailor instead.'
"So there is something to be said about being a blacksmith afterall – not so likely to be hung."
The Last Blacksmith airs on BBC ALBA on Thursday, December 31 at 7.30pm.
A message from the Editor:Thank you for reading this article. We're more reliant on your support than ever as the shift in consumer habits brought about by Coronavirus impacts our advertisers.
If you haven't already, please consider supporting our trusted, fact-checked journalism by taking out a digital subscription.