Such and such a car may have set the fastest lap at the Nürburgring – but on which course, and anyway, so what? I have more interest in the records for the Pikes Peak hillclimb in Colorado because the cars have to rise into thinner air, requiring clever engine tuning. That record is held by a VW racing car with an electric engine which obviates the breathing difficulties of a piston engine.
But already I am digressing from the message that the most famous car in the world is, well, what? Ian Fleming's Chitty Chitty Bang Bang in Roald Dahl's musical?
Aston Martin believes the title belongs to the DB5, which starred alongside the best James Bond (Sean Connery) in the 1964 film Goldfinger. Bond's creator, Ian Fleming, died in August that year from a heart attack.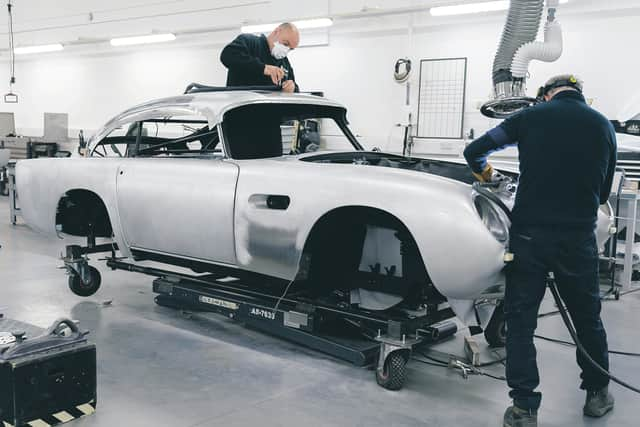 In the books, Bond drove Bentleys, but by the time of Goldfinger in 1959 he could borrow an Aston Martin DB3 from the Ministry garage. The DB5 in the films sold ten years ago for $4.6 million – cheap as poker chips for what the maker says is the most famous car in the world.
It also has a role in No Time To Die, due to be released in November after being held back because of the Covid-19 pandemic. Aston Martin is also providing a DBS Superleggera, a V8 Vantage and a $1.2 million Valhalla hypercar. Land Rover's new Defender will be showing its paces. Jaguar's potent XF will be one of the pursuit cars. A good choice: better visibility.
These filmic connections (Maserati, Lancia, Fiat, Range Rover and Toyota also appear) are valuable publicity. The bad news is you are probably too late to grab one of the 25 DB5 Goldfinger replicas being made at Newport Pagnell.
They have most of the gadgets, including the option of a removable roof panel above the passenger but, sadly, no ejector seat. The guns don't shoot either, but there's a real 290bhp straight six 4-litre engine with three sucking SU carburettors, a five-speed ZF box, no power steering and a live rear axle. Price: £2,750,000 plus taxes. Oh, and as specified, it is not road legal.
Aston's racing Vantage came second in class at last month's virtual Le Mans 24 Hour race, in which a mix of pro drivers, winners from Le Mans and F1 and expert games console racers took part from studios in 37 countries. It was surprisingly lifelike, even the night sessions looked convincing. Rebellion Williams was the overall winner. The real race is re-scheduled for September.
Meanwhile, Aston Martin is involved in the 100 track racing AMB1 Brough Superior motorbikes being built in Toulouse. The famous bikes from Nottingham, favoured by Lawrence of Arabia, were revived in 2013 by designer Thierry Henriette. Price: €108,000 but you're probably too late. TE Lawrence loved the speed of his ton-up Brough SS100 but died from injuries when avoiding some young cyclists, hidden in a dip in a road near Wareham, Dorset. He was 46.
One of Britain's great names in racing is Bentley, mostly in the past when its huge open cars were dominant. They won the second Le Mans race in 1924, and then again in four straight years from 1927. It won again in 2003 with an Audi-based car driven by Tom Kristensen, Rinaldo Capello and Guy Smith – the Yorkshireman taking the car to the finish.
Bentley is now a happy part of the VW Group, with mechanical ties to the Audi and Lamborghini divisions. Most of the bodies and heavy mechanical components are imported and crafted into hand-finished masterpieces in the Cheshire town of Crewe. We visited not long before lock-down and were impressed by the serenity of the Bentayga hybrid SUV – belying its boxy body. As it happens, a radically updated and prettier Bentayga was under wraps – revealed last week. At the same time its most direct link with the past was coming to the end. That car is the Mulsanne, the company's flagship saloon. More than 7,300 of these hand-built super luxury limousines with bodies from its elite Mulliner division have been sold since 1980. Much older than the Mulsanne is its 6.75 litre V8 engine which has been in production since 1959, the longest-running V8, with more than 36,000 made.
The penultimate Mulsanne, a "Speed 6.75 edition by Mulliner" is going to the US. The destination and price of the last car has yet to be divulged. Its successor, the Flying Spur, will have hybrid power.