Storm Ciaran: Here are 7 tips on how to stay safe while driving in heavy rain and strong winds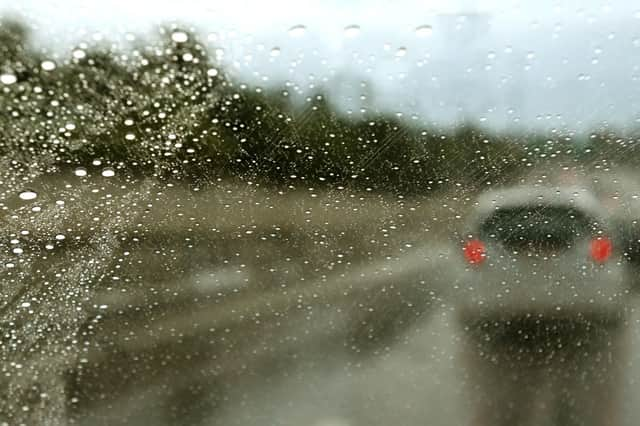 The third named storm of the year - Ciaran - is on its way to deliver more terrible weather across Britain and the associated weather warnings.
Whilst it is perfectly reasonable to drive in an area that lies within a yellow weather warning zone, you should use caution.
If you are planning on driving during turbulent weather it is important to stay safe for your own sake, the sake of other drivers and pedestrians.
Motorists in Iceland need to deal with more than their fair share of challenging driving contions, so the experts at Lotus Car Rental are in the perfect position to put together some tips to help motorists stay safe on the road during severe weather.
Here's what they had to say.
Check the condition of your wipers
The last thing a driver needs is to be stuck in a rainstorm only to discover that their wiper blades are damaged. This is a huge safety risk for motorists driving in the rain; visibility on the road will already be reduced and without adequate wiper blades, this visibility essentially drops to zero, potentially leading to a collision or accident.
There is a good chance that most motorists haven't had to use their wipers for a while - thanks to the heatwave and subsequent drought. Take the time now to inspect your wipers for any nicks or damage which could lower their effectiveness, and if any damage is found replace them immediately.
Ensure your lights are working properly
Visibility in heavy downpours can be severely reduced, not only for the driver of a vehicle but for other motorists and pedestrians as well. It is recommended that in heavy rain, even during the day, drivers use their lights to ensure they are seen by others. This is why checking all bulbs is an important maintenance task that shouldn't be put off, particularly when storms are forecast.
Brake lights are particularly important as increasing stopping speed is required in wet weather due to the reduced grip on the road causing it to take longer to stop, this means that drivers need to make sure that motorists behind them can see when they are slowing and stopping to allow them to have enough time to do the same.
Slow down and concentrate 
When driving in high winds and heavy rain it is crucial that you slow down and focus on the road in front of you. You may encounter debris from fallen trees, branches or other items blown by winds or your visibility may be affected which may make it harder to see break lights or indicators. When driving in high winds, you may find that gusts of wind cause your vehicle to shake. Always keep good control of your vehicle by using both hands on the steering wheel and keeping your speed down will stop strong gusts of wind from taking you of course.
Increase your stopping distance
As already briefly touched upon, during heavy rain drivers are required to increase their stopping distance by at least double, Rule 227 of the Highway Code states: "In wet weather, stopping distances will be at least double those required for stopping on dry roads. This is because your tyres have less grip on the road."
For motorists driving at 60mph, for example, the stopping distance should be 240 feet on dry roads; for wet roads, a motorist is required to increase this to 480 feet. Not only does visibility lessen in these conditions, meaning it is more difficult to see when the motorist in front is braking, but it also changes the surface of the road affecting traction and as a result, the car takes longer to stop.
Keep your distance when passing other vehicles 
When driving in strong winds, you should always be cautious when passing larger-high-sided vehicles such as lorries or buses. Keep room on either side of your vehicle when passing these vehicles to allow for it to be blown sideways but avoid overtaking where possible. As well as large high-sided vehicles, take care when passing cyclists and motorcyclists. These vehicles are particularly vulnerable to sudden gusts and could potentially veer across the road. 
Avoid puddles
Driving through big puddles at the side of the road may seem like a fun idea at the time, but this activity could lead to car aquaplaning which can be very dangerous. Simply put, aquaplaning is an issue caused when a layer of water is allowed to build up between a vehicle's tyres and the surface of the road. This results in a lack of traction between the tyre and the road which can cause the driver to lose control and the ability to steer, brake or accelerate. For this reason, motorists should do all they can to avoid big puddles safely but if driving through them is necessary then speed should be reduced.
It is also important to remember that under the Road Traffic Act 1988 motorists who intentionally splash pedestrians can be prosecuted. It is illegal to drive "without reasonable consideration for other persons" as well as more specifically, "driving through a puddle causing pedestrians to be splashed". 
If found guilty, motorists can be slapped with a fine of up to £5,000, for behaviour deemed to be "an act of incompetence, selfishness, impatience, or aggressiveness". As well as a fine, drivers are also risking being handed between three and nine penalty points on their licence.
Check your route
It is advised that those who need to travel during turbulent weather conditions check their route before setting off. Checking Google Maps or similar before leaving may alert motorists to road closures due to flooding or obstructions, however, it is also a good idea to check your local Facebook groups too as these can often highlight route issues long before maps or even the radio is told of them.
When out, motorists should be sure to look for fallen branches and trees and navigate them sensibly. It is safer to go around these branches than trying to go over them which could cause damage to the car and affect the control the driver has over the vehicle. 
Comments
 0 comments
Want to join the conversation? Please or to comment on this article.