Review: Kia Sportage
Factories are beginning to make cars again and it now seems likely showrooms will be opening for visitors sometime in June. Kia, like every carmaker, has been knocked sideways by the Covid-19 virus and the shuttering of most of its retail operations. Orders can be placed. What happens then is at the discretion of the dealer. Agents may be carrying out repairs, servicing and MOT testing. www.kia.com/uk/utility/find-a-dealer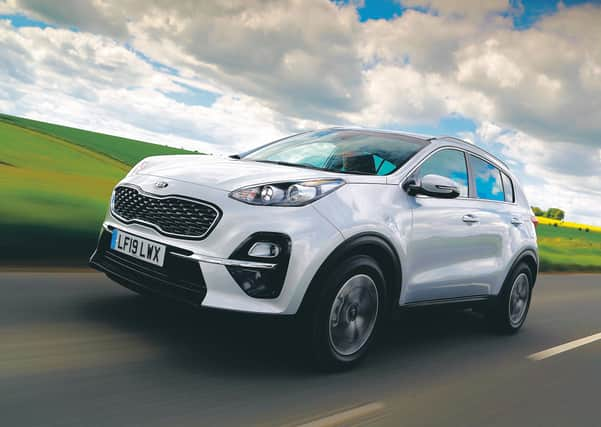 Kia's year started with a plan to meet the EU's stringent CO2 emissions target of 95g/km average across a product range. "This is an important part of our strategy for the future of Kia in line with continuing concerns over global warming – we recognise our responsibility and we have a clear plan to play our part in this," said, Steve Kitson, UK corporate communications director for the company, which is based in South Korea, with factories around the world.
Before the Covid-19 closures, UK sales were expected to fall, with the phasing out of some dirtier models in favour of greener cars and reducing the number of rental and courtesy cars. "We are looking to dramatically increase sales of electrified vehicles – mild hybrids, self-charging hybrids, plug-in hybrids and battery electric vehicles – and to reduce the numbers of high CO2 emitters," the company said.
This week it reported record sales of electric vehicles in Europe in the first quarter. There will be an all-new electric crossover car next year, as it moves to a target of half a million EVs annually in 2026.
Its Soul EV won the "world urban car" title in the World Car Awards last month. Rather less attractive for green life is a five-metre-long (197ins) 3.8-litre 8-seater brute, aka the Telluride SUV, which won the overall world car title, beating the Range Rover Evoque, two VWs, a pair of Mercs and Mazdas and a Hyundai.
The Telluride is named after a box canyon in Colorado, derivation "To hell you ride" in the lingo of the romantic Wild West. It is made in West Point, Georgia, and will not be sold in Britain. The message is it gives early pointers to the substance of this year's new Sorento SUV, a size down from the Telluride.
The West Point factory also makes the Sorento but our car come from South Korea. This year's "all new" model has a blind-spot video feed from the side mirrors which gives a wide-angle displays on the driver's instrument panel. This could save the lives of cyclists, who can often be lost in the cut and thrust of careless riding or driving.
Kia makes affordable superminis like the Picanto, from £10,195, but its big seller in Britain is the Sportage, a top tenner. This smaller SUV at 4.5m long (177 ins) is a handy fit for "us" and starts at twice the price of the Picanto. Or it did: the Sportage has had updates which see the entry grade 1 ditched. Prices now start at £23,445 for the Grade 2 model, with a newly introduced Grade 3 tier below the GT-LIne S. Grade 4 is gone from the UK.
The 182bhp 2-litre diesel model is no longer offered either, as part of fleet greening, which leaves the mild hybrid AWD GT-Line S 134bhp 1.6 diesel 7-speed dual clutch automatic topping the prices at £34,325. It averages 46mpg and 161g CO2. Petrol economy looks less attractive and the naturally aspirated 130bhp 1.6 has figures of 36mpg and 177g with manual gears, from £23,445 in Grade 2 trim. Seemingly even more at odds with Kia's 2020 emissions mission, there is a 174bhp 1.6 petrol turbo (from £25,555) with a 33mpg thirst and 192g CO2 rating. Only two versions of this latest Sportage emit less than 150g.
Before most of us had to stop driving I enjoyed the outgoing Sportage with the mild hybrid AWD GT-Line S 134bhp 1.6 diesel 7-speed dual clutch automatic drivetrain in Grade 4, priced at £31,520.
Spending this amount on a Sportage brings the level of kit you can't expect near the price on a pumped-up German prestige brand. That said, you can get into a BMW X1 or Mercedes-Benz CLA for less the £29,000.
On the Sportage I'd aim at Grade 3 (from £26,445) with whatever engine you fancy. Warning: when you chase economy the price leaps up.
My virtually obsolete Sportage was enjoyable. I had trouble with the navigation system vocabulary but kept my language clean. There is a hopefully unfounded fear that cars on media duty could be bugged to hear what we really think of the car, the company, the personnel. Great people all of them, I say.
Comments
 0 comments
Want to join the conversation? Please or to comment on this article.