Review: Renault Captur
One of the cars which surprised me this year was the latest Renault Clio. Tested here is its big brother, sister or gender-neutral sibling, the Captur, all-new this year and continuing, one expects, the success of the previous Captur – billed by Renault as the best-selling urban SUV. It has sold 1.5 million in 90 countries since 2013 and is segment top dog, cat or other animal for the past seven years.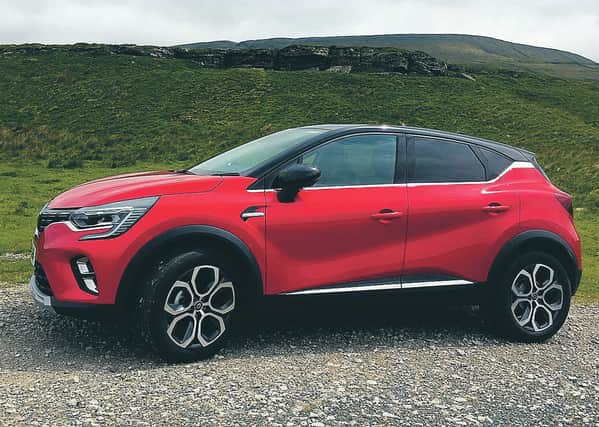 It is based on the Clio and Juke platforms but is larger than both, with a notable increase in cargo length. Sliding rear seats are a useful feature, with a variation of six inches between maximum and zilch legroom in the rear seats. The cabin width is much like the Clio and Ford Puma and many other hatchbacks so you'll trade up to the Captur for that extra cargo space and a slightly higher ride height. It is four inches longer than the earlier Captur. Even with the seats right back there is still 30 inches of load floor, with a 40-inch load width. This is still a few inches longer than the Puma but does not have the sunken luggage well boasted by the Puma.
Puma's dimensions make it a sharper drive than the bulkier Captur but a more focused rival could come from a sporty understudy to Captur. This would or could make sense because the Captur is among a dozen or so compact SUVs which take some 4 in 10 sales in Europe, (JATO).
The Captur has plenty of bold bodily shout, with fillets and shiny patches and air vents both real and fake. The slack-jawed black radiator grille is underlined by more chrome. So, here I am Captur. Hard to miss, aren't I?
Happily it's not all style over substance. Since December Renault gives a five-year warranty, with unlimited mileage in years one and two and up to another 100,000 miles to year five.
The Captur has the latest safety and handling electronics and connections with the outside world. From September you will be able to have it with plug-in hybrid technology which gives an electric range of 28 miles, 188mpg and 33g of CO2 in its optimum electric mode. The combined electric and 1.6 petrol engine produce 158bhp and 0-60mph inside ten seconds. Prices start at £30,495. Renault's E-TECH division offers the Clio as a self-charging hybrid from £19,595 – in September.
Renault is currently awash with incentives to re-start business after the Covid-19 calamity. For example, a £1,000 contribution towards its electric ZOE and £500 off the hybrid versions of the Clio and Captur. The Captur also qualifies for a free BP home-charger. Adding to the offers is a three-month, nothing to pay deal on an interest-free three-year PCP hire on Clio, Captur and Kadjar.
Captur prices start at £17,595 for the three-cylinder 99bhp Play, which has climate control, cruise and speed control, steel wheels, the EasyLink media and phone system on a 7-inch touch screen, LED headlights, lane departure, lane keeping and traffic sign recognition. Switch up to the Iconic (from £19,095) to get two-tone paint, navigation, alloys, roof rails and rear parking sensors. The S Edition, from £20,595, adds a larger, tablet-format screen, reversing camera, front sensors.
Tested here is the S Edition TCe 130 auto with the four-cylinder 1,333cc, 128bhp petrol engine and seven-speed dual clutch automatic gearbox, from £23,395. The flame-red paint added £660 and the 18-inch alloys another £300. The sunroof, flying console holding an electronic gear selector, with useful storage below, and a height adjustable co-driver's seat were in a £1,000 pack.
With BOSE audio and furnishing upgrades the car cost £27,055, and mostly very nice, too. After several weeks in the Puma the Captur felt luxurious though not as dynamic and quick steering – to be expected anyway.
Neat details: automatic locking and unlocking on approach and departure, traffic alerts – but no speed camera warning and no remote tailgate opening. Also, the speed limit reader was sometimes asleep, though the only ones it missed were when moving to a higher limit.
Ride comfort was acceptable and better with weight in the boot, though you'll still notice some thud and noise. On a highway cruise it was extremely relaxing, less so on rural roads.
The small turbo engine gives decent response. The gearbox shifting action from reverse to drive to reverse is a shade slow for nifty three-point turns and the big wheels don't help the turning circle. None of which matters all that much. You get used to these things.
Comments
 0 comments
Want to join the conversation? Please or to comment on this article.