Review: Subaru e-XV
Tested this week is Subaru's first move into hybrid power. The point about hybrid-engined cars is to get more economy, better emissions and more power. They are part-way between a normal petrol or diesel engine and a full electric motor, though nearer the former than the latter. The electric motor enhances the conventional engine by supplying extra power and to some extent will run purely on electric power in Electric Vehicle mode – EV.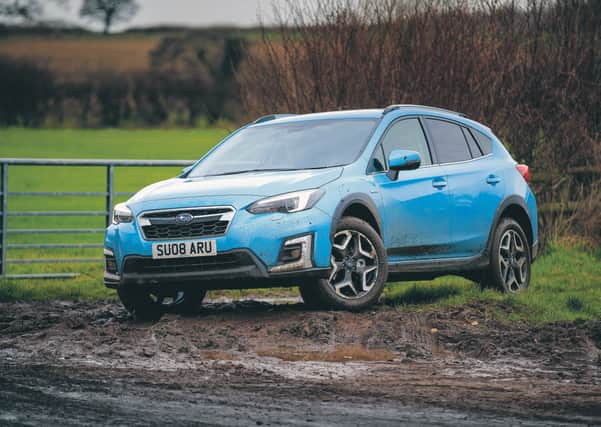 Subarus have never impressed with economy and so the news of a hybrid model was promising. The 148bhp 2-litre petrol engine is mated to a 17bhp electric engine in the XV and in the larger Forrester. This is a mild hybrid, not as mild as Ford's system in the Puma or in Suzukis, but way short of the output from the thoroughbred hybrids in which, for example, Toyota excels.
Tested here is the e-XV, a handy-size of SUV cum crossover competing in most respects with a mass of rivals from VW Group, Nissan and Renault, in models like the SEAT Ateca, Renault Captur, Nissan Qashqai, Skoda Kamiq and on and on and on. Some rivals offer part-time 4x4 drive but on the XV range permanent 4x4 is standard, combined with a seven-speed CVT automatic gearbox.
Some of them match or beat the XV on boot space and fashionable looks but none of them gets near the XV's ability off-road. It has 220mm of ground clearance (8.7 inches) and symmetrical drive to each wheel giving superior traction, breezing over a typical rocky track. With X-mode selected you get hill descent control and optimised grip for tough, slow going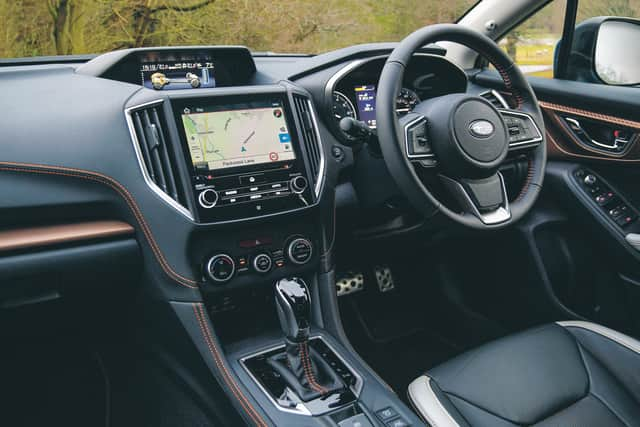 We were impressed by the regular XV with a 154bhp 2-litre petrol engine last time out. That engine is no longer offered leaving the 113bhp 1.6 petrol engine for the non-hybrid XV. All its engines are flat four "boxer" engines with the cylinders lying flat in opposing pairs. It's an old-time system still used by Porsche on the 911 and by Jowett, one of our lost brands. It gives both a lower centre of gravity and bonnet height. Whether it is any better from a technical aspect is not important here because if you want a Subaru it's all you can have. A diesel version was ditched a few years ago which leaves pure petrol, or this mild hybrid.
In 2019 Subaru carried off an award for best safety features, which will have come as a surprise to you know who in Sweden and Germany. Subaru's safety armour uses what it calls EyeSight, which uses 3D colour images from cameras in the side mirrors to assess the road ahead for moving and stationary hazards. It will give a warning and brake when necessary. Also looking after our safety: blind-spot monitors, lane keeping and adaptive cruise control.
Our test in 2018 of the 2-litre XV found it was as plucky a scrabbler as expected and corroborated doubts about the brand's economy. Hills and things recorded 33 miles a gallon and improved to 40mpg on a flatter landscape.
The 2-litre hybrid e-XV tested last week managed a mediocre 30mpg on a regular 50-mile hill and valley drive, surging to a heady 34mpg towards the end on flatter roads. The best one-trip figure was 40mpg on flat terrain. The 10.5-gallon tank limits the range on those wilderness days.
Cabin width and rear legroom are good but the luggage floor is fixed, and slightly below the entry lip so you can't shove in luggage as easily – borne out by scuff marks on the sill. The maximum horizontal loading width and floor length is par for the class. When the seats are folded they lie flush with the boot floor. Rear passengers have a centre arm rest.
The car rides higher than most but the cornering feels secure and planted, and there's extra accelerating from the shove of the electric engine. Acceleration is hearty but the range in pure EV mode is negligible.
It is no surprise that there is noise from underneath. The suspension was smoother over poorer roads than some and no worse than others. However, on undulating road the back end could buck – we could hear the boot floor as it moved up and down.
You can assess the charging and discharging process with one of the several displays, which appear in the main instruments, the information screen and on a panel above it. The speed sign reader did not pick up temporary limits and does not alter the speed limiter setting automatically.
Comments
 0 comments
Want to join the conversation? Please or to comment on this article.