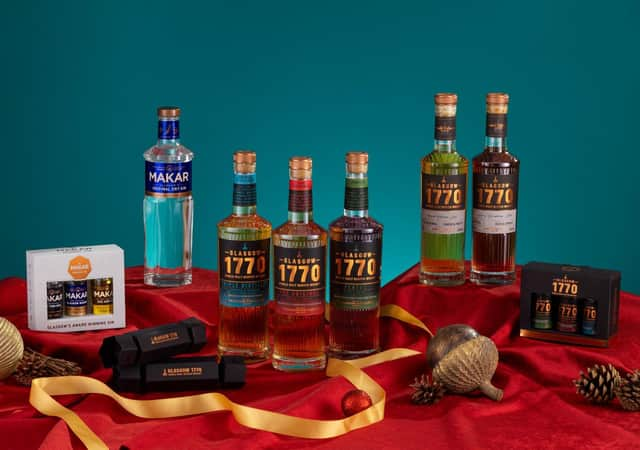 The award-winning Glasgow Distillery adopts its name from one of Glasgow's original distilleries. Founded at Dundashill in the year 1770 the original Glasgow Distillery produced whisky until being mothballed at the beginning of the 20th Century.
But in 2012 the Glasgow Distillery name was re-born as three friends took the steps to create the first new single malt whisky distillery in the city for over 100 years. Its hand-crafted traditional processes and attention to detail has helped it achieve some prestigious accolades, including being named Scottish Whisky Distillery of the Year in 2020.
Offering not just single malt whisky, this contemporary urban distillery produces a range of innovative and exciting spirits across whisky, gin, vodka and rum.
Here's a selection of delights to get you into the festive spirit.
Glasgow 1770 Festive Range has everything for the malt whisky aficionado – whether their palate prefers the smoky tastes of peated malt or the smooth unpeated varieties. With everything from miniatures in crackers to personalised bottles there's something for everyone.
Glasgow 1770 Single Malt Signature Range: This comprises The Original, Peated and Triple Distilled – three very distinct distillation styles that explore The Glasgow Distillery's innovative and contemporary approach to whisky making. Each expression is packed with flavour and has won multiple awards on the global stage.
Glasgow 1770 Single Malt Personalised: create the ultimate whisky gift with Glasgow 1770 by designing your own personalised bottle. Choose a message for the bottle label and a message for the gift carton label – you can use the free online design tool on The Glasgow Distillery website and it shipped directly or visit their festive pop-up shop in Glasgow city centre at Princes Square and have one of their whisky specialists print and apply the label whilst you wait. A 50cl bottle costs £49 and could be the Glasgow 1770 Original or the Glasgow 1770 Peated.
Glasgow 1770 Miniature Selection Gift Pack: Glasgow 1770 Single Malt Scotch Whisky combines the finest Scottish barley with the exceptionally pure water of Loch Katrine. Matured in the finest casks, always non-chill filtered and only ever natural in colour, the Glasgow 1770 Signature Range consists of The Original, Peated and Triple Distilled. This premium whisky gift set includes 5cl bottles of each of the Glasgow 1770 Signature Range – all for £20.
Glasgow 1770 Festive Whisky Crackers: Each cracker contains a 5cl miniature bottle of either Glasgow 1770 The Original or Glasgow 1770 Peated – perfect as a stocking filler or for the Christmas table. There are a limited number of these and they are just £6.50 per cracker.
And there are plenty of ideas for gifts for the non-whisky lovers from the distillery's range of gins, vodka and rums.
Makar Original Dry Gin: Named after the old Scots' word for a poet or a bard, Makar Gin is a bold and confidently juniper-forward gin made for gin lovers, by gin lovers. Makar Original Dry is distilled slowly and with care in The Glasgow Distillery's copper pot still, Annie, combining seven carefully selected supporting botanicals with juniper, which lies at the spirit's heart. As the first gin to come from Glasgow, Makar Gin is not afraid to lead the way and as a result, has won a number of international awards since its launch in 2014. £28 per 70cl bottle.
Makar Oak Aged Gin: This is a popular expression which has been matured for a short period of time in small, handmade fifty-litre virgin European oak casks imbibes this spirit with a wonderful golden colour, a vibrant oaky taste and a spicy finish. Named 'Scotland's Best Matured Gin' and awarded a Gold medal at the San Francisco Spirits Awards, this is an original and exciting gin that is not to be missed by gin enthusiasts. £28 per 70cl bottle.
Makar Gin Miniature Gift: This premium gin gift set includes three 5cl bottles from the Makar Gin range: Makar Original Dry Gin, Makar Old Tom Gin and Makar Oak Aged Gin and comes beautifully presented in a card and foil gift set. £15 per pack.
Banditti Club Rum: This Glasgow Spiced Rum is named after a band of ardent spirits who would meet in Glasgow's local public houses in the late 18th and early 19th century; singing, eating and playing music late into the night. Matured and spiced in Glasgow, Banditti Club is made using rum distilled from freshly pressed sugar cane juice on the Island of Madeira. Aged for 12 months in oak casks, Banditti is spiced with a selection of fresh tropical fruit and exotic spices, including pineapple, orange, cacao and allspice. This is a truly handcrafted spirit with no added sugar, colouring or any artificial flavours. £25 per 50cl bottle.
Malt Riot: This blended malt Scotch Whisky Vat No.6 is a blend of handpicked single malt whiskies from across Scotland with The Glasgow Distillery's Glasgow 1770 Single Malt at its heart. Malt Riot takes its name from the 1725 Malt Riots which started in Glasgow and spread throughout Scotland, and the inadvertent result of the protest lead to the start of the whisky industry as we know it today – it makes a lovely whisky sour cocktail. £25 per 70cl bottle.
Check out their full selection and place your order on the website here. Over 18s only.
Try before you buy at their pop-up festive shop within Princes Square shopping centre in Glasgow's city centre. The distillery team are there daily from 10am until December 30th.