Diary of a lockdown home brewer part 6: Watch as I taste my first home made beer
Now, I wouldn't say I am delighted with the outcome, but then again I didn't immediately spit it out and cry, so I think that's a sign of success.
After weeks of battling leaks, bubbling buckets and questionable smells I have finally been able to crack open my Christmas stout.
This is the final article of my six part series on my experiences home brewing where I will talk about how the tasting went.
Now, I wouldn't say I am delighted with the outcome, but then again I didn't immediately spit it out and cry, so I think that's a sign of success.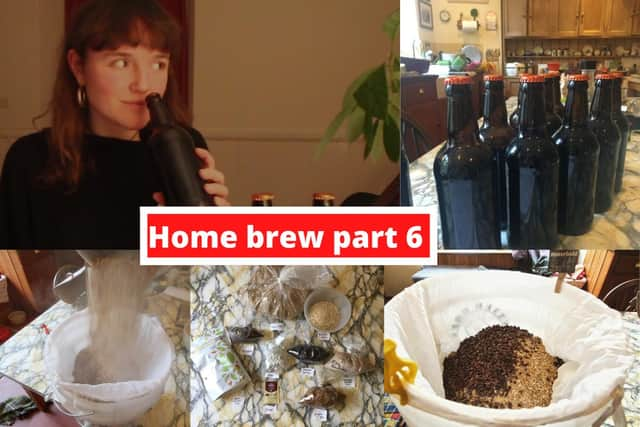 After the catastrophic leak which I wrote about in part 2, I was a little sad to only have nine bottles instead of 16 as originally planned. Yet, after tasting it, I am a bit relieved there aren't so many because, with no one able to come home for Christmas, I am likely going to be drinking this stuff with one or two unlucky relatives for the next wee while.
To be honest my first response was unsure. After first opening it the waft of booze and the first sip were quite overwhelming and all-encompassing for the senses.
After the fermentation process went a bit wrong and the yeast stopped consuming the sugars far too early (which still remains a mystery), I was worried the brew was going to be sickly sweet. But luckily it's not. I can taste chocolate notes and a hint of caramel that comes from the crystal malt, but it's a good balance.
Unexpected flavours of banana
Some flavours have emerged that I wasn't expecting. I can taste banana in the beer, which certainly wasn't a taste I was going for in this Christmas stout - I was hoping for more orange, cinnamon and ginger given those were the spices I put in it. But I will take what I can get. From my limited research, the smell of banana can mean the brew overheated during fermentation. Every day is a school day.
Now, this might come across as an alarming flavour to taste, but I have heard it can be quite normal in home brews, and in beer in general. The sulphury taste can be a bi-product of some unwanted yeasts that manage to sneak into your beer when you're not looking (you have to clean your equipment religiously throughout the process), or it can be that some certain types of yeast just kick out sulphur smells.
Another tasting description people use for this flavour is 'rotten egg' but I wouldn't go as far as that. But then again maybe I've drunk enough now to not notice it anymore?
In the penultimate week, prior to opening the bottles, it's good to let them sit and carbonate.
As mentioned in part 5, I made an error in not filling my bottles to the top for fear of them exploding (this can happen when the sugar content is too high - which mine was). By leaving a large gap in the bottles, you run the risk of the liquid oxidising and therefore tasting of vinegar.
But, I was pleasantly surprised to find that, while some of my bottles were only about two thirds full, I didn't pick up on any salad dressing type flavours. Success.
The beers I have opened so far have made a 'gentle fart' noise (I read this description somewhere on a home brew blog and it made me laugh) which shows carbonation has taken place and there is a bit of fizz, which is a good sign.
Have I been able to drink a whole bottle in one setting? No. It's far too intense. But I have been sharing them with relatives who have been putting on wonderfully brave faces.
I guess the real test would be to give one to a professional brewer and see what they think, which I plan to do.
Would I recommend trying to make a home brew? Definitely. Especially now that the country seems to be plunging into another lockdown, it's certainly a hobby that can be amusing. And who knows, you might be good enough for it to become a wee side-hustle or a full blown career change.
I think both of those are a little ambitious for me though…
Here are the 5 steps of my lockdown home brew experience:
A message from the Editor:
Thank you for reading this article. We're more reliant on your support than ever as the shift in consumer habits brought about by Coronavirus impacts our advertisers.
If you haven't already, please consider supporting our trusted, fact-checked journalism by taking out a digital subscription.
Comments
Want to join the conversation? Please or to comment on this article.