Driving With Dogs in Winter: 5 ways to keep your dogs safe on journeys and avoid a £20,000 fine
Don't forget the needs of your four-legged friend when out-and-about in the colder months.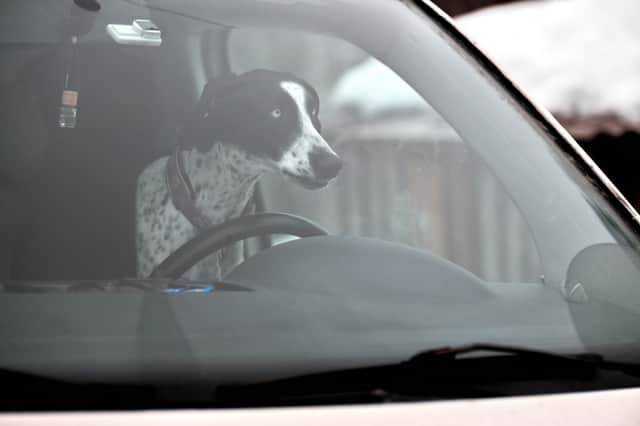 Whether driving to a local beauty spot for a frosty walk or embarking on a peaceful winter getaway, many Scots will be preparing to travel with their pets this season.  
Many of us understand the importance of not leaving our dogs locked inside a hot car, but owners need to take just as many safety precautions for their pets in the colder months too. 
Temperatures can plummet quickly, and your car can become dangerously cold for your pet, putting them at serious risk. Owners should be aware that if their dog becomes unwell or dies from being left in the car, they could face serious consequences. 
The experts at Bristol Street Motors have emphasised just how important it is to ensure your pet is as safe as a passenger during the winter months: 
Here are their five expert tips.
Don't leave your dog alone 
We've all experienced the bone-chilling cold of a winter day when we can see our breath and the car's temperature gauge drops to freezing. It's an unpleasant feeling.  
As quickly as outside temperatures can drop, so can the temperature inside your vehicle. So, when you stop for fuel or a break, take your furry friend with you. Leaving your dog in the car on their own is actually a breach of the Animal Welfare Act, so it's essential as an owner that you don't make this mistake - it can result in a £20,000 fine and even imprisonment.
 Secure your pet 
Just as you wouldn't let a passenger travel without a seat belt, the same applies to your dog.  
A dog seat belt or harness will ensure your pet is safely secured and won't shift around the backseats during drives. These belts are adjustable and come in various sizes, so there is one to suit any breed.   
You may also want to consider a dog headrest guard, which can be fitted to the boot or back seats to prevent your dog from distracting you while driving. This is particularly important as if your dog is diverting your eyes from the road, you can be charged up to £5,000 for careless driving.  
Keep your dog comfortable 
Before you set off, ensure you have the right set up to make your journey less stressful for your pet. It's essential to remember that you're taking them out of their comfort zone, which can cause them to be more anxious or nervous. 
Consider using back seat dog beds or travel crates to make them feel at ease. While still prioritising your pet's comfort, you can also protect your car by using a waterproof seat cover, especially in cold weather, to keep your furry companion warm and your vehicle safe.  
Leaving old spare towels in the back of your car is also a good winter hack for making sure you're prepared for your dog this season. 
Bring a water bowl 
Keeping your dog hydrated whilst out and about can be tough. That's why it's good practice to make sure you carry a collapsible water bowl around with you.  
So, even if you're out of the house for a long time, your dog can still drink the water it needs to stay hydrated. It's also particularly useful when you've stopped at pubs or restaurants with your pooch. 
Help them into the car 
Many dogs can struggle with mobility issues, such as arthritis, and this can be worsened when the temperature drops. Even if your dog can jump straight into the backseat, it's best practice to help them into the car so they get used to the travel routine.  
For bigger dogs, you can buy specific car ramps or stairways to use as aids, so you aren't straining to lift them into the backseat every time you travel. These are usually foldable, which means you can keep them in the boot for storage and get them out at your convenience. 
Comments
 0 comments
Want to join the conversation? Please or to comment on this article.