When is Eid ul-Adha 2020? Meaning and history of Islam's most important annual holiday, how it's celebrated - and start and end dates
With several lockdown restrictions now lifted, Muslims across the UK are now getting ready for traditional Eid ul-Adha celebrations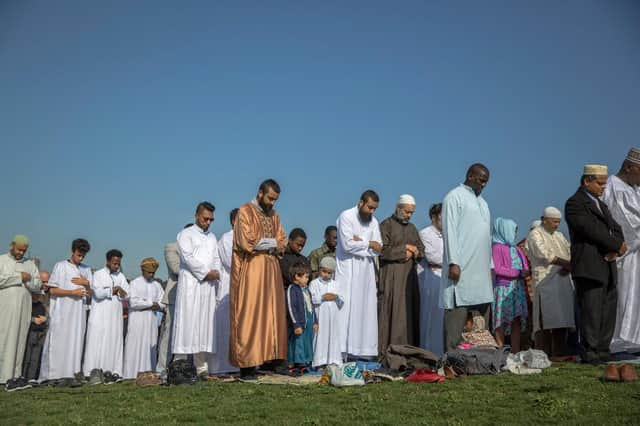 Muslims all around the UK are to start celebrating Eid ul-Adha, the most important of Islam's annual holidays.
The holiday started in the UK on Friday 31st July, and will come to an end on the evening of Monday, August 3.
With roughly 2.8 million Muslims living in the United Kingdom, many people across the country are expected to take part in the Islamic celebrations.
However those of us who are not familiar with Islamic religious practices may be asking ourselves, what exactly is Eid ul-Adha? And how is it celebrated?
The name of the holiday 'Eid ul-Adha' means 'the celebration of the sacrifice'.
This name refers to a tale of sacrifice mentioned in the Quran, in which God asks the Prophet Ibrahim in a dream to sacrifice his son, Ismail, as a test of his faith.
Those familiar with Christianity will notice parallels between this story and that of Abraham and his son Isaac found in the bible, called the 'binding of Isaac'.
The Quaran explains that at first, Ibrahim ignored the dream, but after it had reoccurred for several nights in a row he decided to follow God's orders to prove his faith.
As he tried to decide his course of action, muslim's believe that the devil had tried to convince him not to kill his son.
In response, Ibrahim threw rocks at him. This is considered a significant act and one that is now copied by pilgrims at Hajj who throw stones at pillars.
As Ibrahim began to carry out God's command, God swapped his son for a goat, which Ibrahim was allowed to sacrifice instead.
Muslims around the world now celebrate this story by feasting on goat meat.
When is Eid ul-Adha celebrated in the UK?
In the Islamic calendar, celebrations for Eid ul-Adha begin on the 10th day of the 12th and final month.
This month is known as Dhu Al Hijjah or "The Month of the Pilgrimage".
The date that Eid ul-Adha starts alternates each year, depending on which date Dhu Al Hijjah begins. So Eid ul-Adha can be celebrated in the Gregorian calendar on either Thursday, July 30, or Friday, July 31.
This year it began on 31st July.
How is it celebrated in the UK?
Muslims in the UK usually start the celebrations by performing a full-body purification ritual known as 'ghusl', before attending a prayer service at a mosque.
One of the main rituals that occur on Eid ul-adha is the sacrificing of either a sheep, goat, or cow. However, under British law the animal must be killed in an official slaughterhouse.
The meat is then shared between family, friends, and the underprivileged, while some Muslims will also choose to donate money to charity or to poorer families.
Mosques sometimes arrange communal meals or hold lectures on aspects of Islam and Islamic history.
During the day Muslims will wish each other "Eid Mubarak", a phrase which roughly translates to "have a blessed Eid".
It is also customary to give gifts to children, as well as visiting relatives.
How might the celebrations be different this year?
Due to the coronavirus pandemic, some celebratory traditions may be reduced or tweaked a bit.
Since lockdown laws have only permitted groups of up to six to gather, larger family gatherings would go against the government's rules at the moment.
Also, late in the evening on Thursday 30 July, Health Secretary Matt Hancock announced on Twitter that new local lockdowns will come into force for people in Greater Manchester, east Lancashire and parts of West Yorkshire after a spike in Covid-19 cases. The government published more details two hours later, before releasing extra guidance on the changes on the morning of Friday 31 July.
The new rules dictate that separate households are no longer allowed to meet each other at home or in private gardens and came into force at midnight on Friday 31 July, within mere hours of the Hancock's social media announcement.
Despite these new rules, people in the effected areas can still meet up in public spaces as well as in pubs, restaurants and other hospitality venues with other members of their household and social bubbles.
The areas affected are people in Greater Manchester, Blackburn with Darwen, Burnley, Hyndburn, Pendle, Rossendale, Bradford, Calderdale, Kirklees and Leicester.
This means that for muslims wishing to celebrate the holiday in these areas are now much more restricted in doing so. However celebrations can still occur in public spaces such as parks.
Additionally, places of worship are now open in the UK, however they are only open for individual prayer and not for mass services.
However churches and mosques are allowed to hold usual services starting from the 4th July, meaning Eid prayers will be able to occur in mosques across the nation as long as appropriate social distancing measures are applied.