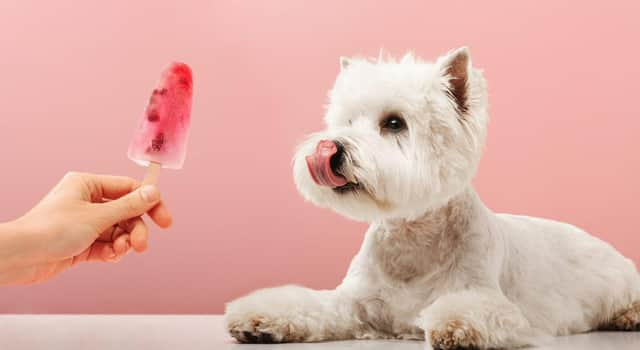 Tasty treats can be the best way to show your pooch you care, but what are the best homemade treats to make your dog this Valentine's Day?
Intrigued to find out more, online dog breeder finder Puppy Hero wanted to find the tastiest homemade treats that we can make our furry friends this Valentine's Day to show them how much we love them, without breaking the bank!
Here are 5 homemade treats perfect for your dog this Valentine's Day.
Watermelon Mint Popsicles
2 cups of cubed, seedless watermelon: £3.09
⅔ cup plain yoghurt*: £0.45
2 tablespoons chopped fresh mint: £0.52
This delicious doggy delicacy is easy to prepare, simply blend watermelon, yoghurt, and mint together in a blender until the mixture is smooth. Fill ice cube trays with the mixture and freeze for 4 hours or until frozen, let them stand for a few minutes, and serve! For an added touch of love, use a heart-shaped ice cube tray, to give your furry friend the ultimate Valentine's treat.
Buying ingredients in-store to make this treat at home will likely cost you around £4.06. This could save you around £3.44 compared to shop-bought alternatives.
Frozen strawberry love hearts
3-4 large strawberries finely chopped: £1.49
This dog-friendly snack is also a relatively quick treat to prepare. Firstly, finely chop the strawberries, and add a few pieces of these to an ice cube tray. Then, pour the yoghurt over the strawberries and put in the freezer for around 3-4 hours. Once frozen, pop them out of the tray, and let your furry friend indulge! You can pop the remaining treats back in the freezer to avoid wastage.
Buying ingredients in-store to make this treat yourself would be expected to cost around £2.34. This will likely save you around £3.65 compared to similar highstreet products.
Frozen peanut butter and yoghurt hearts.
Organic Greek yoghurt: £0.85
Natural peanut butter: £1.15
These frozen peanut butter and yoghurt treats are another way to make your pooch feel loved. Simply spoon some peanut butter into the bottom of an ice cube tray - heating up the peanut butter can make it easier to scoop in!
Secondly, add enough teaspoons of yoghurt on top of the peanut butter to fill each mould, and push the yoghurt in with the back of the spoon, to ensure the peanut butter and yoghurt combine together for the treat. Finally, freeze the treats for roughly 4 hours. You can then pop these out and feed your pup their portion.
Buying your own ingredients to make this treat will likely cost you around £2. This may save you around £3.50 compared to similar peanut butter treats.
Cranberry Heart Biscuits
1 and 1/2 cups almond flour: £1.25
1 tablespoon coconut oil: £1.65
3-4 tablespoons of coconut flour: £3.50
1/2 cup dried cranberries: £1.15
To make these delicious biscuits for your pooch, start by preheating the oven to 165℃, beat 2 eggs and set these aside. Then, combine the almond flour, coconut oil, and dried cranberries together in a bowl. Once these are combined, add in the eggs and mix with your hands, the dough should be wet. Add in your coconut flour one tablespoon at a time, mixing in after each addition. You will be aiming to achieve a consistency that is easy to roll.
You can then roll out the dough and cut out treats using bite-sized cookie cutters, place them on a baking tray lined with parchment paper, and bake for 15-18 minutes. Finally, make sure to let them cool, and feed your furry friend!
Purchasing ingredients in-store to make this treat yourself, will likely cost you around £8.74. This could result in impressive savings of around £9.25 compared to buying similar heart biscuits.
Peanut butter and blackberry dog popsicles
½ cup blackberries: £1.99
2 sliced bananas, frozen: £0.28
½ cup natural creamy peanut butter (be sure not to select items that contain the ingredient xylitol which can be harmful to your dog): £1.15
½ cup plain unsweetened yoghurt: £0.45
These pup popsicles only take 15 minutes to make. Simply start by using a blender to puree the blackberries until smooth and set these aside. Clean the blender and add the remaining ingredients. Blend these, adding water where necessary, to achieve a soft ice-cream texture. Layer the blackberry mixture and peanut butter mixture into popsicle moulds, or small plastic cups, and insert popsicle sticks once done. Freeze the popsicles for at least 4 hours or until solid. You can then serve them to your pooch, and keep the remainder in the freezer for up to one month!
Shopping in-store for ingredients to make this treat at home, will likely cost you around £3.78. This could end up saving you around £5.72 compared to similar peanut butter and berry treats.