Lockdown takeaway review: Slumdog on Leith Walk, Edinburgh
While my diet is more likely to bring despair than delight to any nutritionist, I've never really been one for takeaways.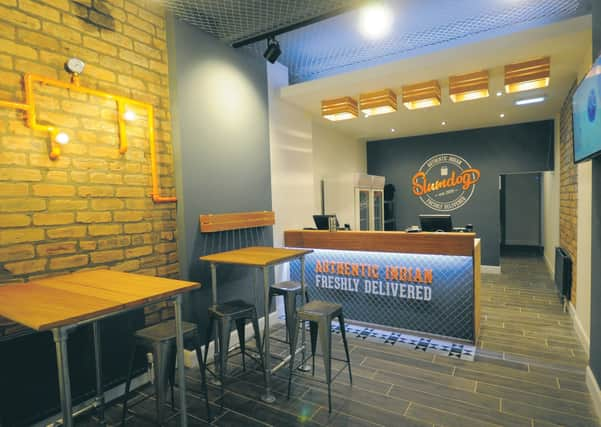 But, to paraphrase a recent tweet I saw, weeks into and probably weeks away from the end of lockdown, it would be nice to occasionally tuck into a meal I haven't cooked myself.
With that in mind, I check out Deliveroo and turn my attention to curryhouse Slumdog, having often walked past its distinctive turmeric-orange decorated facade on Leith Walk – it is also present elsewhere in the city.
I also take a gander at the restaurant's main online menu – and see that its takeaway mission is "to lovingly create food that is inspired by India's most-adored dishes".
It boasts of using recipes largely untouched for centuries, but giving them its "signature 'Slumdog Spin' to really make them sing".
I'm intrigued, even more so when the restaurant says it offers a simplified range of dishes compared to many "sprawling" Indian takeaway menus, and prepares everything in-house.
I decide to choose my main first. Sections include tandoori and grills, biryanis and classics. But I place my chips on the king prawn kalli mirch from the specials menu, with the crustaceans tossed in crushed black peppercorn, left overnight and cooked in a coconut-based sauce, to create the "best taste ever". Who could refuse? Then there are the sides – which I feel are at the very least of equal importance to the main.
There is a plethora of naan options, including a honey version, but I opt for the old school classic of garlic and coriander, and a portion of three papadums. Contenders that didn't make the final cut include the potato and chickpea combo of aloo chana chaat from the streetfood menu.
What does end up in my order out of curiosity is the boondi raita, the yogurt-based classic of raita souped up with deep-fried, small gram flour dumplings.
Then there's dessert, and I've got to go for the gulab jamuns, described on the menu as a "good old delight".
I press "order," enjoying the Deliveroo alerts and being able to see where the delivery person is. It's also a contact-free delivery, so on arrival the distinctive turquoise Deliveroo carrier is placed on the ground and I'm told to take my order out as the delivery person isn't allowed to touch it – kind of how I imagine a ransom exchange to go.
My king prawn main comes in a standard foil takeaway container, and I have to do a little prodding below the surface to find the crustaceans, which then surface to bob around like holidaymakers lounging around in a swimming pool.
I simultaneously get cracking on the papadums, which are ultra crisp, and tear off a hunk of piping hot naan, cooked to bubbled-surface perfection, to dip into the curry, which I have decanted into a bowl.
The soup-like sauce is dotted with flecks of pepper, and, I think, lentils, but overall it seems to be leaning way more towards tomato than the promised coconut. But it's pretty tasty overall with just the right level of heat.
It's also well balanced by the raita. I wasn't filled with enthusiasm when I saw it but it's actually my favourite dish of the order, the dumplings much lighter than I expected and well-paired with the smooth yogurt.
Then, for dessert. The gulab jumans are moist and dense in a delicious, fragrant saffron-y syrup. I also look up what they actually are – a deep-fried dumpling/donut-style treat made of milk solids.
Even before I'd placed my order I'd been plotting having a second serving from it the following evening, and indeed I save half of everything apart from the papadums, which were but a distant memory before the delivery driver had started her engine up to leave.
The following night I have the curry sauce as a "soup" – its fieriness somehow intensified.
All told this has not been a cheap meal – including delivery it was around the £30 mark for dinner for one, and it could have easily been nearer £40 with a couple more sides.
I could have taken a more strategic approach, for example not ordering one of the most expensive mains and instead opting for, say, one of the more economical dishes featuring the delicious cheese paneer, which Slumdog boasts is fresh and homemade.
That said, the restaurant offers some pretty good deals, especially midweek. Furthermore, I can't begrudge what was a very tasty meal that provided a dose of sunshine and heat – a welcome contrast to my household's "lockdown cuisine" menu dominated by toast and pasta, with an accompaniment of dreich Scottish sky.
Comments
 0 comments
Want to join the conversation? Please or to comment on this article.