Restaurant review: The Smiddy Barbecue, Edinburgh
One of the unexpected benefits of the recent Unpleasantness is that we've all (re)discovered our local communities.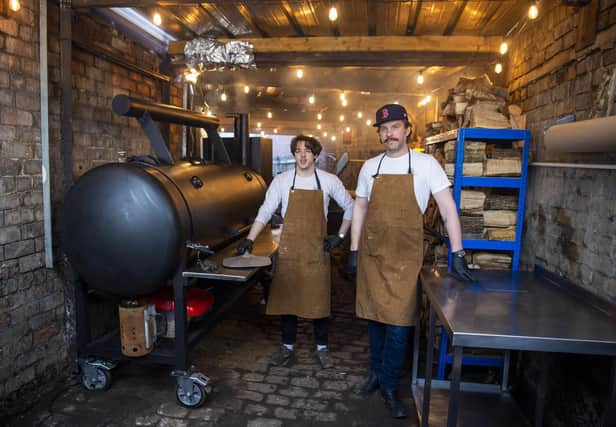 For far too long we walked or drove the same old routes to go to the same old places, but now, thanks to Covid, we've had the time and opportunity to walk around our own neighbourhoods and actually see what's going on.
On a recent stroll, Mr. Turner and I came across a climbing centre mere yards from our front door that neither of us had even knew existed. Given that I have a paralysing fear of heights, I wouldn't have been seeking out climbing centres pre-pandemic - but I was amazed that something so big and so busy had gone completely unnoticed on my doorstep. but that wasn't the most interesting thing about that walk.
Outside a non-descript pebble dashed building there was a queue of people. All masked and socially distanced - not talking to each other, but clearly all waiting on something. The building has no signage - aside from a stylised logo - so we didn't know what it could be. Maybe some new hipster yoga place? but no-one had mats - and, to be frank, not one person queueing looked as though they knew their downward dog from their cobra.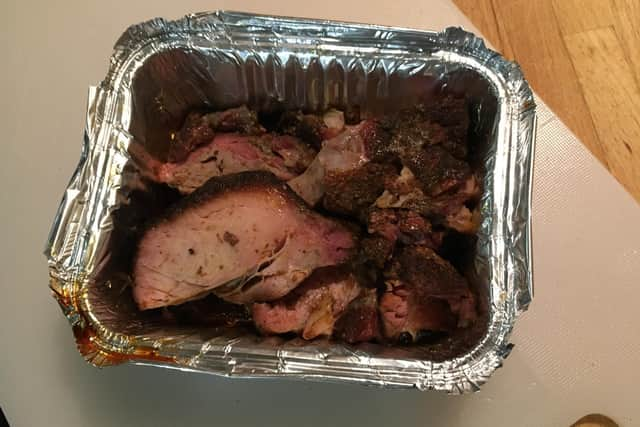 Then, on the stroke of 6pm, a hatch opened and a discreet neon sign was switched on. The queue - by now quite lengthy - started to amble slowly forward. We watched as each person went up to the hatch, shouted a number and was handed a bag.
It was all too much for Mr. Turner who *had* to find out what was going on. He shouted over to a man at the rear of the queue and asked him what he was waiting for. There were a few different things I half-expected to hear, but "only the best barbecue you will ever eat in your entire life" wasn't on the list.
We had to know more, so joined the queue ourselves. When we got to the front, Mr. Turner was devastated to discover that everything had to be ordered in advance and he couldn't - no matter how much he pleaded - get anything that night. He did, however, get straight on his phone to order there and then. Only to find that he was going to have to wait nearly a month to get a slot. Oh, the humanity!
I don't know how many of you have dogs - and how many of those are Boxers - but you may still be familiar with the slavering that nearly any mention of food will bring out in them. This is what it was like living with Mr. Turner for the next month each time the subject was mentioned. When the day came, he was beside himself with excitement. So much so, that we left early, to ensure prime position in the line. No such luck - he's obviously not the only one obsessed with Smiddy BBQ. There were already about ten people in front of us. but once the hatch opens, the orders are swiftly dispatched and in no time at all we were back home, ready to pop everything in the oven to keep warm.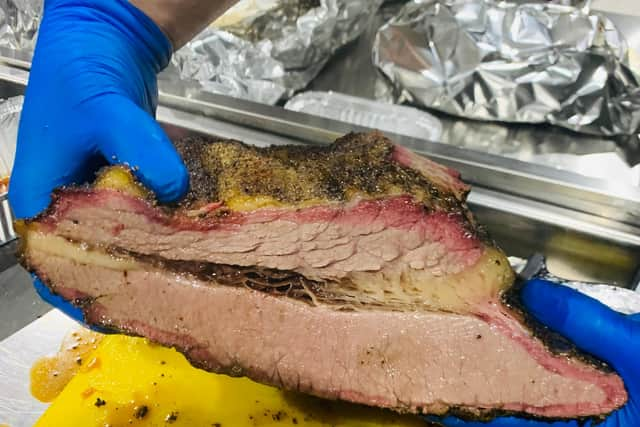 The Smiddy has a beautifully simplistic menu and ordering system. You order a platter (supposedly for two to share or, as they say on the site, one adult panther) and can supplement with traditional sides. The platter is £45 (£47 if you opt for the Saturday night version - which comes with additional sausages). You are then emailed a confirmation of your order, together with your number for collection. The Smiddy is only open for (pre booked) collection between 6-7pm on a Saturday and a Sunday night - which is why we had to wait so long to get a taste of this fabulousness.
Our BBQ Feast - and it was indeed a feast - consisted of:
12 hr Smiddy House Brisket point and flat,
half a rack of babyback ribs,
generous portion for two of cowboy beans
green apple and kohlrabi slaw
homemade pickled red onions and classic gherkins.
We added on some cornbread (£3) and some peach cobbler (£5)
Turns out that this is a pandemic production. Mates Cameron and Sam used their lockdown time to perfect their texan fire pit barbecue skills - with their families and friends as all too willing tasters. Reaction was so positive that they then took over an old blacksmiths with the aim of creating a hole in the wall bbq place - but *what* a hole in the wall place! They cook their meats over a traditional texan smoker - called Helga - for up to 24 hours.
Great bbq takes a long time to get outstanding results. The cooking is the quick bit over a white hot heat source. The secret is in the preparation, which in this case was up to 48 hours marinating in secret concoctions that tenderise the meats and aid the flavoursome results.
Each marinade yielded slightly different taste sensations. A hint of chipotle chilli here, a whiff of cumin there and so on. All of the meats (and there was a lot of it) were cooked to perfection. The money shot however was the brisket. We had saved this to last, mainly because it was the largest box and how it stacked up in our oven.
Forget those dried, cardboard pot roasts most of us have endured from time to time. You could literally cut this with a spoon. Given the size of the portion, I wish we had opened this earlier.
Admitting defeat, Mr Turner's glee enabled him to find some room from somewhere and polished off my helping. This was definitely a bbq that is a cut above. When we reorder – and make no mistake that we will - we'll make sure we have some salad and crusty bread laid in to balance out the meal and soak up the juices.
The corn bread portion barely coped with our first dish, and the beans and the slaw, whilst refreshingly grown up, didn't seem to offer enough of a counter point. After a short interlude, I summoned the energy for pudding. Unfortunately this didn't live up to the excellence of the main event. It was a little clawingly saccharine to my taste and used tinned peaches, which to be fair is understandable at this time of year.
It's a strange feeling to be able to plan a bbq in advance in this country, given the vagaries of the weather. Just remember that you may have to do this well in advance, given the popularity of this little lockdown secret.
E:no email - all contact through website...
£53 for a sharing platter plus two sides