Aberdeen football fan in running to win Games Room of the Year with Dons themed attic bar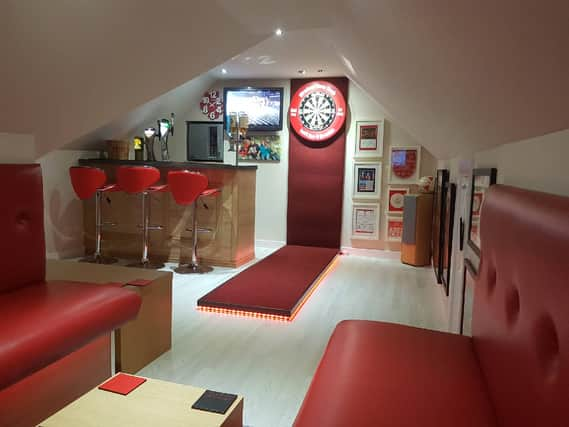 Sales rep Graeme Strachan, 42, from Brechin is one of the finalists to win Games Room of the Year.
More than 1,000 men entered the competition from across the UK, and have been whittled down to ten regional finalists, including two wild card entries.
The winner of the UK Games Room of the Year 2017 will be judged by the public on the creativity, uniqueness and attention to detail of their "mantuary".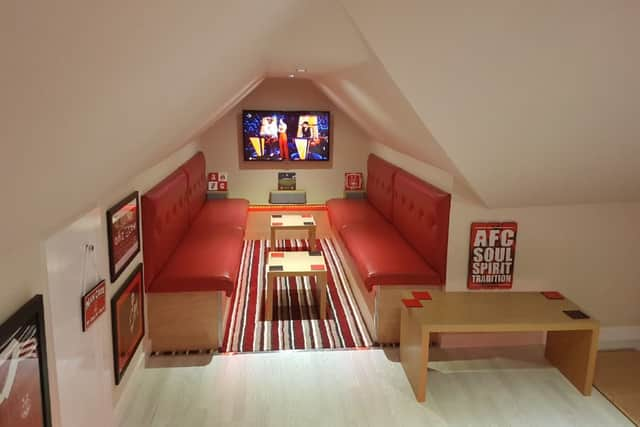 Picture: Graeme's Aberdeen FC themed attic bar
Graeme's created a bar from the attic space in his home and decorated it is inspired to reflect his love of Aberdeen Football Club.
Lifelong Dons fan Graeme told The Scotttish Sun: "My mate has something similar and hes a joiner. He wanted me to DJ at his 40th and I said no problem, I'll do it for free but he insisted on doing something for me.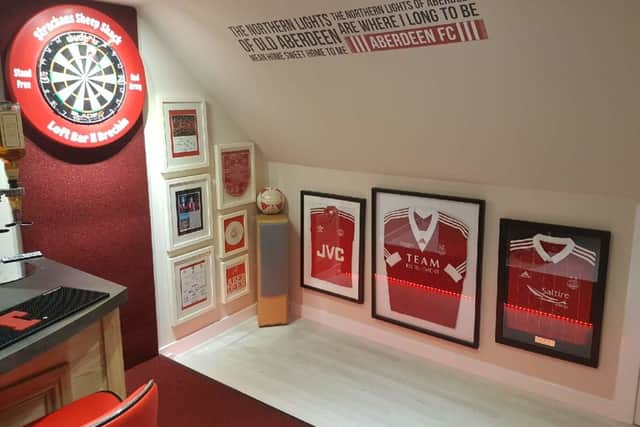 "So I asked him to floor my loft. It was totally inaccessible. Then when he started working on it he said "ach we'll just make it into a bar eh".
"So I got a mate who's a plumber, a mate who's a sparky and mate who's a painter and they all did for nothing. It turned out amazing.
"The funny thing is; the plumber is a Rangers fan, the sparky is a Rangers fan, the joiner is a Rangers fan and the painter is a Celtic fan."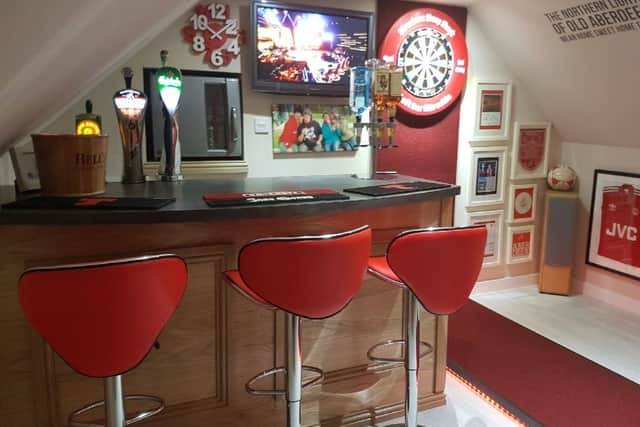 The other hopefuls include a hangout dedicated to Las Vegas, called the Pink Panther Bar, which has been decked out with fruit machines.
Proud owner Andy Blair has spent years building up his collection of memorabilia from the Strip to transform the room in his home in Carrickfergus, Northern Ireland, into a gambler's paradise.
His man cave also features a pool table his dad made from scratch in 1978 and a bar which was an old kitchen worktop.
Outside the Pink Panther Bar, Andy has even turned his back garden into a mini-football pitch complete with goals, along with a beer garden for pals to enjoy a drink at full-time.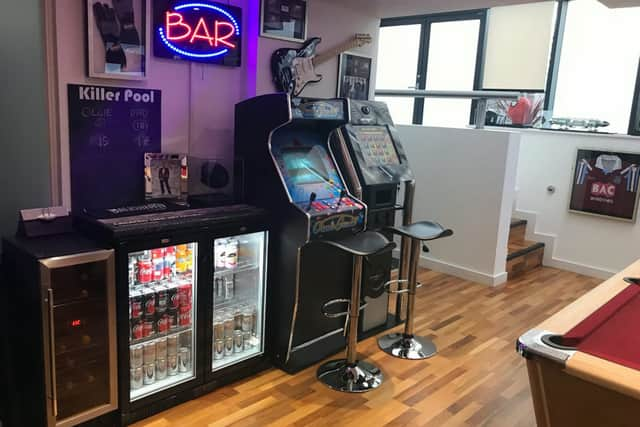 Meanwhile Ben Buey built an outside man cave with bar and chilling area called 'Wonky Donkey' which was named after a drawing his nine-year-old nephew gave him.
Eddie Mabin has turned the clock back for his man cave in his home in Poole, Dorset, after transforming it into a gaming arcade from his childhood.
His haven is packed with games, including pinball, Doctor Who and Star Wars, while the walls are decorated with 90s-style graffiti.
Picture: Peter Goldby's games room, SWNS
Another football-mad fan, Peter Goldby, has dedicated his home to his beloved West Ham Utd, complete with Upton Park street sign and dozens of signed shirts taking pride of place on the walls.
The tournament is being run by Home Leisure Direct and Andy Beresford, the firm's managing director, says: "This has been our best year yet for entries and we've really struggled with the shortlisting process.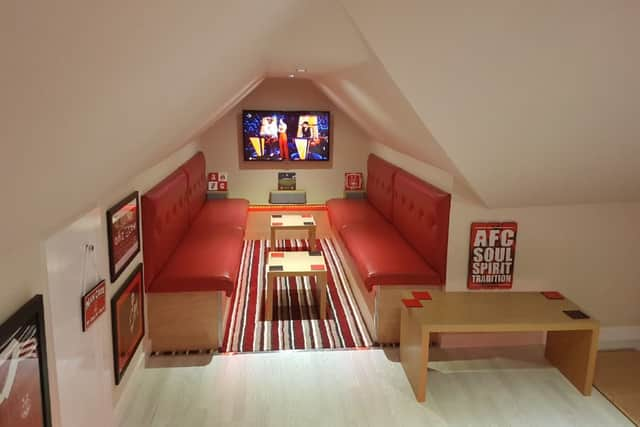 "There really have been some outstanding efforts, but we've managed to whittle it down to what we view as the best of the best and, as you can see, there's an excellent selection on offer.
"As has happened in previous competitions, we're opting to let the public have their say when it comes to the final decision.
"We've struggled enough to pick the finalists, let alone an overall winner, so we're passing the buck and letting everyone else make the final choice.
"The buzz around the offices when we see the entries coming in really is great and we're delighted to share a glimpse of what we've been enjoying over the past few weeks.
"There's definitely a worthy winner in there somewhere, but as to who it is we couldn't hazard a guess at this stage as the standard is just that high."
This year's winner will take over from triumphant Darren Stump, 44, who spent four years and £15,000 building a dream tribute to his beloved Tottenham Hotspur in the back garden of his home in Hornchurch, Essex.
People can vote for their favourite on the company's website November 5 and the winner with receive £3,000 cash and be crowned the proud owner of the best games room in the UK, 2017.