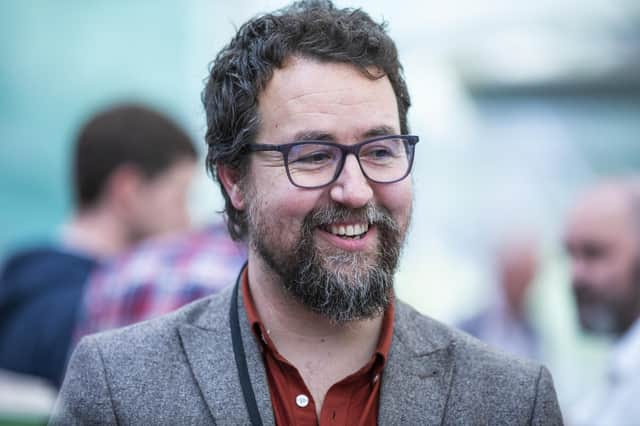 The chief executive of the not-for-profit social enterprise, which delivers low carbon solutions, is in no doubt about the urgency of the task ahead. "The need is great, the need is now and we are going to be the people stepping up.
"It will take a lot of work but our focus is on tackling climate emergency and meeting net zero."
Josiah, newly appointed to his role, plans to oversee a doubling of the size of the organisation by 2024/25 to meet the challenge head on. He says there will be more than 300 staff across Scotland, from Shetland to Stranraer.
Changeworks has been operating for 35 years, finding ways to reduce environmental impact by working with local authorities, community groups and housing associations. Now, the big ambition is to decarbonise homes across Scotland extending their reach to homeowners and private landlords.
The work they do helps householders to use renewable energy and heat for their homes, as well as insulation to make the home more efficient. But their service also includes on-the-ground advice for people who may be struggling with reducing their bills, or who want to save energy at home
Scaling up to meet net zero
Josiah says their new plans revolve around growing the capacity they have. "A lot of technology exists but the skills are not available on a large scale, everywhere they are needed. That is where we come in, growing our team by hundreds and helping to deliver the net zero target the country has to meet."
In the last year Changeworks has supported 75,000 households and installed 3,500 insulation measures, mainly by retrofitting homes. Despite the impressive achievement Josiah calls it a "drop in the ocean": "One million homes in Scotland need to be decarbonised to meet our net zero target."
That is why Josiah is leading the team towards the private as well as the public sector. "Our big shift is to try to accelerate decarbonisation into the homeowner and private landlord market, as well as continuing to work with local authorities and other public sector bodies."
Josiah says the cost of living crisis has focussed attention on the importance of having energy efficient homes, to reduce bills as well as environmental impact.
"In Scotland, we have one of the leakiest housing stocks in Europe, in terms of heat and carbon, but if we can make homes more efficient, we can tackle the climate crisis in a different way.
"Whether prices come down in the next year is questionable so it looks like we are going to walk into the same fuel poverty problem next winter. But if we tackled the efficiency of those homes, we tackle fuel poverty at the same time because people will need less energy.
"Decarbonisation and tackling fuel poverty go hand in hand."