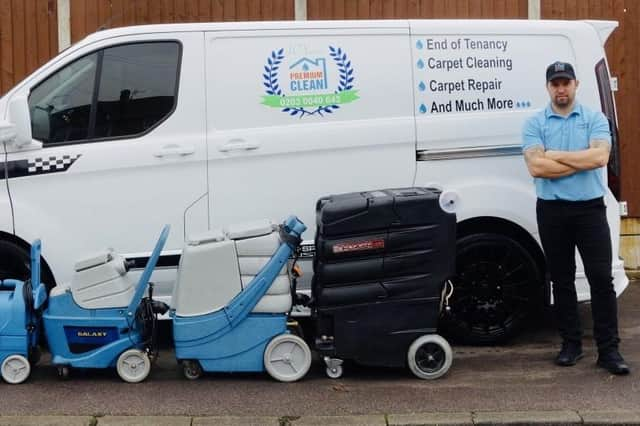 A professional cleaning service can make all the difference, making your space shine like new, whether you're moving in or out of a rental space. It doesn't matter if you live in a modest tenement flat or a luxurious detached mansion, there is nothing like some expert help to get every inch of it spotlessly and hygienically clean.
If you're a renter or a leaser you will probably be all-too-familiar with that sinking feeling of walking into a vacated rental property and finding it not only looks, but smells, decidedly lived-in.
Just a few weeks of Christmas decorations hanging around can make the dust accumulate, so imagine how much dirt manages to hide itself behind the furniture after months or years.
And it's often only when people move out that tenants and landlords discover what's hidden behind the sofa, where life's dust and dirt can become so ingrained it will take more than a domestic vacuum cleaner and a good mop to get it spick and span and to ensure you retain that all-important deposit!
Premium Clean are the experts when it comes to cleaning. The company has been around for more than 12 years and deals with both commercial and private properties, specialising in end-of-tenancies.
Whether you are a tenant who is moving on or moving to Scotland, you're a property owner with a portfolio of premises, or you just want to give your home a really good clean, this company can deliver expert cleaners to you, wherever you are in Scotland.
What is Premium Clean and can I afford it?
The company is owned by Kiril Natov and it started in London. It is now one of the sector specialists has expanded its service throughout the UK.
Losing a hefty deposit for the sake of getting a job well done, is not worth the risk. What some tenants might think is acceptably clean, may turn out not to meet a landlord's standards – and as a landlord, you may find it harder to secure a tenant if the property doesn't make a good first impression. Either way, paying a professional company to clean can be beneficial both in the long and short term.
Having something professionally cleaned, using steam cleaners like the Premium Clean team does, rather than just vacuum cleaners, can give tired-looking floor-coverings, carpets and furnishings a new lease of life – meaning they last longer and cutting down the cost of replacing them. And they're not just clean to the eye; using the right methods and products means you can get rid of mites and bugs too.
Their expertise also includes cleaning ovens, windows, hard floors and gutterings. And whilst they specialise in end-of-tenancy cleaning they can also be hired for deep cleans after building work or renovations.
There is also the peace of mind that all Premium Clean staff are CRB and DBS checked, they'll take away all the rubbish and won't consider the job done until you're 100 per cent happy.
Prices are fixed and depend on the size of the property and what you want done, so they advise you to get a quote.
Find out more by visiting their website or by calling 0203 0040 643 0777 45 18 219