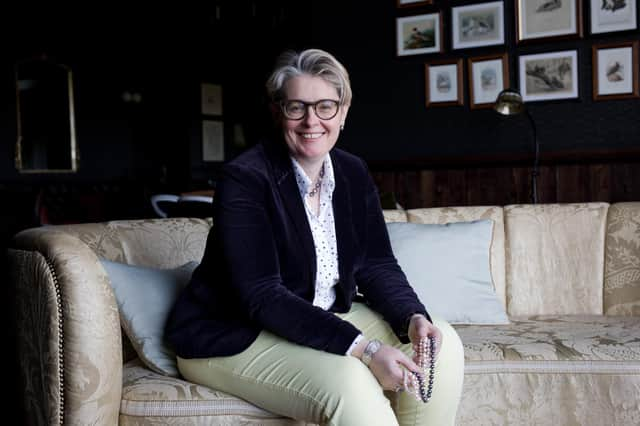 Diamonds are forever, but pearls have had a slightly more complicated existence.
They were in the fashion wilderness for a while, after they became associated with Thatcher, twinsets and a stuffy mode of dressing. Now they're having a revival, thanks in part to fans including Harry Styles, Pharrell Williams and Bella Hadid.
If anyone is an expert in these treasures, it's North Berwick-based Clare Blatherwick.
After a spell working under an international gem dealer in London's Hatton Garden, she became Head of Jewellery at Edinburgh auction house Bonhams and was there for ten years. This job involved sourcing jewellery from all over the world to be brought to auction.
Back in 2017, she left to start her own eponymous business, which offers various services, including reconditioning heirlooms and designing bespoke pieces for clients. Now, she'll be showcasing one of her specialities at The Wonder of Pearls at the five-star Marine North Berwick Hotel on February 22 from 10am until 4pm.
"Beside the sea seemed like the perfect setting for this event," said Blatherwick.
She agrees that pearls are having a moment.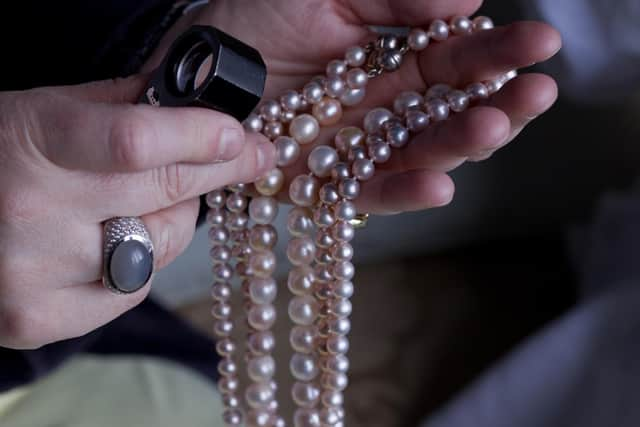 "It's a really interesting cycle because Cartier's premises on Fifth Avenue, the mansion house that is their flagship New York store, was exchanged for a row of natural pearls," she says. "That's how valuable they were at the start of the 20th century. Then when cultured pearls came in, the natural pearl market was decimated. And for years they were considered a bit also-ran".
Now a younger market is making them cool and they're gradually shedding their fuddy-duddy associations.
Those who want to start wearing them again are invited to the Marine North Berwick event to discover if the pearls they own are imitation, cultured or natural. Blatherwick's jewellery designer, Edinburgh College of Art graduate, Jacqui Mathieson, will be in situ to offer advice on redesigning neglected pieces and there will be a small collection of items for sale.
They can also commission one of Blatherwick's top contacts - master pearl stringer, Renata Terjeki, who has strung for top jewellery and auction houses as well as European royalty. This artisan can 'weave' with pearls, and create pieces that counteract the asymmetry of a body, so they sit perfectly on the neckline.
"She is properly brilliant. It sounds like such a straightforward task but stringing pearls is so skilled, and there are very few people in the country who do it really well", says Blatherwick. "She's coming up from London and will be demonstrating the art. She strings really complicated pieces and that means people can have multi-strand necklaces that can be fitted like a bespoke suit. She'll also be doing some pearl drilling demonstrations".
There will also be an opportunity to examine some more unusual pearls. It turned out that they're not all creamy white and perfectly spherical. They don't all come from oysters either.
Blatherwick will be bringing along some other varieties for guests to examine.
"Any mollusc is capable of producing a pearl. You get incredible ones from snails and different types of freshwater molluscs. In America, there are amazing purple pearls called quahogs, which come from clams," she says. "We've also got some rare conch pearls. These come in pink and salmon colours, and have an incredible surface feature called a flame structure. You'd see them in places like Hong Kong or high-end London jewellers because they're rare and not necessarily so well understood here. I'm keen to introduce something a bit more unusual and we've got some natural black pearls as well. When you think of natural pearls, you think of the Arabian Gulf and white pearls, but these are natural black sea water pearls. Not something you typically see in the shops in Scotland".
It's safe to say that Blatherwick has some very wealthy customers, but she also caters for those who want to re-purpose heirlooms. If she can get clients wearing their old and often neglected pearls, or other pieces of jewellery, that gives her the most job satisfaction.
"I'm a bit of an old romantic and quite sentimental. So when we get someone who's inherited pieces, there's an emotional attachment. We can remodel them into something they will wear," says Blatherwick, who will be launching her own first jewellery collection in the summer. "It's not uncommon for clients to cry when they open the box and see what we've done. It's a real pleasure and a privilege to take part in that kind of process".
For those who aren't convinced by the pearl renaissance and are more drawn to something sparkly, this jeweller will also be hosting a gem event on the week commencing April 24. Blatherwick's gem dealer will be coming up from London so the pair can stop by various venues including Gleneagles Townhouse, with final details of the trip to be confirmed. They'll be offering similar services to the pearl event and showcasing some unusual stones, like spinels, which feature in the British Imperial State Crown. While most of us would be paranoid about dropping one of these on the floor, this expert isn't intimidated.
After all, she has handled some of the rarest, including a Bulgari blue diamond ring, which sold for £1,900,000 while she was at Bonhams.
As she says, "At the time, it broke world records and, I've got to tell you, it looked good on my hand".