Regular cutting, feeding, reseeding and the general upkeep of a lawn can be an expensive and time-consuming chore – even in the smallest of gardens.
Many of us have shady areas of our gardens where grass growth is patchy and untidy looking no matter what attention it receives. The front of my house is fully north facing and the grass there has always looked decidedly unkempt, despite my best efforts.
If only dock leaves were considered ornamental, I would garnering winning prizes for my green fingers at horticulture shows in no time.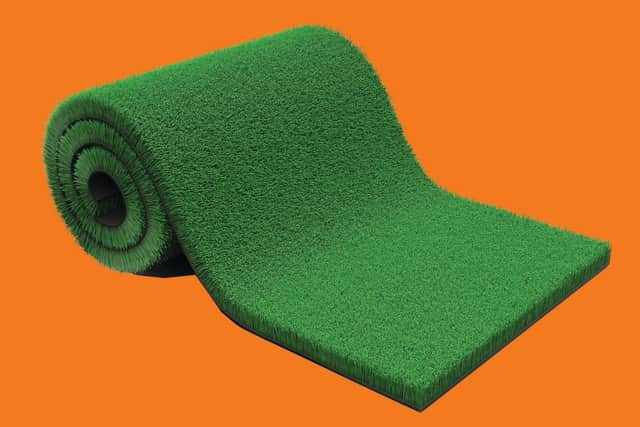 One solution would be to consider artificial grass. Modern versions are surprisingly convincing, and totally unlike the tawdry plastic green matting so beloved of greengrocers' shops in the past.
Covering a problem area with fake grass is becoming more popular, according to the insurance company Aviva, with an estimated 10 per cent of householders choosing to use artificial lawns in at least some parts of their gardens. A further third of respondents said that they would consider the change.
It is certainly an instant fix, with a roll out of the artificial turf, all your trimming, edging and mowing woes disappear and the garden gets added kerb appeal. Brown patches and weeds are literally swept under the carpet of immaculate green.
However, an artificial lawn can be an expensive option, initially, with per square metre prices starting at around £50 if you get it professionally installed.
That said, at the premium end of the market, the product not only looks like natural grass, but has the same feel when walking on it. The fillers used means that individual blades of grass bounce back up when trodden or sat on, just as natural blades do.
It is even claimed that some professional golfers use artificial turf for their personal practice greens because of how well they mimic the movement and feel of a golf course's natural grass.
Nevertheless, there are huge environmental problems with artificial lawns. In a world where insects are in decline, these micro-ecosystems in your garden are important to bees and butterflies for pollination.
Soil health under an artificial covering soon suffers, not to mention the micro-plastics released by each blade.
And artificial lawns only last around a decade, so will have to be replaced too one day, with the old stuff ending up in landfill.
In terms of adding value to your property, laying an artificial lawn might seem a sensible option. But, while it may improve your marketing photos, fake grass is likely to be a turn-off for many more buyers than would see it as an advantage.
These days, you are much more likely to attract kudos for not having an immaculate lawn. No Mow May is now a national campaign to encourage people not to cut their grass until the end of that month, in order to give a boost to pollinating insects.
I'm on board this year – if I can possibly spin a garden overrun by dock leaves as rewilding.