Artist Ross Ryan on going the extra (nautical) mile to capture Scotland's dramatic seascapes
When artists talk about working "en plein air" they usually have calm, sunny conditions in mind. For Ross Ryan, however, it often means squalls, gales and very cold hands. Interview by Roger Cox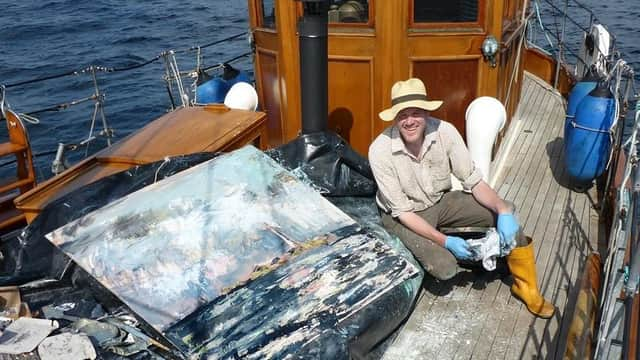 In January, the Crinan-based artist and sailor Ross Ryan posted a video on YouTube entitled "Another Windy Day." First, it shows him wrestling a very large, very flexible piece of board across a cobblestone beach in a howling gale, the wind almost snatching the would-be canvas out of his hands as he nears the water's edge. Then, after he's managed to get the board under control, we see him enjoying a steaming cup of coffee while waves explode against nearby rocks, and flecks of foam churned up by the sea blow across his completed painting like so many hailstones.
Anyone who caught Ryan's last exhibition at the Scottish Gallery in Edinburgh in 2018 will be aware of his commitment to creating work in the open air, no matter how attritional the conditions. Displayed alongside the paintings in The Logbook – A Solo Winter Voyage, there was a black and white photograph of the artist at work on the deck of his wooden 1940s herring boat Sgarbh, braced, judging by the crazy angles, for some serious pitching and rolling. Much of the work in the show bore traces of having been exposed to the elements, too. Painters of seascapes often scuff or scumble their work to give the impression of heavy weather, but if one of Ryan's canvases looks as if it's been battered by a Force 9, chances are it probably has.
This month Ryan was supposed to have another solo show at the Scottish Gallery, this one entitled The Logbook Vol.2 – Batten Down the Hatches. Thanks to Covid-19, however, hatches have now been battened down all around the world and the gallery has been forced to close for the first time in its 178 year history, so the exhibition is only available to view online. There is still plenty of evidence, however, that he has been continuing his access-all-elements approach to painting on his most recent west coast voyages. The description in the exhibition catalogue of his expedition to paint the Stevenson Light on Dubh Artach, off the north-western tip of Colonsay, gives a good indication of the lengths he's prepared to go to in order to create work in the moment:
"With the swell rolling us excessively, anchoring was out of the question, as was making a landing. Soon it became apparent that the only way to keep her steady was to steam slowly into the swell, a quick turn and then run with it for half a mile or so, before repeating the process. The turns were pretty chaotic as I tried to hold on while also bracing a big wet painting and palette... With five passes I had a painting."
What does Ryan feel he gets from creating work in such harsh conditions that he couldn't get from, say, taking a quick photograph and then painting from the safety of his studio?
"At times, while painting in the midst of a squall, I have asked myself 'what the heck am I doing?'" he says. "Perhaps the paint just won't stick as the rain and spray undermine it, or your palette's bolted off down the beach. But if you want to taste that salt, you've got to be in it."
Ryan grew up with the sea. His parents, Nick Ryan and Frances Macdonald (also a notable artist) may have had their hands full running the Crinan Hotel, but they were happy enough for him to let him develop his sea legs aboard Sgarbh.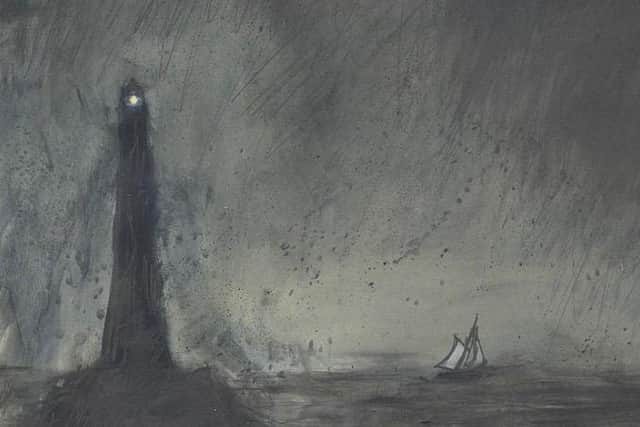 "My dad got a hold of her in 1978," says Ryan, "years after she had finished fishing. Back then Crinan was rammed with old fishing boats, and all my youth was spent clambering aboard them when I got a chance. My dad was wonderful and offered me a great lead into the sea from an early age. He was generally flat out running the hotel but it didn't stop him letting me take the boat out. By 12 I could do it alone if I stayed in view of the hotel. Later, when I was in my teens, she became a party refuge. Then, when I could see the boat was becoming too much work and cost, I told my dad if he passed her on I would rebuild her and make her work for a living."
Ryan has been as good as his word. Not only does he now run Sgarbh as a charter business, he has also managed to turn her into a budding film star, with roles in the 2019 chiller The Vanishing, alongside Gerard Butler and Peter Mullan, and in Great Canal Journeys with Timothy West and Prunella Scales.
As well as putting paid to his Scottish Gallery exhibition, the current crisis has also meant that Sgarbh has had to remain confined to port, but Ryan is sanguine about the situation.
"Not seeing all my paintings together in the flesh is quite a thought," he says, "but I'm fully aware of the magnitude of this virus and the devastating impact it's having on so many people. And the day the lock gates part and the boat steams out to sea, well, that will be a sweet taste to savour."
To view Logbook Vol.2 – Batten Down the Hatches, visit www.scottish-gallery.co.uk