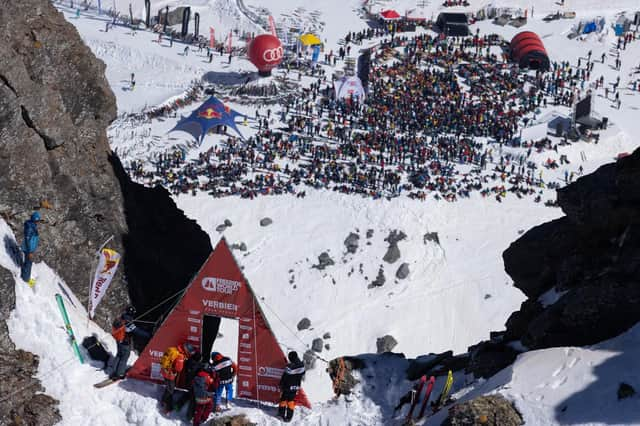 The Freeride World Tour reaches its climax in Verbier in Switzerland in a few days' time, with the best big mountain skiers and snowboarders on the planet gearing up for a no-guts-no-glory showdown on the intimidating north-east face of the 3,223m Bec des Rosses. There's a vertical drop of 600m between the start gate on the peak and the finishing line in the valley below, and an average pitch of 40 degrees; however, those numbers don't even come close to doing the place justice. Many of the steeper sections of the contest face have an incline of over 50 degrees, and there are cliffs everywhere you look; so, while the potential routes down might seem obvious to spectators and judges looking up at the Bec from below, for riders preparing to drop in at the top, the view is more like a sea of terrifying question marks – points beneath which the ground simply disappears.
Competitors study their lines with care before the event begins, but still: it's one thing to know there's a safe landing on the other side of a cliff; another thing to trust that knowledge enough to ski off said cliff and into thin air. The Bec has been described "a lethal maze" and, for most ordinary skiers and boarders, that seems like a fairly accurate summing-up.
The athletes on the FWT, however, are very far from ordinary. So far this season they've already taken on some spine-chillingly steep lines in Baqueira Beret in Spain (anyone for 60 degrees plus?), and done some high-speed bushwhacking between tightly-spaced trees in Fieberbrunn in Austria. If anyone can make the Bec des Rosses look easy, then, it'll be this lot.
Katie Anderson of Canada has already secured victory in the women's snowboard category this year, with wins in Fieberbrunn, Baqueira Beret and Ordino Arcalís in Andorra, but the other disciplines all come down to this final event. In the men's snowboard, Lodovic Guillot-Diat of France has a narrow lead over Jonathan Penfield of the USA, after Penfield pipped him to first place in Fieberbrunn earlier this month; in the women's ski category, Justine Dufour-Lapointe of Canada is in pole position, but still has Molly Armanino of the USA and Megane Betend of France snapping at her heels; while the men's ski division is particularly close, with Valentin Rainer of Austria only marginally ahead of reigning world champion Maxime Chabloz of Switzerland and Andrew Pollard of the USA. Recent snowfalls have improved conditions on the Bec, and the weather window for the contest runs from 25 March until 2 April, so all the ingredients are in place for an adrenaline-soaked end to the season.
Scotland's own freeride tour, the Scottish Freedom Series, might also be decided this weekend, at the Coe Cup event at Glencoe, scheduled for 25 and 26 March, although at time of going to press the organisers were still waiting on the weather forecast to make a final decision on whether to run the event or not. Scotland's 2022/23 ski season got off to a stronger start than usual, with vintage conditions in January in particular, but since then things have been considerably more challenging. As a result, the first two events of the series – the Lawers of Gravity in the Ben Lawers Range, scheduled to be held in mid-February and the Corrie Challenge at Nevis Range, scheduled to be held in early March – had to be cancelled.
According to Snowsport Scotland's Iain Ramsay-Clapham, who runs the series, at the start of this week there wasn't enough snow on Glencoe's super-steep Flypaper zone to run the Coe Cup safely. However, with heavy precipitation forecast for the tail-end of the week, he said there was still an "outside chance" it could run.
"At present, Flypaper has a few navigable lines that would suit for a recreational slide," he wrote in a message to competitors on Monday night, "but there's too little snow and too much exposed rock to allow us to safely go ahead with a freeride competition, so we are relying on snow to come this week to be able to go ahead.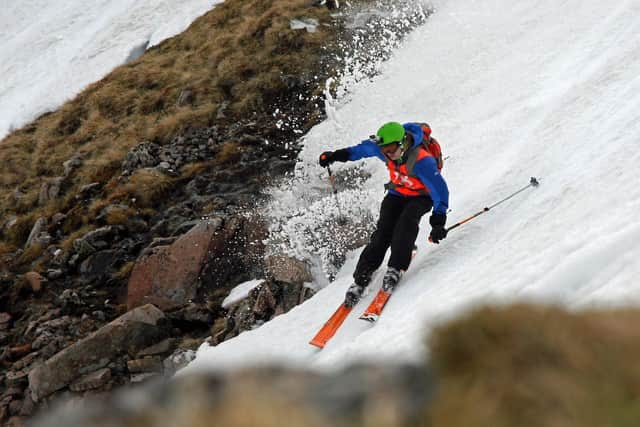 "Snow-forecast.com is suggesting that 27cm of snow might fall between now and Saturday, but this depends massively on whether freezing levels remain far enough below the summits for it to come as snow or rain. We have our eyes glued to the forecasts and are waiting to see if the forecasted mid-week snow is actually going to materialise."
If the Coe Cup does go ahead, spectators should make their way to the bottom of the Flypaper to catch all the action, perhaps stopping off at Glencoe's newly revamped White Corries Cafe for a coffee and a cake o n the way. And if Mother Nature decides not to play ball this year... well... ski fans can still tune in to the Freeride World Tour deciders online. Either way, judging by the forecast there should at least be a dusting of fresh snow for skiers and boarders to enjoy in Scotland's hills this weekend.