Meet Robbie Phillips, the Spider-Man of Murrayfield
One of Scotland's leading climbers, Robbie Phillips was supposed to be tackling some of the hardest ascents in Pakistan's Karakoram Mountains this year. Thanks to lockdown, however, he's had to make do with a very special bridge near Murrayfield Stadium. Interview by Roger Cox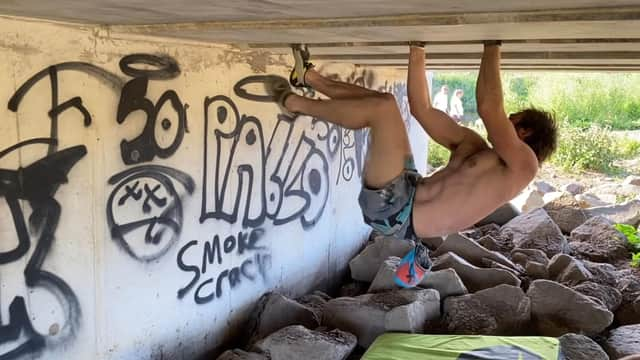 By his own admission, Edinburgh-based climber Robbie Phillips is motivated by "big objectives." The last time I interviewed him for the Scotsman, in 2015, he and his climbing partner Willis Morris had just completed the notoriously difficult route known as La Paciencia on the Eiger, so-called because it took the world-famous alpinist Ueli Steck five years and a great deal of patience to build up to his first ascent. This summer Phillips was supposed to be climbing in Yosemite, Chamonix and Pakistan, where he had hoped to tackle the Trango Towers – an almost cartoonishly dramatic cluster of granite spires in the Karakoram Mountains that look like something ripped from a sketchbook belonging to JRR Tolkien. Thanks to lockdown, however, he has had to climb closer to home – to be specific, within a five mile radius of his flat in Polwarth.
Fortunately, in climbing, big objectives don't necessarily have to mean big mountains, and Phillips has been surprised and delighted to discover what he describes as "the ultimate training venue for crack climbing" in the unlikeliest of locations: beneath a concrete bridge over the Water of Leith near Murrayfield Stadium. Half of the bridge is over water but the other half – the half that caught Phillips' eye – is about a metre and a half above dry ground and perhaps 20 metres across.
As its name suggests, crack climbing typically involves using naturally occurring cracks on a rock face to aid your ascent, and it requires some very specific skills.
"Essentially if you're climbing a normal rock climb you're squeezing the holds," says Phillips, "you're putting force through your fingers onto the holds. Crack climbing, because there's no actual hold, what you're trying to do is – through compression – to expand the size of your hand when you put it into the crack and then jam your hand in. It's called fist jamming – you jam it in and it stays there."
In the case of the Murrayfield bridge, the cracks that attracted Phillips' attention lie between the concrete beams supporting the structure, and rather than running vertically they run horizontally, along its underside. The challenge Phillips set himself: crack climb all the way across the underside of the bridge, from one side to the other, while also moving between different-sized cracks offering different degrees of difficulty. You can watch him complete his gravity-defying, Spider-Man-like climb on his YouTube channel; the backdrop might not be quite as dramatic as the climbs he was planning in the Karakoram, but it's still a mightily impressive feat. Phillips finished his first ascent next to some graffiti that read "Pablo Smoke Crack," so he decided to call his new route Pablo Smoke Crack, or, to give it its full title, The Pablo Smoke Crack Crack.
This hasn't been Phillips' first encounter with urban crack climbing. In February he completed a similar project underneath a bridge close to the Meggetland sports complex.
"The video went viral and people were going 'Oh Robbie, he's the bridge guy,'" Phillips remembers. "So when lockdown happened a guy who knew me from the climbing wall contacted me and said 'I cycle past Murrayfield all the time and there's a bridge down there that's kinda similar to the one that you did at Meggetland.' So I went down to that wee bridge and it was built in the same way except that the bonus was that half of it went over dry land and it was only one and a half metres high, which meant you could easily step off at any point.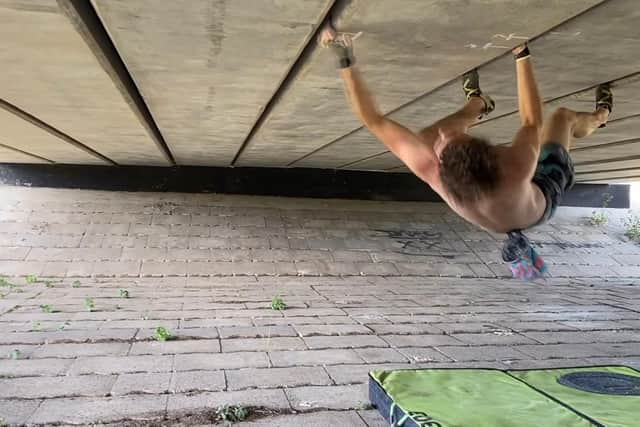 "The first day that lockdown eased I went down there with my climbing shoes and my chalk and now a whole group of us are going down there climbing – it's kind of like a scene now, the bridge crack scene."
As pastimes go, climbing upside-down along the cracks beneath concrete structures may be somewhat niche, but it's not without precedent. In the 1970s and 80s some of the top climbers in Los Angeles started climbing cracks in the roof of a multi-storey car park in order to prepare for trips to Yosemite and Joshua Tree, and the contemporary Belgian climber Sean Villanueva O'Driscoll has established a roof crack route called Ticket Crack in Groenendaal railway station close to Brussels. Even by international standards, though, Phillips thinks the variety of crack sizes under the Murrayfield bridge make it unique.
"I've climbed all over the world," he says, "and I've been to lots of climbing walls and training venues, but I'd say this bridge in Edinburgh is really special."