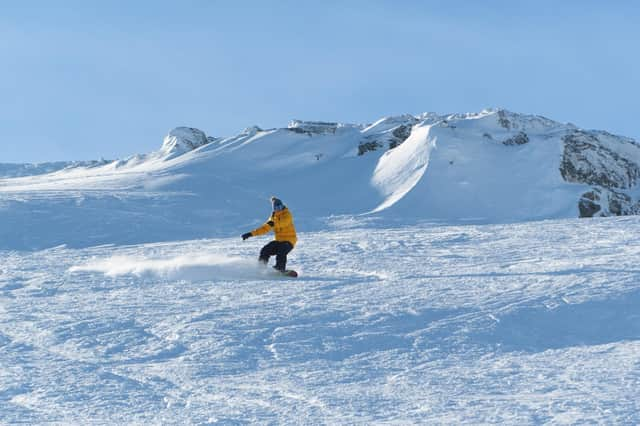 We are, after all, in the middle of a cost of living crisis, and while Cairngorm, Glencoe, Glenshee, Nevis Range and the Lecht have all managed to avoid dramatic hikes to their ticket prices, in spite of soaring energy costs, there are understandable concerns that many people who could just about afford to go skiing last season may choose to give it a miss this time around.
So far, at least, the news seems to be positive. Scotland's ski centres don't usually report their "skier days" statistics until the end of the season (one skier day being one person buying a full-day pass, or two people buying half-day passes). However, Andy Meldrum, who runs Glencoe, was able to give an indication of how things have been going so far.
"We're up to almost 10,000 skier days already," he says, "so we're in good shape." To put that in context, there have been a few winters in the past when Glencoe achieved less than 10,000 skier days between December and May, so even if they were forced to shut up shop tomorrow due to some unforeseeable act of god, the 2022/23 season still wouldn't be a disaster.
In terms of people's stress levels, too, it's good for the season to get off to a strong start. Over the last couple of decades, there have been several seasons when, even in late January, some of Scotland's ski areas have still been waiting anxiously for enough snow to open. "This year's certainly been a lot better than last winter," says Meldrum, "because then we never really got going until February."
That said, the tail-end of January has been difficult, and the first couple of weeks of February are shaping up to be tricky too.
"I think the last week in January has been a bit of a challenge for all the resorts," says Meldrum. "It turned really mild and then really cold, so no matter how much we groom the snow it just goes back to boilerplate. I noticed Nevis Range didn't open today, basically because it's too icy.
"Then looking forward, the forecast's horrific," he continues. "We've done well [up to now], but for the next 12 days there's not a day when it's not going to be 50 or 60 mph winds. We're meant to get a bit of snow, but we're supposed to get a couple of days of snow and then a couple of days of really mild weather, then a couple of days of snow, then a couple of days of mild weather. So, we might gain a bit of snow on the upper mountain, but on the lower mountain it doesn't look like we're ever going to gain much – it'll just be two steps forward and two steps backwards."
Interestingly, this sudden switch from cold, calm conditions in early winter to a more stormy outlook mirrors a pattern observed by Professor Adam Scaife, head of long range prediction at the Met Office.
We are currently in the middle of what is known as a "La Niña" winter, where an upwelling of cold water in the eastern Pacific pushes the jet stream in that part of the world further north. From a snow-sliding perspective, the most obvious effects are felt in North America, where this shift brings colder temperatures and storms from the Arctic down into south-western Canada and the northwestern United States (and the ski resorts of the Rockies certainly seem to have been enjoying better-than-average winter so far).
There is less of a consensus around what a La Niña winter typically means for snowfall patterns in Europe. However, writing in 2020, Professor Scaife explained that – in the UK at least – La Niña can cause cold, relatively stable conditions at the start of the winter, followed by stormier conditions later on.
"In late autumn and early winter," he wrote, "La Niña historically promotes high pressure in the mid-Atlantic, which stops Atlantic weather systems from delivering mild air to the UK, and therefore can allow cold conditions to intensify. However, in late winter La Niña can drive a shift of the jet stream towards the Pole, increasing storminess and heavy rainfall while bringing milder conditions."
So, could we now have reached the point in the 2022/23 ski season when the weather flips from cold and settled to milder and stormier, as Professor Scaife describes? Even if that is the case, there's no need to panic.
Part of the art of skiing in Scotland is having the patience to sit out spells of stormy weather while preparing for those magic days when the sky clears, the wind drops and everything looks brand new. There are bound to be at least a few more of those between now and the end of the season – all you have to do is make sure you're ready to drop everything and go when it all comes together.