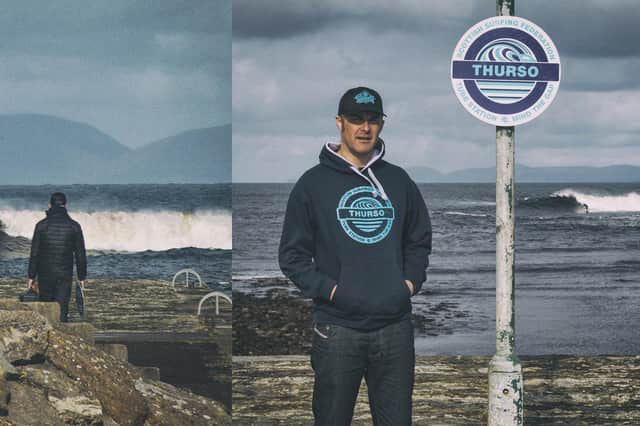 Whether you realise it or not, if you've lived in Scotland for the last decade or so, chances are you will have come into contact with the design work of Staunch Industries. If you've ridden on the Borders Railway since it reopened in 2015 (or even just seen its new-look carriages shuttling between Edinburgh and Tweedbank) you'll be familiar with the colourful Staunch-designed livery, incorporating a range of Borders iconography. If you've visited the giraffes at Edinburgh Zoo since they arrived in 2021, you'll probably have noticed Staunch's stylised take on the African savanna inside their enclosure. And if you've had to take your kids to the paediatric A&E unit of St John's Hospital in Livingston recently, and felt your heart lift a little at the calming tree and bird motifs on the walls, you have Staunch to thank.
Their work appears on smaller-scale canvases too. If you're a fan of Glen Lyon Coffee, ethically sourced and roasted in small batches in Aberfeldy, Staunch designed the imposing stag on the packaging – not to mention the metal camping mugs available on the company's website. And did you ever wonder who was behind the cans for Pilot's Leith Lager, with a multitude of Leith landmarks worked into the design? Yup, that'd be Staunch again.
Before they became the go-to guys for everything from major infrastructure projects to Hot Wheels toy cars, however (yes, they've designed for Hot Wheels too) Staunch were a Scotland-specific surf brand, selling apparel to cold-water waveriders for whom the slogan "North Sea Powered" speaks of a lot more than just oil and gas. They've also been the official gear sponsor of the Scottish Surfing Federation, supplying stylish kit for the national surf team. And later this month they'll be returning to their roots, with the opening of a new showroom in Leith, a retrospective exhibition and the launch of a new outdoor clothing range inspired by their love of the life aquatic.
Staunch are artist and designer Will Beeslaar, who originally hails from South Africa, and Leith-born photographer and producer Janeanne Gilchrist, and the official opening of their Bernard Street HQ has been a long time coming, postponed first by the tram works and then by the pandemic.
"It's difficult sometimes to work out where you're going as a creative," says Beeslaar. "My thing when we set up Staunch was to have a little Scottish surf brand that's independently owned. It's obviously easy to say you're going to do something, though, but to actually do it can be very difficult. And to make products as well… as a designer, if you're just working in a commercial environment and you have clients coming in saying 'design me a logo' or whatever, it's easy to talk the talk, but to be actually physically involved in making the products as well, taking them to market, marketing them... it can sometimes be extremely challenging. Most people would just quit, right? But this has not been our path. There's been a lot of things we've learned along the way, and we're hoping with this exhibition that we can kinda roll it all into one and show that off – show our journey off."
Surfing, freediving and spearfishing aren't just hobbies for Beeslaar and Gilchrist – they are a big part of their identities and also, as Beeslaar puts it, "an integral part of the creative process." You can see this in Gilchrist's atmospheric underwater photography, which won her the prestigious JD Fergusson Art Award award in 2016; and you can see it in Beeslaar's designs for the new Staunch clothing range, from an octopus who gets tangled up with a mirror image of himself, creating some freestyle Celtic knotwork in the process, to a giant anglerfish and a tiny diver swimming beside the slogan: "The deeper you go, the bigger they grow."
Right at the centre of the Staunch design universe, meanwhile, is the kelpie – a sort of unofficial logo which Beeslaar has returned to again and again over the years.
"One of our first designs was the kelpie," he says. "It really struck a chord with people and ever since then I've been working on this brand as you would do for a commercial client, always tweaking it, always changing it, always refining it, putting it under pressure and building this diamond out of it. There's not been a week when I haven't been working on it, but through it all I couldn't work out: 'why do we keep being drawn back to this kelpie thing?'
"Then I was up north riding big waves and I realised: it's not just the kelpie as in this mythological creature calling you towards the waves to drown you, but it's a sea stallion – it's that spirit of wildness – you can't tame it. It's the spirit of creativity, so that's the thing I'm trying to distil, this spirit of creativity, and I think that reso nateswith a lot of people."