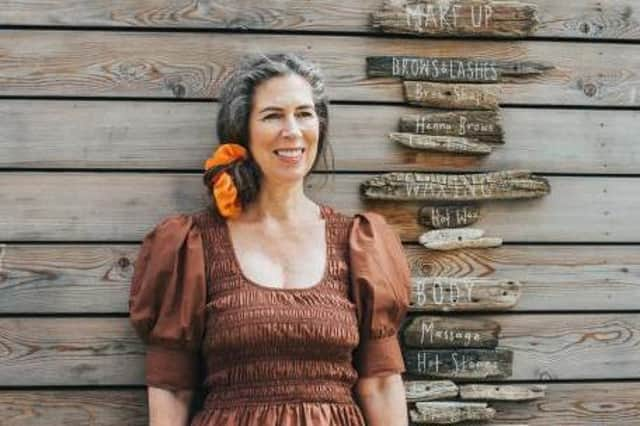 "She's my secretary", says therapist Helen Mulloy Reid, as her spaniel, Topaz, greets me at the door, with a green sock as a welcome gift. Sadly, I'm not here to take this friendly pup for walkies, but to experience a treatment at her human employer's business, Bare Beauty.
It's been popping up on my Instagram feed for a while, and I kept thinking how great it looked.
Then, on a visit to North Berwick, it was time to drop her a line.
This therapist trained at the Mary Reid School in Edinburgh and has experience at top spas including Stobo Castle, the five-star hotel Lucknam Park in Bath and her own venue in that English city.
During lockdown, she decided to move home to East Lothian, and start from scratch.
It's a great set-up. You fill out your consultation form on the chaise longue in her chic living room, with all its sheepskin and pale textured fabrics.
Then she takes you into the back garden, where there's one of those buildings that are usually used as home offices or summer houses. It's been converted into a therapy room, complete with chandelier, heated bed and shelves of products. Here, she offers massages, pedicures, manicures, waxing, but also various facials, including the Skin Refresh, Jasmine, Rose, Daisy or Men's versions. I'm trying the Bare Beauty Signature Facial.
It kicks off with a back massage, "to increase the blood flow to your face", says Helen, who uses Patience Oil from Scottish business, Beatitude, for this element of the treatment. This stimulating rub down lasts about ten minutes, and is gorgeous, with lots of blissful kneading moves. I want a whole hour's worth next time.
Then I turn over, for a double cleanse of my mucky face, with Evolve's vegan and cruelty free products, which have light herbal scents. There's a thick and salty scrub, a spritz of toner, then another slightly stingy mask, before the orange scented Bio Retinol Gold Face Mask goes on.
During the hour, I also get some gorgeous reflexology, which extends to my calves, a hand and arm massage, a scalp run and a facial massage with hands as well as a rose quartz tool.
Once we're done, I prise myself off the comfortable treatment table and head back to the house, where Helen is waiting to show me out. My skin, which had been looking a bit grey and prematurely winter worn, feels plump and dewy.
This place is a good find, and there's already one of her regular massage clients waiting on the chaise longue.
Helen's secretary must be kept busy. I hope she has enough socks for everyone.