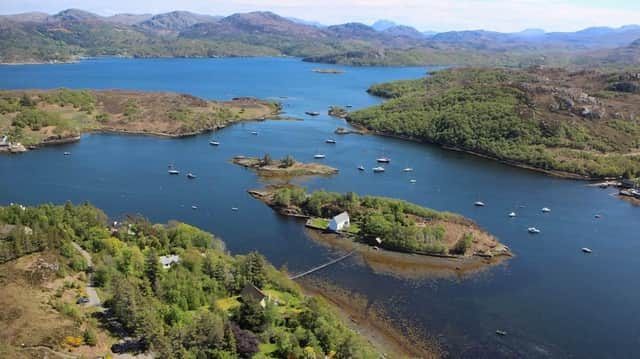 Staycation Scotland 2023: Stay on a secluded and tranquil Highland island on the spectacular west coast with your own hot tub
This unique holiday offers a remote and relaxing break cut off from the everyday world.
Nestled in the seawater of Gair Loch, with the Torridon mountain range providing a dramatic backdrop, Dry Island is located around 90 minutes from Inverness on the rugged and beautiful west coast of Scotland.
Featured in the TV programme 'City Life to Country Life' the island can by accessed by either boat or floating bridge, and is home to three quirky bolthole for two with private hot tubs.
The Otter Cabin, named after the island's cutest inhabitants, is just metres away from the water's edge and features a decking area with gorgeous sea views.
Then there's the historic Old Curing Station, a B-listed building dating back to 1841 that has outstanding views of the Torridon mountains.
Finally, the Captain's Cabin and camping barrel is a warm, rustic wooden cabin with fire pit and barbecue area outside.
If you fancy it you can join owner Ian on a creel fishing trip from the island, with the chance to catch yourself a dinner of fresh langoustines, crab or squat lobster.
In the evening, a lack of light pollution makes for perfect conditions for stargazing – you might even catch a meteor shower or the stunning Northern Lights.
Nearby there's a sandy beach, mountains to be climbed, a range of great walks, boat trips, and the pretty village of Badachro with its pub and restaurant.You can book the Dry Island at www.hostunusual.com.