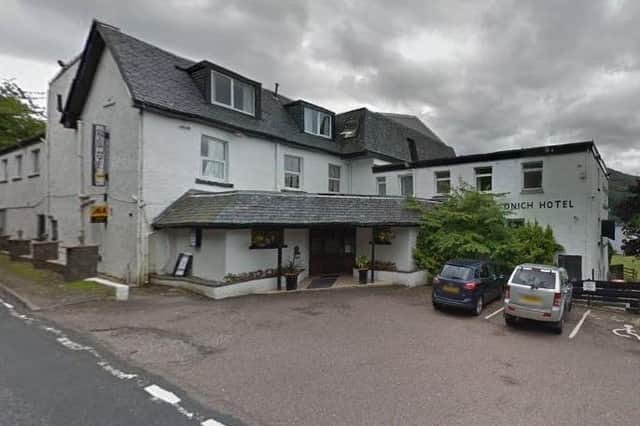 The team behind the Onich Hotel, situated on the shores of Loch Linnhe between Glencoe and Fort Willliam, have said they were "shocked" to hear allegations over their treatment of foreign staff.
They have now published an official announcement refuting the claims, which had been contained in a Facebook post by a woman believed to be an employee.
All hospitality businesses on the Scottish mainland will be required to close from 26 December for a lockdown lasting at least three weeks.
In the original message, Anne-Marie Dorothy Ralston said: "The Onich Hotel in Fort William has just alerted all staff that they are closing on Christmas Day.
"We are all currently on the flexible furlough scheme and have just been told that we are all to leave the live-in premises on Christmas day during a no-travel pandemic.
"The issue is [the] majority of the staff are not from the UK and this is their accommodation.
"They are saying that we aren't necessarily being sacked but we won't be on furlough and won't be allowed to live on site and they do not know when they will reopen.
"This is diabolical to those who have nowhere to go."
She added: "These people are horrendous and treat staff in the worst possible way and for doing this to people and have the cheek to ask us to work until Christmas day is appalling."
The managers responded, claiming there had been a misunderstanding.
The statement said: "We are closing the hotel for guests at midnight on the 25th (as per the guidelines) and informed the guests that they have to vacate the premises on or before that day.
"The on-site management briefed the staff on the above and was not meant for staff who are on-site.
"It is worth noting that we did keep foreign staff who had nowhere to go during the last lockdown in March while the hotel was closed and looked after them.
"We are committed to looking after the well-being of all staff and those who are in accommodation, and will continue accommodating them.
"This has been our position all along, well before this post was published."
Ms Ralston later posted an update, disputing that there had been a mix-up but confirming that staff had been told they would be allowed to stay at the hotel when strict new Covid-19 rules and travel restrictions come into force on Boxing Day.
"They have now came back to all staff to extend furlough and all live-in staff are able to stay put during lockdown," she wrote.
"As the hotel itself has put out a statement to say that it was a misunderstanding and that no one was asked to leave I can assure you this is false."
She added: "We can now rest easy that all the staff will be OK during this lockdown."
A message from the Editor:
Thank you for reading this article. We're more reliant on your support than ever as the shift in consumer habits brought about by coronavirus impacts our advertisers.