Ron Hughes, 65, and his wife Diane, 57, from Neston, Cheshire, had reportedly been visiting his daughter and her family in Australia when the tragedy occurred.
In a statement issued to media, Jane Manns said: "Our family is heartbroken and we are still trying to contact friends and family to let them know. Please respect our privacy at this devastating time."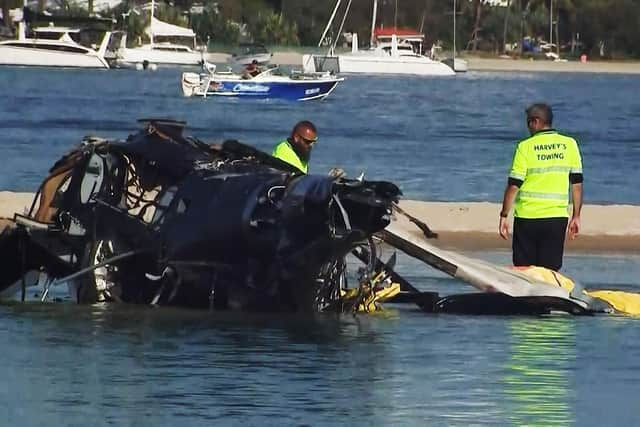 Three other passengers, including two children, who were badly injured remain in hospital.
According to the BBC, the helicopter pilot Ashley Jenkinson who died in the crash was originally from Birmingham, but lived in the Gold Coast area.
A friend of 40-year-old Mr Jenkinson told the broadcaster the pilot was a "silent hero and gentle giant" who "would have done everything to bring the helicopter down safely".
Ritchie Gregg added: "He was a top guy with so much experience. He's flown in all sorts of terrain and environments, we're completely shocked."
Mrs Hughes' brother Dave Boyce earlier wrote on Facebook: "For those who don't know my sister and her husband were involved in the helicopter crash on the Gold Coast yesterday.
"We would also like to thank you all for the love and support we have received. We are truly humbled at this heart-breaking time."
The force said "initial investigations" indicate the collision occurred when one helicopter was taking off and the other was landing. One of the helicopters was able to safely land on the sandbank, with five of its six passengers suffering only minor injuries.
However, the other helicopter crashed, killing four of those inside, and leaving a further three critically injured.
A ten-year-old boy from Glenmore Park suffered critical injuries in the incident, while a 33-year-old woman and a nine-year-old boy, both travelling from Geelong West, Victoria, sustained serious injuries.
Simon Tadros, the father of ten-year-old Nicholas who is fighting for his life in hospital following the collision, has sought prayers for his son.
"I ask everyone to pray for the little man. He is on life support in a critical condition," Mr Tadros said. His 36-year-old wife Vanessa was among those killed in the incident.
The forensic crash unit is investigating the incident with help from the Australian Transport Safety Bureau.
A spokesperson for the Foreign, Commonwealth and Development Office said: "We are supporting the family of two British nationals who died in Australia and are in contact with the local authorities."
Australia's Prime Minister Anthony Albanese said his thoughts were with those affected by the incident.
"Australia is shocked by the news of the terrible and tragic helicopter incident today on the Gold Coast," he said in a tweet. "My thoughts are with all those affected, including first responders, and my deepest sympathies are with those who are grieving."
Queensland premier Annastacia Palaszczuk tweeted it was an "unthinkable tragedy". She said: "My deepest sympathies are with each of the families and everyone affected."