Dani Garavelli: Like a tragedy foretold, but not by the race hate brigade
The moment I realised the "serious incident" unfolding in Glasgow around 1pm on Friday was centred on the Park Inn on West George Street my heart plummeted. At that point it wasn't clear what was going on other than several people had been stabbed and some of them were seriously injured. But I was aware of the significance of Park Inn: it was one of the city centre hotels being used to house asylum seekers.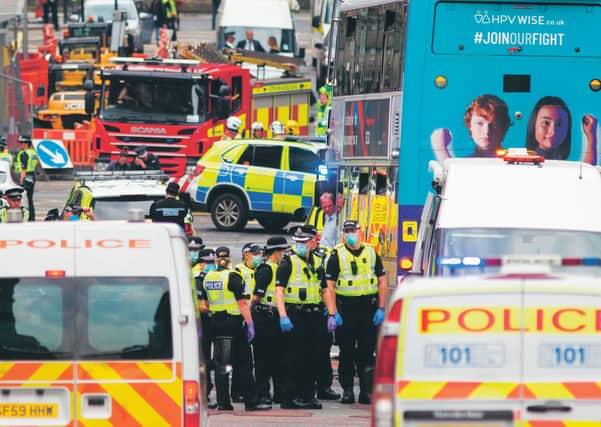 I knew this for the same reason most other people would have known it: because refugee charities had been campaigning about conditions the asylum seekers were having to endure in these hotels for some time. Shifted from serviced accommodation at the start of the pandemic, they had been thrown together in such a way it was impossible to socially distance. Their £35-a-week in benefits was withdrawn – replaced by meals provided at the hotel – and with it went any semblance of independence. Less than a fortnight earlier, protesters from No Evictions Glasgow had taken to George Square to highlight what they saw as an unacceptable and potentially volatile situation; sadly they were prevented from doing so by Loyalist counter-demonstrators singing Rule Britannia and doing Nazi salutes.
So, the stabbings at the Park Inn felt like a tragedy foretold, a tragedy that might have been averted had the voices of those campaigners been heard. But there was also a sense of foreboding about what would follow. You don't have to have lingered long in the darker corners of the internet to understand that – if the perpetrator turned out to be an immigrant – his actions would be used to demonise all asylum seekers.
Such rhetoric – the bedrock of Brexit – had already been boosted by the fatal stabbing of three gay men in Reading allegedly carried out by Libyan refugee Khairi Saadalah. Saadalah is said to have suffered from PTSD, but was also known to the security services, which was excellent news for racists looking for a fresh hook on which to peg their hatred.
Those racists were out in force before the most basic facts about the Glasgow attack had been established, with Nigel Farage leading the way as always. I don't want to amplify his voice more than is necessary to refute what he was saying. But it was the usual lattice of lies. That, around the UK, hotels like the Park Inn are filling up with "illegal immigrants" who pose "a massive risk to our wellbeing".
One of his fanboys suggested asylum seekers in Glasgow were lucky because they had been prioritised for hotel accommodation over rough sleepers, even though: 1) the hotel accommodation they were given was inferior to the accommodation they'd been living in before and 2) rough sleepers had also been accommodated in hotels.
Nor did Farage et al pause to reconsider when Police Scotland made it clear they were not treating what happened at the Park Inn as a terrorist attack.
It was a horrific incident, which has caused serious injuries to the victims and great distress to their families. An asylum seeker stabbed six people in all: three residents, two hotel workers and PC David Whyte, before being shot dead by police. But it does not appear to have been ideologically-driven.
Either way, it makes no sense to hold an entire religion, ethnicity or demographic responsible for the act of an individual. When Jonty Bravery was sentenced on the same day to 15 years for throwing a six-year-old French boy from the roof of the Tate Modern no-one suggested he was emblematic of other teenage boys, or indeed of other people with autism.
Neither, of course, should an individual be exculpated because of his religion, ethnicity or demographic. More about the Park Inn attacker will no doubt emerge over the coming weeks; we should be wary of jumping to conclusions. But there are some observations about the way asylum seekers have been treated that are both incontrovertible and germane. Those who have fled to the UK from conflict zones are – by dint of their traumatic experiences – disproportionately likely to suffer from mental health difficulties. Those mental health difficulties are compounded by a system designed to discourage them from coming here, and from staying here once they have arrived. A system which keeps them poor, prevents them from working and strips them of dignity. A system which requires them to tell their story over and over, while trying to pick holes as proof they are lying. A system that leaves them in constant fear of the threat of deportation, and often leaves them destitute.
At the start of the pandemic, Mears, the contractor responsible for housing asylum seekers in Glasgow, moved 370 of them into hotels. The first many of these people knew of the decision was when officials turned up at the door, telling them to pack up their things. This was done to people for whom an unexpected knock at the door is a constant source of terror; to people whose lives have been one long history of being forced to gather their belongings together and move on.
According to campaigners, the move has had a devastating impact. Living in such close confinement while a pandemic rages is not ideal (although there have been no reports of Covid-19). But the bigger issue is the loss of contact with families, lawyers, doctors, and a loss of personal agency.
Last month, Syrian asylum seeker Adnan Olbeh, 30, was found dead in the city's McLay's Hotel. He is said to have previously expressed his intention to kill himself. At the time, Ako Zada, the director of Community InfoSource, said he had been shocked to see people so mentally unwell.
Last week, Mears admitted no vulnerability assessments had been carried out on the decanted asylum seekers. Given the oppression and torture many of those involved have endured, that is a damning failure.
When thinking about the Park Inn attacker, it is worth noting that "John", who helped the wounded, is also seeking asylum. And that Glasgow had issues with violence before ever it became a dispersal city.
It oughtn't to be a difficult concept to grasp: that immigrants, refugees, asylum seekers are not a homogenous group of heroes or villains, but, humans: some more resilient, some less. They possess the same qualities, in the same measures, as the rest of us, and those qualities will ebb and flow depending on the circumstances. Some may be predisposed to violence; others will break under untold stress.
Thankfully, there are many Glaswegians who do grasp this. You could see them replying to Farage on Friday en masse and in typically forthright fashion. There was much use of the C word (and not, as Glaswegians often use it, to denote affection).
Glasgow is far from perfect, but it knows its own mind. It will not easily fall for the far-right's attempt to divide it into "them" and "us".
Instead – I hope – it will remember that the dispossessed of Possilpark have more in common with the dispossessed of the Park Inn than they'll ever have with Farage and his ilk; and to push for a better future for all.
Comments
Want to join the conversation? Please or to comment on this article.