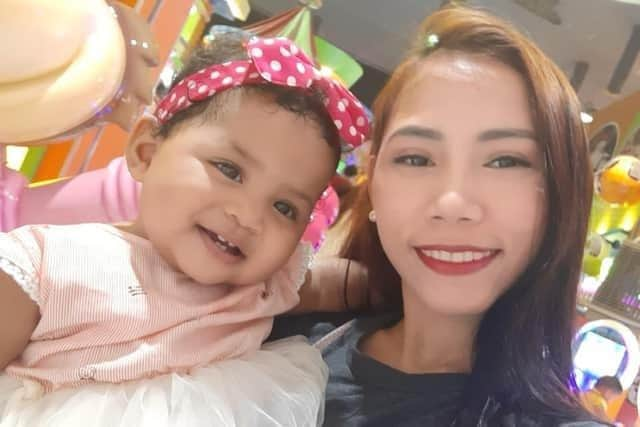 Andrew Innes, 52, accepted he caused the deaths of 25-year-old Bennylyn Burke and two-year-old old Jellica at a house at the city's Troon Avenue, Dundee in 2021.
But Innes denies murdering Bennylyn and Jellica Burke, claiming diminished responsibility.
A joint minute of agreed evidence between prosecutors and Innes' defence team was read out to a jury at the start of the trial at the High Court in Edinburgh.
The Crown also claim that Mr Innes abducted another girl and held her at his home against her will.
Jurors also heard claims that Mr Innes attempted to "defeat the ends of justice" in order to "avoid detection, arrest and prosecution" for the alleged murders of Bennylyn and Jellica.
The Crown claim that he told police officers that he had driven the two dead women from his home in Dundee to Cumbernauld, North Lanarkshire, and left them there with another man.
He is said to have made the alleged admission whilst knowing the bodies of the pair were hidden "in concrete" at his home.
Now jurors will hear evidence about the circumstances surrounding how the two women, who came from Bristol, lost their lives.
Details of the allegations emerged on the first day of proceedings against Mr Innes, who is described as being a prisoner of HMP Perth, in legal documents.
A clerk of court read out a legal document detailing the charges.
Jurors heard her say that prosecutors claim that between February 20 2021 and March 5 2021, at 21 Troon Avenue Dundee, Mr Innes stabbed Bennylyn Burke on the body with a knife. He is also said to have repeatedly struck Bennylyn on the head with the handle of the knife and that he murdered her.
The second charge states that on the same dates and at the same location, Mr Innes murdered two-year-old Jellica Burke by asphyxiating her at the same Troon Avenue address.
Crown lawyers claim that on on occasion between February 20 2021 and March 5 2021, Mr Innes assaulted the other girl, who cannot be named for legal reasons. He allegedly struck her on the head with a door.
It is also alleged that on the same dates at the same address, he abducted on the same girl.
He is said to have tied rope to door handles, prevented the doors from opening at 21 Troon Avenue and that he detained her "there against her will."
Prosecutors claim that "on various occasions" between February 20 2021 and March 5 2021, he sexually assaulted the girl and raped her.
Prosecutors claim that Innes wrapped a rubble bag, blanket and tarpaulin around the head and body of Bennylyn before concealing her body in concrete beneath the kitchen floor at 21 Troon Avenue, Dundee.
He is also said to have put the naked body of Jellica in rubble bags and concealed her body in concrete beneath the kitchen floor and 21 Troon Avenue, Dundee.
He is also said to have removed flooring and kitchen units from 21 Troon Avenue, Dundee and discarded the items in a skip.
He also allegedly pretended to the other girl that Bennylyn was in hospital and Jellica was in Bristol when the alleged truth was they were dead.
The Crown claim that Mr Innes also pretended to PCs Gavin Burns and Rhianne Brogan, that he had driven Bennylyn and Jellica to the Old Inns Café in Cumbernauld, North Lanarkshire.
He is also said to have told the officers that he left them there in the company of an unknown male and that he didn't have any further contact with them.
In the charge, prosecutors say the "truth" was that he hadn't driven to Cumbernauld and that Bennylyn and Jellica were "dead" and that he had concealed their bodies in concrete beneath the kitchen floor.
He also allegedly pretended to the two police officers that the other girl was his daughter.
Innes, of Dundee, has pleaded not guilty to all charges.
The jury also heard further details of evidence which has been agreed between defence lawyers and prosecutors.
It states that on March 19 2021, doctors performed a post mortem exam on Bennylyn Burke.
The medics found that she had been stabbed once to the right side of her chest. They also found that "features" of a traumatic brain injury were present.
The jury heard that she had no injuries which suggested she had attempted to block or deflect blows and that there were no injuries present which indicated she had been physically restrained.
Mr Morgan told the jurors how Bennylyn weighed five stones and seven pounds and was four feet six inches tall.
He added: "Taking into consideration the history and circumstances surrounding death, the findings of post mortem examination and the results of laboratory investigations, death is attributed to to the combined effects of internal haemorrhage from a stab wound to the chest and blunt force head injuries.
"The stab wound whilst not immediately incapacitating would have bled profusely into the chest cavity, resulting in a progressive fall in blood pressure, accompanied by dizziness, loss of consciousness within several minutes, cardiovascular collapse - hypovolaemic shock, cardiac arrest and death.
"The stab wound and head injuries were sustained in quick succession but it is not possible to ascertain from the pathological findings the precise order these injuries were sustained.
"The magnitude of the blows to the head are sufficient to raise the possibility of a resultant loss of consciousness and if sustained following the stab wound may have rendered Bennylyn Burke unconscious in a shorter time than that anticipated as a result of the stab wound alone.