Scots prisoner who shot through mother's front door in case of mistaken identity died in custody from multiple organ failure, inquiry finds
A prisoner jailed for shooting through a mother's front door in a case of mistaken identity died in custody of multiple organ failure, a sheriff has found.
James Sneddon, who had a history of drug abuse, was serving a total of 19 years in Edinburgh's Saughton jail when he became ill in May 2016.
He was jailed in 2009 after he and an accomplice fired through a woman's front door in Cardonald, Glasgow, mistaking her house for that of a neighbouring family.
The terrified mum then barricaded two children she was looking after in a bedroom with her and hid under a blanket while she called 999.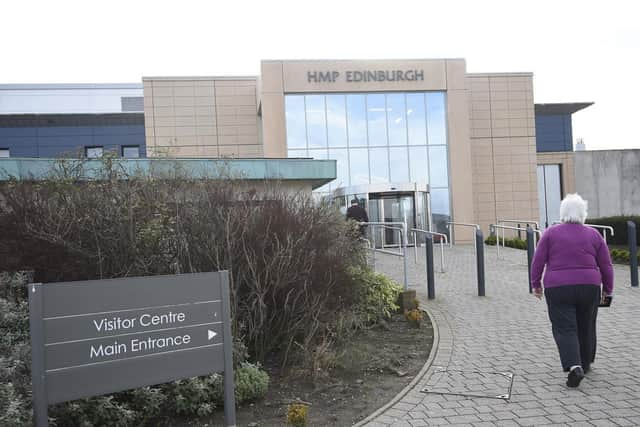 The shooting happened days after Sneddon threatened two policemen with a shotgun. He had been out on licence at the time having been released after an assault and robbery conviction.
Sneddon was convicted of attempted murder and firearms charges and was given consecutive sentences of seven years for the police threat and 12 years for the shooting.
A Fatal Accident Inquiry determination from Sheriff Thomas Welsh QC detailed the circumstances surrounding James Sneddon's death.
Shortly after his death in 2016, dozens of other prisoners signed a petition alleging 'medical neglect' at Saughton prison and claimed the 35-year-old did not get the help he needed for about a month prior, sparking an investigation.
The sheriff's determination stated that Sneddon had a history of drug abuse and at the time of his death was in receipt of a methadone prescription in prison. It said that on various dates between April and June 2015, he saw prison nurses and GPs complaining about loss of appetite, vomiting and abdominal cramps.
It states his symptoms were fully investigated but no infection or underlying cause was identified.
The report said that on May 3, 2016, Sneddon reported to prison staff he was feeling unwell and asked to see a nurse - four hours later he was still waiting to be seen. He was examined by a nurse and an ambulance was called and he was taken to the ERI.
A CT scan the next day revealed evidence of a wasting or decrease in the size of his left kidney and he was given antibiotics - but his condition deteriorated rapidly and he began suffering from oxygen depletion and respiratory failure.
Sneddon, who was from Kilsyth, was admitted to intensive care but his condition did not improve and he went into cardiac arrest and, despite prolonged resuscitation efforts, he died on May 6.
A post-mortem examination carried out May 12 established the cause of death as multi-organ failure and sepsis and cardiomegaly (enlarged heart).
The sheriff's report stated in conclusion there were no reasonable precautions he could suggest whereby the death might have been avoided.
The Scottish Prison Service (SPS) and NHS Lothian have been contacted for comment in relation to the findings of their investigations into the claims raised by the prisoners' petition in 2016. A SPS spokesperson said prisoner healthcare is the responsibility of the health board.
In the latest HMP Edinburgh full inspection by the Inspectorate of Prisons for Scotland, based on a visit near the end of 2019, the prison was given an overall satisfactory rating for the category of health and wellbeing and was described as a "well-run, effective prison."
A message from the Editor:
Thank you for reading this article. We're more reliant on your support than ever as the shift in consumer habits brought about by coronavirus impacts our advertisers.