The Chancellor said: "To encourage the private sector investment into our nuclear programme, I today confirm that subject to consultation nuclear power will be classed as 'environmentally sustainable' in our green taxonomy, giving it access to the same investment incentives as renewable energy. Alongside that will come more public investment."
Announcing "two further commitments to deliver our nuclear ambitions", he added: "Firstly, following representations from our energetic Energy Security Secretary I am announcing the launch of Great British Nuclear which will bring down costs and provide opportunities across the nuclear supply chain to help provide up to one quarter of our electricity by 2050.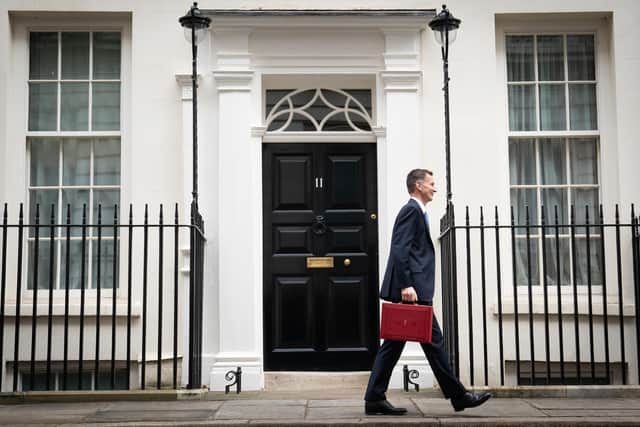 "And secondly, I am launching the first competition for small modular reactors. It will be completed by the end of this year and if demonstrated to be viable we will co-fund this exciting new technology."
As part of a package aimed at helping with the cost of living, the Chancellor said the energy price guarantee, which caps average household bills at £2,500, will be extended at its current level from April to June.
It had been due to rise to £3,000 in April and the cost of scrapping the planned 20% increase will amount to about £3 billion.
Jeremy Hunt also said that he wants to invest up to £20 billion to help develop carbon capture usage and storage (CCUS) technologies. These are designed to suck up carbon from the emissions from major polluting industries, such as the steel, glass or power.
Caroline Lucas, Green Party MP for Brighton Pavilion, said he had "utterly failed" to mention a fifth – environment.
She said: "Just when we needed a solar rooftop revolution, an unblocking and upscaling of renewables, a major street-by-street mass insulation programme, and a commitment to invest in our totally neglected, sewage-filled rivers and seas, we get too slow, too expensive and too dangerous nuclear white elephants.
"A budget that fails to protect our environment gravely risks damaging our economy too."
Prof Adrian Bull of the Dalton Nuclear Institute at the University of Manchester said: "The Chancellor's words on nuclear give a positive message, but it's more like a greatest hits compilation from the past, rather than anything new.
"Confirming nuclear's environmental credentials will certainly help attract investment – but it's only stating the obvious. Nuclear is as low-carbon as renewables and should always have been treated that way.
"He's announced Great British Nuclear – which is about the fourth time it's been announced. What we need is to see it actually come into being, and to see a clear plan of what it will do.
"And – bizarrely – he launched the first competition for SMRs. Maybe there is nobody left in Whitehall who remembers the (abortive) SMR competition which George Osborne launched back in 2015, promising an SMR in the UK in the 2020s.
"Let's just hope this one actually leads to something!"