Meanwhile, summerlike heat has been roasting the eastern side of the country. Southern California has seen days of extremely rare and even unheard-of winter weather – San Diego issued its first-ever blizzard warning last week, while Los Angeles put out its first such alert in 34 years.
In northern California, the San Francisco Bay area received a dusting of snow and Yosemite and Joshua Tree national parks were closed because of the harsh weather.
Mountainous regions have received so much snow – more than 12m since the start of the season – that entire towns have ground to a halt as they are virtually marooned from the rest of California.
A state of emergency has been declared in 13 counties, with some communities snowed in for more than a week already. Officials in tourist destinations in the Sierra Nevada mountain range, popular with skiers, have urged visitors to stay away rather than risk travelling in dangerous conditions.
Mudslides and avalanches could pose a further serious threat. This winter the region has gone from drought to heavy rainfall and wind storms, and now snow – with more of the same expected.
The extreme weather is an example of what US National Weather Service meteorologists are calling a "weather whiplash".
At the same time, unseasonal heat in some places across the south-east of the country has brought the warmest temperatures observed on any winter day in more than a century of record-keeping.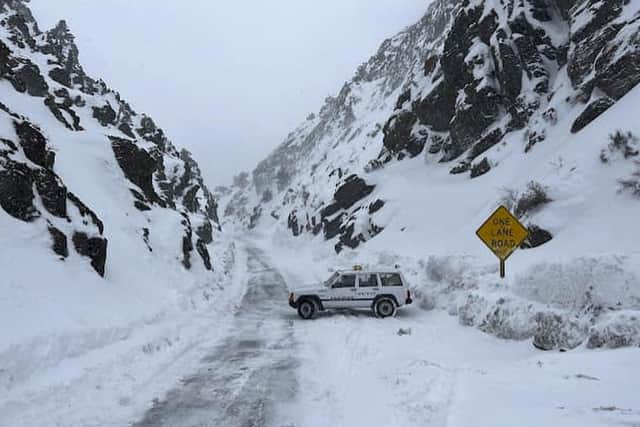 "It generally happens on the scale from every five to ten years," said Brian Garcia, a meteorologist from the US National Weather Service. "This drought over the last few years, we busted that in about a week and a half. So, we are starting to see that whiplash of drought to rain and back again.".
Climate change is one of the factors blamed for the unusual weather. The effects of a 'triple-dip' La Niña – a naturally occurring climate pattern of large-scale cooling in the Pacific – and a disrupted polar vortex – a band of strong westerly winds that forms each winter above the North Pole – which has been causing a 'sudden stratospheric warming' event, are also thought to have played a part.
While it is difficult to single out climate change, it is clear higher temperatures pull more moisture into the atmosphere and therefore create the potential for more extreme weather events.
Tom Di Liberto, meteorologist for the US National Oceanic and Atmospheric Administration's climate prediction centre, said: "You have climate change warming temperatures, maybe providing some heavier precipitation events, and then you just have the randomness of our atmosphere. And then sometimes these things will coincide into this climate soup."
He said the year had been "interesting".
"Sometimes there are other things that can override the normal, expected impact from a big climate phenomenon like La Niña," he said. "Like the polar vortex, phases of other observations called the Arctic Oscillation, or even simply, and most frustratingly, the random chaos of our atmosphere."
Despite the disruption, however, it is hoped the recent heavy snow will help restore water supplies across California as spring begins, filling reservoirs left depleted by an extended drought.