Locals from Great Cumbrae, a popular tourist destination in the Clyde since Victorian times, fear construction of the 19MW green energy scheme could damage important wildlife and habitats as well as ruining an iconic viewpoint at the highest hilltop on the 2.5-mile-long island.
They have expressed disbelief that Cumbrae, which has 183 rainy days each year, could be a suitable location for such a project.
An application for planning permission to construct the development, which includes 12,000 solar panels and a 12MW battery storage facility, has been lodged with North Ayrshire Council. It will cover an area of around 37 acres – about the same size as 22 football pitches, and more than 1 per cent of the island's total land area.
The location is near the main viewing point and picnic area on the island, at the top of Barbay hill, and is within the Great Cumbrae Special Landscape Area and a Local Nature Conservation Site.
Home to only around 1,200 people, the island has a "fragile" economy that is largely based on tourism. Cumbrae is among six other locations selected to be part of the Scottish Government's Carbon Neutral Islands project.
A group of protesters marched to the site of the proposed solar farm to demonstrate their opposition.
Cumbrae Community Council, the statutory group responsible for representing the island on planning issues, has said locals are generally supportive of renewable energy and moves to slash greenhouse gas emissions, but there are serious concerns the solar farm could destroy the local environment in a bid to help save the planet.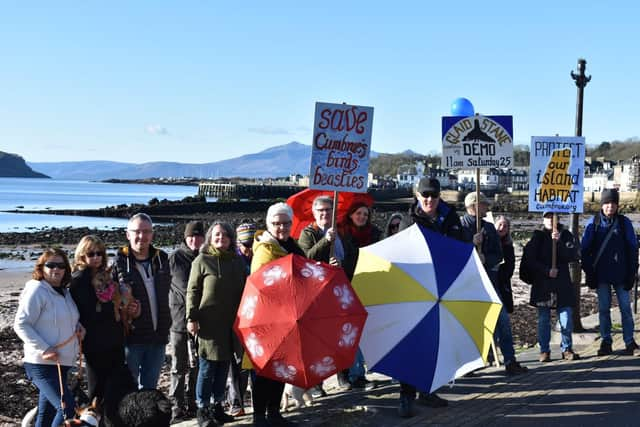 They are calling for an environmental impact assessment to be carried out to investigate the impact of the scheme on the island's landscape and wildlife.
A spokesperson for Cumbrae Community Council, said: "While we support the move to a carbon-neutral island and we are in favour of renewable energy, we have serious concerns about this particular application. Surely a proper assessment should be carried out to work out whether a solar farm is right for our island and, if so, whether this is the best location.
"That doesn't seem to be much to ask when the proposal affects such a huge area of our island. We rely on tourism for a significant portion of our economy and the solar farm will blight one of our main beauty spots."
A 5MW scheme was first proposed by Comsol Energy in 2016, but was not built. A later application, submitted in July 2022, provoked 263 comments, mostly objections. The application was withdrawn.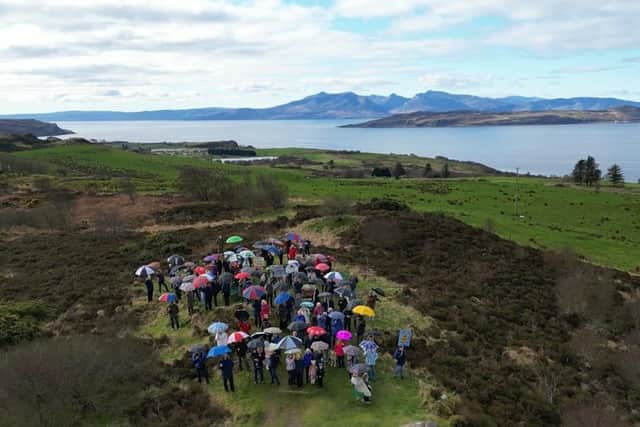 Now Comsol Energy submitted an updated proposal, this time including battery energy storage systems and associated infrastructure, with a total output of 19MW.
The firm asked planners whether an EIA would be required, but despite strong protests from Cumbrae Community Council and local MSPs, councillors ruled it was not needed.
The community council spokesperson said the situation should serve as a "a stark warning" to other islands selected for the carbon neutral project that "the views of the community will not be considered" and "proposals will be implemented without proper evaluation and with no local benefit whatsoever".