Circular economy minister Lorna Slater accused Mr Jack and the Scotland Office of pushing "nonsense" suggestions the Scottish Government had not sought an exemption from the UK Internal Market Act, adding his claims were simply "not true". The Scottish Greens said Mr Jack should resign or be sacked by Prime Minister Rishi Sunak, accusing him of misleading the UK Parliament – a call echoed by the SNP's Fiona Hyslop.
However, a UK Government source dismissed such claims as "nonsense" and "a desperate attempt to shift the blame for a fiasco of the Scottish Government's own making", adding: "People can judge for themselves who is responsible for making a mess of the deposit return scheme."
In a statement to Holyrood, Ms Slater said she was "delighted" by figures showing 664 producers had signed up to the DRS so far, insisting it represented a "critical mass" of business responsible for "over 90 per cent of the total volume of drinks containers sold in Scotland each year".
But the co-leader of the Scottish Greens repeatedly refused to answer questions about how many producers had still to sign up following Tuesday's registration deadline. Circularity Scotland Limited, the private company set up to administer the DRS, previously said it estimated more than 4,500 producers would register through the firm. Based on that figure, the current sign-up rate stands at less than 15 per cent.
There was also doubt as to the volume of containers captured in the registered producers to date. While Ms Slater put the proportion at over 90 per cent, Circularity Scotland claimed in a press release the number represented "more than 95 per cent" of containers sold in Scotland. David Harris, its chief executive, described it as a "fantastic start" for the DRS. Despite the deadline having passed, the firm also said the registration process would remain open.
Scottish Conservative MSP Maurice Golden said: "The scheme has been falling apart for months. Even the finance secretary says it will cause economic carnage. Now, the Scottish Government is trying to pick a fight with the UK Government who have confirmed to me that no official request for an internal market exemption has been received.
"This is a desperate attempt to shift blame for a home-made shambles. All producers are appalled by the scheme rollout and have not registered, which is why the Scottish Government has been forced to consider introducing a grace period. It's too late now to make such fundamental changes to the scheme without creating even more complexity, confusion, and cost."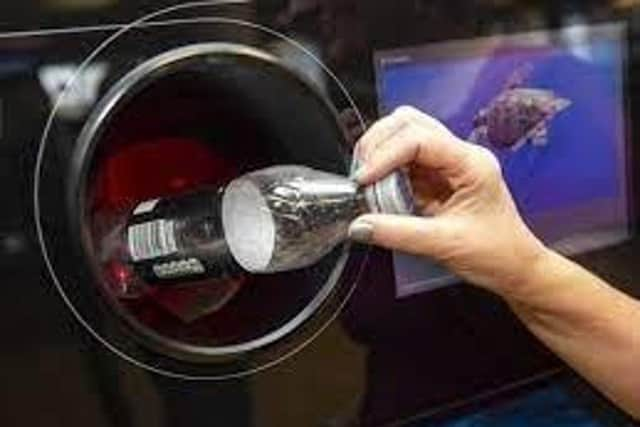 He added: "The bottom line is producer registration has been a disaster. The minister is desperately spinning the sign-up numbers … does the minister accept that more than 80 per cent of products have not signed up to the scheme?"
Ms Slater, insisting the numbers demonstrated the scheme's "momentum" ahead of August's scheduled launch, replied: "Producers responsible for more than two billion drinks containers have signed up for Circularity Scotland, and this represents the full array of drinks producers, from global brands to small craft breweries and distilleries."
Ms Slater was also unable to clarify when any proposed 'grace period' for smaller producers would come into effect, or which companies would be eligible for any such temporary exemptions. "Introducing any form of grace period raises questions that must be fully explored about how it would work operationally, fairly, and legally for businesses and communities," she told MSPs. "There are questions about definitions, registration and enforcement, which must all be worked through."
Scottish Labour's Daniel Johnson said: "While I appreciate that a grace period is being considered, right now if I was a small drink producer, I wouldn't know whether this scheme applies to me or not."
SNP MSP Fergus Ewing, a vocal critic of the DRS planning, has challenged permanent secretary John-Paul Marks to come to Holyrood to explain why the DRS was going ahead – a move backed by Mr Golden, Liam McArthur from the Scottish Lib Dems, and Scottish Labour's Claire Baker.
The former minister also asked Ms Slater if the scheme was not halted, was she "trying to protect the interests of Biffa", the DRS official logistics service provider, describing it as a "company with a dubious environmental record", citing Scotland on Sunday'srecent investigation. Ms Slater said those concerned about investment should back a scheme that would create over 500 jobs.
While Ms Slater's statement to Parliament drew intense cross-party criticism, there was also condemnation from business bodies. The Scottish Chambers of Commerce accused the minister of having "completely ignored concerns from Scottish firms". Dr Liz Cameron, its chief executive, said: "Our call was to pause the scheme and redesign it with the business community and that call has been rejected by the minister."
The Federation of Small Businesses said it was "bitterly disappointing" the Government was pressing ahead with DRS, adding it was "worrying to see how few firms have actually registered". Andrew McKie, its Scotland policy chair, added: "[A total of] 664 registrations out of a predicted 4,000 or 4,500 is hardly mass participation, and when you dig into the figures, we fear it'll be the largest producers with the deepest pockets who have been able to sign up – not smaller traders, who have the most to lose."
In spite of Ms Slater's insistence the DRS will launch this August, Nicola Sturgeon's resignation has cast further doubt over its future. Finance secretary Kate Forbes, one of the leading contenders in the SNP leadership contest, has claimed it will result in "economic carnage" and has backed calls to pause it. Humza Yousaf has said he would give small businesses a 12-month exemption, while Ash Regan has vowed to delay its introduction.