Loch Long Salmon wanted to build the farm in the loch at Beinn Reitche, near Arrochar, which would have been the first in the Loch Lomond and The Trossachs National Park and the first farm in Scotland to use semi-closed aquaculture technology. But the company was told in October its proposals were unacceptable.
On Monday, the firm had submitted its appeal to the block, and Stewart Hawthorn, managing director at Long Loch Salmon, said the decision to "prevent this proven, transformative technology being brought to Scotland for the first time was based on fear and a lack of knowledge and understanding".
From the surface the proposal, which had a total area of around 160 acres, would look like a traditional salmon farm. But under the water the net is surrounded by an impermeable membrane, with water drawn up and circulated from deeper in the loch.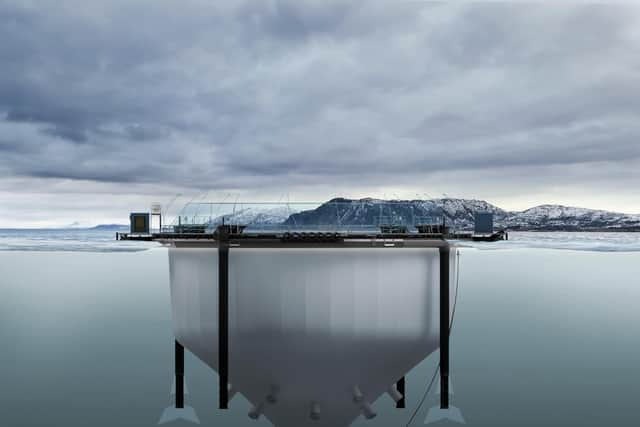 The company said the method removed the threat of sea lice and attacks by seals, which would mean it would never need to use sea lice treatments or switch on acoustic devices that could harm dolphins and other aquatic mammals.
Mr Hawthorn said the national park had "no experience of handling this kind of application" and the board "based their view on a misunderstanding that our plans were the same as existing open net salmon farms".
"This is fundamentally flawed," he said. "Through the appeal process, we are committed to demonstrating that we can bring positive change to Scotland, radically improve the environmental performance of salmon farming and secure jobs in rural areas."
Loch Long Salmon is a joint venture between Simply Blue Aquaculture, Trimara Services and Golden Acre Foods.
The Loch Lomond and The Trossachs National Park has been approached for comment.
The national park's board had rejected the plans because, it said, the farm "would not relate well to the landscape context and setting and would not be sympathetic to local built forms".
In a six-page response to the company outlining the national park's refusal, Stuart Mearns, its director of place, said among the reasons for the block was "the technology proposed has not been trialled in Scotland and there are inherent risks from an escape incident to wild salmon populations which are already fragile".