Mosses and their relatives, liverworts and hornworts, are found in almost every part of the world, from lush forests to rocky mountaintops and from city centres in the tropics to Antarctic tundra.
They are critical to the planet, sucking up climate-warming carbon, helping to control water flows and providing a rich habitat for other species.
One species, sphagnum, is of critical importance in the formation and healthy functioning of Scotland's peatlands and has also famously been used as a makeshift wound dressing for soldiers injured on the battlefield due to its antiseptic and absorbent qualities.
If the plant group ceased to exist, the world would be in a lot of trouble.
Now a glossy new book, published by the Royal Botanic Garden Edinburgh (RBGE), reveals the secrets of these miniature ecological heroes.
Written by Dr Neil Bell, a bryologist at RBGE, The Hidden World of Mosses examines the wide variety of species found across the globe – there are nearly 20,000 known worldwide, with 1,000 in the UK alone – and the important functions they perform.
It contains hundreds of stunning photographs that uncover "the splendour" of what the author claims is one of the most misunderstood and misrepresented of all groups of organisms.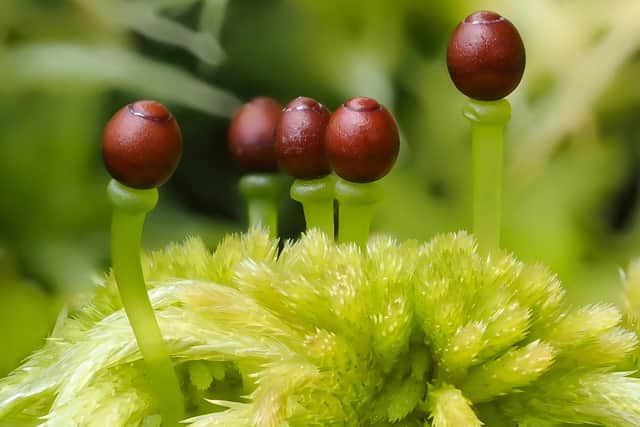 He believes Scotland's mosses and liverworts – known as bryophytes – are some of the most fascinating in the world", with the "constantly wet weather" in some places supporting some especially unusual examples.
"In Scotland, because of the climate we have, which is actually quite unusual internationally, we actually have bryophyte flora which are actually some of the most interesting ones in the world," Dr Bell said.
"Some of them either don't occur anywhere else in the world or maybe occur in one or two places which are a very long way away, like the Himalayas or the Aleutian Islands.
"That's because of this cool oceanic climate we have, particularly in the west.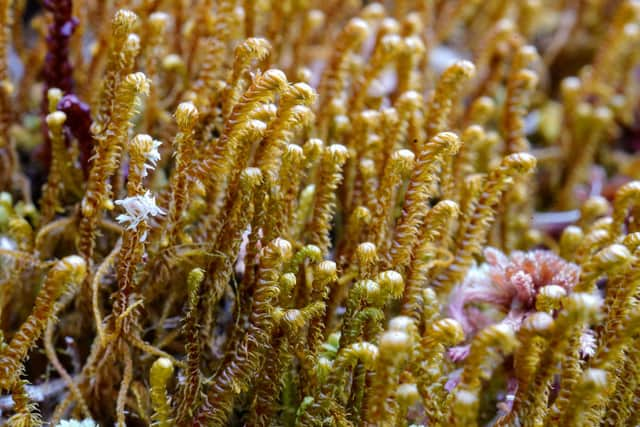 "It's not so much about the amount of rainfall we get, it's the fact that it's pretty evenly distributed throughout the year – the north and west of Scotland get 250 or more wet days per year, so it's basically raining all the time.
"That, combined with the fact that the temperature right on the west coast doesn't actually vary that much between summer and winter, means it's a climate with a sort of equilibrium with regard to temperature and moisture.
"This oceanic climate is quite unusual in the world and supports temperate rainforest, which we have here but is very rare elsewhere."
He highlights a couple of his own personal Scottish favourites.
One, found nowhere else on earth, is Herbertus borealis, or northern prongwort, a liverwort which lives only on the Beinn Eighe plateau in the north-west Highlands. "It's probably our most charismatic Scottish endemic bryophyte," he said.
Another is Adelanthus lindenbergianus, or Lindenberg's featherwort, which in Scotland grows only on two islands in the Inner Hebrides – Islay is the main stronghold but tiny quantities also exist on neighbouring Jura. Most of the rest of the worldwide population of the species lives at high altitude in Central and South American tropics and Southern Africa.
Both species belong to the oceanic heath community, which is very rare throughout the world.
"Mosses are just a little smaller than most things we deal with in our everyday lives, so we tend not to notice their intricate beauty and how different they are from each other unless we make the effort to look really closely," Dr Bell said.
"Mosses and their relatives have evolved to live in a different way from other plants, playing a critical role in the environment that other plants can't, and the mosses and liverworts we have in Scotland are of international significance – far more so than our other native plants, in fact. We need to recognise that and protect them.
"I hope that this book will raise awareness of this hidden botanical world and encourage more people to explore it."
Mosses are unusual, according to Dr Bell. They have a "different ecology to other plants" and a special relationship with water.
They have no roots and have a sponge-like ability to soak up huge quantities of the wet stuff – up to 20 times their own weight.
Because of this they are capable of "drying without dying", he says, and can quickly mop up and store flood water after heavy rain.
"The book is about the diversity that exists and is there for everyone to see if they can just look a bit more closely," Dr Bell added.
It also highlights the crucial role moss plays in tackling climate change.
Peat has been used in Scotland as a fuel for centuries, and is also a characteristic 'flavour' for many of the country's most famous malt whiskies.
Sphagnum, one of the best-known species, is almost entirely responsible for creating and maintaining peat bogs, keeping the soil in which it grows permanently wet and largely preventing decomposition.
The Hidden World of Mosses, by Dr Neil Bell, comes out on March 31 but is available to order