Those travelling between Inverness to Stornoway and Benbecula and from Inverness to Kirkwall and Sumburgh will be affected as a result of the work-to-rule in place among union members at Highlands and Islands Airports Ltd.
Flights have been suspended from Friday, March 17 until April 30, although this date may change in the future.
Customers booked on Loganair flights between these points will be contacted and offered the option of rebooking on alternative routes or a full refund.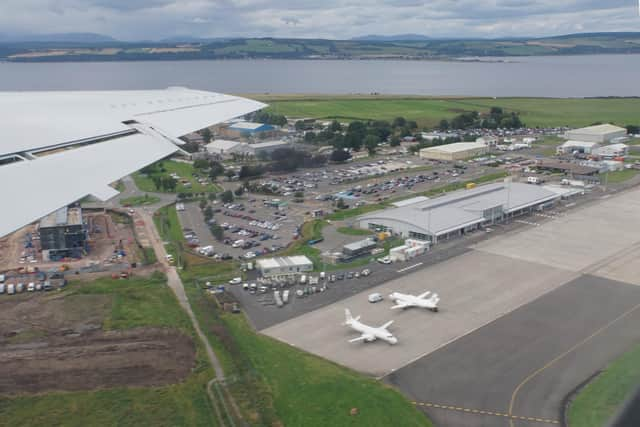 Inverness Airport is already closed on March 17 given strike action by Prospect members working in airport fire service and security.
The strikes will also close Stornoway Airport on March 8 and 9; Benbecula and Islay on March 10; Dundee, Inverness and Islay on March 13 and Dundee on March 17.
Loganair said the decision to suspend services had been taken with the "utmost reluctance" given the impact on Highland and Island communities.
A spokesperson for Loganair said: "We completely understand that this unprecedented step will be unwelcome news to communities who depend on the air services Loganair provides. It's a step that we are taking with the utmost reluctance and only after careful consideration of all other options.
"We have sadly concluded that it's simply not realistic to continue our efforts to provide services between HIAL airports when the action short of a strike is intended to disrupt and counter those efforts at every turn.
"The suspension provides advance – even if unwelcome - certainty around which our customers can adjust travel plans, as opposed to facing the risk of on-the-day flight cancellations or significant delays. We hope that the period of suspension – initially through to 30 April – will provide time and space for the parties to this dispute to meet and reach a resolution, enabling these long-running services to resume thereafter."
The airline said the impact of strike action – which will impact airports over the next two weeks – could be "readily assessed" but that the fallout of work-to-rule was "far less predictable".
A statement added: "The impact of the work-to-rule is far less predictable – if, for example, a single member of the HIAL team has time off work for sickness, a family emergency or suchlike, their shift cannot be covered through overtime or shift swaps. This leads to a position where shifts cannot be manned to the required minimum levels to enable flights to take place, causing cancellations and delays with either very limited advance notice or none at all."